The tropical heat greets me in Francisco de Orellana, an Ecuadorian city of 50,000 inhabitants that emerged from nothing half a century ago, boosted by a newly discovered wealth in the subsoil: oil. Nestled in the heart of the Amazon jungle, surrounded by three large rivers that end up joining the Amazon and in the middle of nature reserves, Orellana shares the noisy and colorful exuberance so typical of this fortunate and hurt region.
Luis Yanza and Ermel Chávez, from the Amazon Defense Front, are going to help us understand the daily drama experienced by thousands of people who populate the seemingly peaceful Ecuadorian jungle. As soon as the trip begins, I visit, together with a team from Manos Unidas, a Capuchin missionary, originally from Pamplona, ​​who has spent his entire life in the region. With few words and with a look that transmits intelligence, commitment and indignation, José Miguel Goldaraz thus summarizes what has happened and what is happening. "In the seventies was the first major oil spill in San Carlos. So we sue. Nobody listened to us and the Napo River was contaminated. In the nineties it was the second great spill. So we sued, but nothing happened. Impunity is the word that defines an oil company here – Goldaraz continues – and, meanwhile, the people suffer the consequences. That is why – the missionary bluntly concludes – I do not believe in human rights. They are an entelechy of the academy. How can it be said that we are all equal and have the same dignity? Those of us who live here and accompany the people know that this is completely false".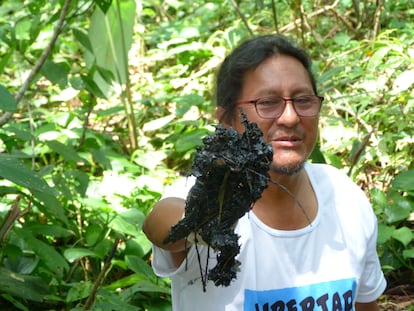 With that kind of enlightened pessimism that José Miguel leaves us in our bodies, we spent a couple of days visiting communities and families in the region. Don Servio, one of the residents, recounts how he had to leave his house when Texaco began to drill wells and excavate pools several meters deep in raw earth into which all the toxic waste from the first phases of oil exploration.
Today, 50 years later, that waste is still there, no more than five centimeters from the surface, contaminating groundwater and rainwater that reaches runoff and rivers, causing the death of plants and animals. Don Servio shows the water well from which his house used to be, from which they drank contaminated water for years. His parents, he tells us, died from contamination. "When we were little we bathed in the river, with oil, the company workers told us that nothing was wrong, that it was good for the skin," says Don Servio.
It is absurd to buy bottled water in the region at a dollar a liter. But that is what oil has left us
Don Hugo, for his part, laments the spill that last December affected the back of his house. "An accident", they tell him about the company. Man has lost more than half of his animals. He shows us the indemnity certificate in which he has detailed the losses. "The company people don't know when they're going to pay me," he says sadly. "And in the meantime, what do I do? What do I live on?"
We continue to visit families who participate in projects supported by Manos Unidas. They proudly show me the cisterns installed next to their houses, prepared to collect and purify rainwater for human consumption. They feel lucky. Not everyone has the opportunity to drink clean water. And they explain to us how they carefully distribute it for drinking and cooking throughout the year.
I tell them that, like many organizations, we finance cisterns to collect rainwater in semi-arid regions with very little rainfall, but isn't it a contradiction to build cisterns in jungles with abundant rivers and where it rains almost every day? "It is absurd, yes, as much as buying bottled water in the region for a dollar a liter. But that is what the oil has left us," one of the villagers replies.
"And they accuse us of being corrupt. No one can last that long."
The next day I meet Wilmo, who shows us how the water contaminated by a swimming pool ends up in a small river surrounded by signs that warn of the danger of contamination. He also shows us his skin full of eczema because of the water. Ermel invites me to accompany him. We go into the jungle, until the path disappears. And there, where we only see vegetation, he reveals to me a new pool of oil. "There are hundreds throughout the area," he says. "When Texaco left, he declared a little more than 300 pools like this, although in reality there are more than a thousand, all from the same period."
In the 2000s, the Amazon Defense Front he managed to organize and unite 30,000 Ecuadorians to file a class action lawsuit against Texaco for environmental and health damage. After a long and costly litigation in Ecuador, the company was sentenced in 2011 to pay 10,000 million dollars to repair the damage caused to the communities. "But Chevron (formerly Texaco) has not paid a penny," continues Ermel. "His strategy was the counterattack. His lawyers denounced before an American judge that the sentence in Ecuador had been obtained through corrupt means and that the trial was invalid".
Texaco won this lawsuit in the United States in 2016. Ermel feels angry, disappointed, tired. With his oil-soaked hand, he makes the sign of stop and shows his T-shirt, in which the name of the lawyer who believed in them and supported them in the process appears, and who still remains under house arrest in the United States today. "Fifty years fighting and no company has taken responsibility for the damage caused to our rivers and our people. And they accuse us of being corrupt. No one lasts that long, "he concludes.
Businesses and Due Diligence
Returning to Spain, still moved by everything I had seen and heard, I kept wondering why so many people, in the most extraordinary places, live in poverty and precariousness, with their environment deteriorated, while others enrich themselves at the expense of their natural resources. Reflection easily turns into outrage knowing that there are thousands of Orellanas around the world. We have the 2030 Agenda for sustainable development. The Paris Agreement on Climate Change. The summits of the earth to defend the environment. But it's not enough.
If we really want to build a fairer, more inclusive world that leaves no one behind, we still have a long way to go. And this happens by complying with the United Nations Guiding Principles for business: protect, respect and repair, taking care of the planet and people. And a key chapter in this path is the "duty of diligence" of companies, to scrupulously comply with respect for human and environmental rights, anywhere in the world.
A binding treaty is being debated at the UN. The EU has just published its proposal for a European directive on due diligence. The Spanish government is preparing a due diligence law for Spanish companies. Any effort will be little as long as there are still Orellanas in the world: predatory and irresponsible companies, complicit governments and precarious and disorganized populations, and without the capacity to defend their rights.
I do believe in human rights. In the dignity of each person. In that a healthy environment determines the quality of life and the human quality of a society. And I think that this is built little by little and between all of us. Let's celebrate, then, this June 5, World Environment Dayasking ourselves what and how to contribute so that there are fewer Orellanas to mourn and more life to celebrate.
You can follow PLANETA FUTURO at Twitter, Facebook and Instagramand subscribe here to our 'newsletter'.




#World #Environment #Day #told #oil #good #skin #front #line #future #planet