13.45 / Paramount Network
'The secret of the pyramid'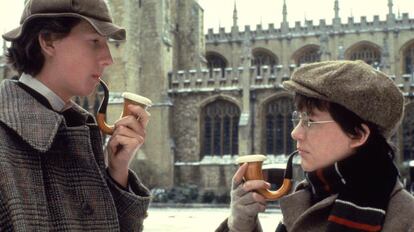 Pyramid of Fear. United States, 1985 (105 minutes). Director: Barry Levinson. Cast: Nicholas Rowe, Alan Cox, Sophie Ward.
Before settling into the conformity of Hollywood success and launching into filming things as unfortunate as Toys, Harassment Y sleepers, Barry Levinson shot, at the beginning of his career, fresh and personal works such as this exemplary example of a youth film. A story of impeccable narrative ability that imagines the adolescence of Sherlock Holmes, the beginning of his friendship with Watson and the confrontation with his first case. Cinema filmed with as much passion as sincerity.
15.00 / DMAX and Eurosport
Rafael Nadal looks for another title at Roland Garros
Rafael Nadal fights for his fourteenth Roland Garros title. The Spaniard faces Norwegian Casper Ruud after reaching the final after Zverev was injured in their semifinal match. Nadal has 111 victories on the land of Roland Garros, where he has only lost three matches, and if he manages to defend his title this year, he would reach his 22nd Grand Slam title, distancing himself from the 20 that Roger Federer and his main rival currently have, Novak Djokovic.
16.00 / TCM
'The iron Giant'
The Iron Giant. USA, 1999 (82 minutes). Director: Brad Bird.
The subsequent author, at the Pixar factory, of The Incredibles Y Ratatouille, He signed years before for Warner this marvel in which he uses traditional animation methods to elaborate an amazing pacifist parable that lives in times of the cold war. His star is a huge robot from the sky who dreams of being indestructible and is unaware of his origin and violent nature. The fascinating images of The Iron Giant grow thanks to an admirable visual invoice that reproduces the aesthetics of the fifties and uses the scope with a master's hand
18.25 / THIRTEEN
'The Adventures of Jeremiah Johnson'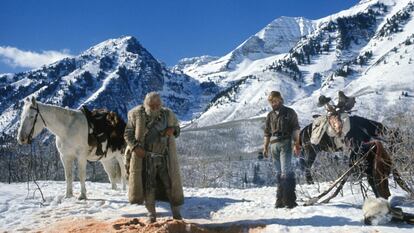 Jeremiah Johnson. 1972 (107 minutes). Director: Sidney Pollack. Cast: Robert Redford, Will Geer, Stefan Gierash.
An exciting environmental western, with a clear adventurous background, which continues to be one of Sydney Pollack's most rounded works today. Robert Redford embarks on a very initiatory journey to the mountains to live as a trapper. There he will discover that the human being can be the worst of beasts, he will love and kill in a landscape that becomes one more character in the film and will survive his way until he becomes a legend. Pollack films images overflowing with poetry, a portent of narrative intensity, a masterpiece.
18.25 / Movistar Comedy
'The Goonies'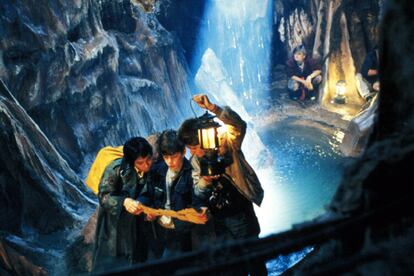 USA, 1985 (105 minutes). Director: Richard Donner. Cast: Josh Brolin, Sean Astin, Jeff Cohen.
An icon of youth cinema of the eighties: Spielberg as producer and Richard Donner behind the camera propose a film that retains its freshness and accumulates frantic adventures alongside a group of children who are chasing a hidden treasure. Many blockbusters would already like to reach their impudence and their effectiveness.
19.25 / COSMO
'The Deep Blue Sea'
UK, 2011 (98 minutes). Director: Terence Davis. Cast: Rachel Weisz, Tom Hiddleston, Simon Russell Beale, Ann Mitchell, Karl Johnson.
Since the eighties, when he triumphed with a masterpiece of the caliber of distant voices, the British Terence Davies has developed a brief career (only six films in almost 30 years), but always personal, on a journey against the current. His cinema, eager for feelings, explodes in The Deep Blue Sea, a monumental melodrama wrapped in images of unheard-of virtuosity that spills over into the portrait of a woman devastated by a passionate love affair. A marvel.
20.45 / The 1
Czech Republic-Spain in the League of Nations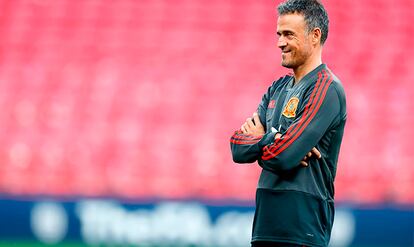 The Spanish football team led by Luis Enrique faces a new game in the League of Nations after the draw against Portugal last Thursday. On this occasion the rival is the Czech Republic in a duel that takes place at the Eden Arena in Prague. Both teams will meet again on the 12th at the La Rosaleda stadium in Malaga.
21.25 / We are
'The luminous wound'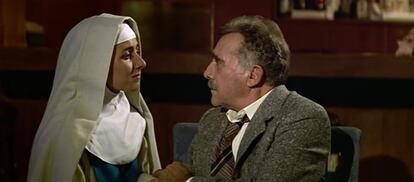 Spain, 1997 (92 minutes). Director: Jose Luis Garcia. Cast: Fernando Guillén, Cayetana Guillén Cuervo, Julia Gutiérrez Caba, Beatriz Santana.
José Luis Garci recovers the old melodrama of Josep Maria de Sagarra: it's the fifties and a doctor survives his gray existence between interior turbulence while he has to face his daughter and her lover. Garci creates an irregular film, but passionate, synthetic and naked, covered by lashes of brutal drama.
21.30 / The 2
'Essentials' remembers Juan Antonio Bardem on his centenary
The documentary militant vitalist remembers one of the greatest directors of Spanish cinema, Juan Antonio Bardem, on the centenary of his birth. He started in the profession together with Luis García Berlanga with that happy couple and during the 1950s and 1960s it established itself at the pinnacle of European auteur cinema. Bardem was always focused on a committed and critical art, with a firm ideological position as a militant of the Communist Party, which caused him to clash with the Francoist censorship until he was almost relegated to ostracism. Children and nephews, friends, collaborators and actors punctuate this memory of the great filmmaker.
22.10 / Antenna 3
Another appointment with the drama of 'Innocents'
Turkish series characters innocent they cannot stop facing new conflicts. In this installment, the news of Aras's identity, his return to Tekirdağ and the purchase of the hospital will make a lot of noise in the plot environment. Also, Volkan meets Aras and learns that she will be getting a divorce in a few days. Derin, on the other hand, is tricked by Leyla and events become unbearable.
22.30 / The 2
'Spanish version', with a film by Nely Reguera
The program dedicated to Spanish cinema broadcasts the film tonight Mary and the others directed by Nely Reguera, a few days before the premiere of the volunteer, his second feature film. In the colloquium, moderated by Cayetana Guillén Cuervo, the director herself and the screenwriter Eduard Solá will be present. In addition, the program will broadcast the short It is Sunrising, Directed by Guillermo Benet, who is participating in the Ibero-American Short Film Competition Spanish Version-SGAE.
22.35 / The 2
'Mary (and the others)'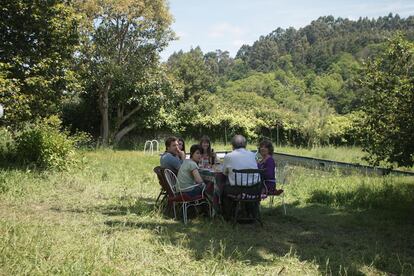 Spain, 2016 (90 minutes). Director: Nely Reguera. Cast: Bárbara Lennie, José Ángel Egido, Pablo Derqui, Vito Sanz.
The luminous debut of Nely Reguera, who had already attracted attention with her short Pablo As an ESCAC student, she traces the simple, but profound, portrait of a woman's loneliness. A film with a delicate staging, which extracts meanings and sensations from each image.
0.40 / Movistar Drama
'American Beauty'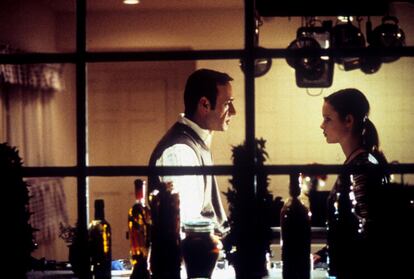 USA, 1999 (117 minutes). Director: Sam Mendes. Cast: Kevin Spacey, Annette Bening, Mena Suvari, Thora Birch.
The popular success of a film as crude as it is cynical is surprising, whose characters, some infantilized, others neurotic, provide little empathy towards the viewer. American Beauty is based on an exemplary script by Alan Bell (later enlisted in television hits such as two meters below ground) that devastatingly satirises the myth of the American dream and mercilessly dissects an apparently exemplary family.
You can follow EL PAÍS TELEVISION on Twitter or sign up here to receive our weekly newsletter.