13.25 / Movistar Classics
'Twelve Merciless Men'
12 Angry Men. United States, 1957 (96 m.). Director: Sidney Lumet. Cast: Henry Fonda, Lee J. Cobb, Ed Begley, Jack Warden, Martin Balsam.
A jury meets in a narrow room. It must acquit or condemn to death, and they must do so unanimously. Thus begins a work that still offers film lessons with more than forty years of life. It also delivers a virulent and steely criticism of the American judicial system and shows a deep contempt for the death penalty. The strong script by Reginald Rose, which adapts his own play, is used by Sidney Lumet to create a continuous suffocation with his camera, between tense gestures and intimate anguish, which trap the viewer and some ambiguous and therefore closer characters, led by a sublime Henry Fonda.
16.05 / #0
United 93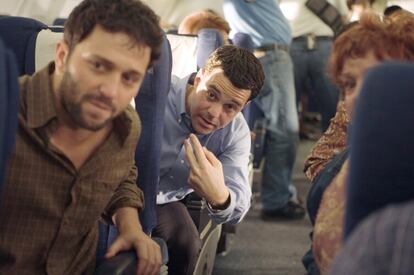 USA-France-UK, 2006 (92 minutes). Director: Paul Greengrass. Cast: Christian Clemenson, Trish Gates, Khalid Abadía.
United Airlines Flight 93 was the only plane hijacked on 9/11 that did not meet its target. It crashed in Pennsylvania after the passengers' rebellion and all its occupants were killed. Paul Greengrass reconstructs what happened, in real time, giving his film a rushed, nervous, feverish aesthetic, and turns United 93 in a monumental film. We must thank him for his courage in approaching, five years after the tragedy, the filmic reconstruction of him. Also his plunge into a work that requires the viewer to lose any dramatic distance from what happens on the screen. The realism that embraces United 93 it is merciless. His filmic creativity, overwhelming. The images of him, the most intense that have been seen in many years.
22.00 / The 2
XXV edition of the Max Awards
La 2 offers live the delivery of the Max Awards for the Performing Arts from the Teatre Principal de Maó, in Menorca. The Max Honor Award will honor the career of playwright and stage director José Luis Alonso de Santos, and the Social Character Award will be given to Fallen from Heaven, an NGO founded by playwright Paloma Pedrero. Two Balearic creators, the playwright and stage director Josep-Pere Peyró and the dancer and choreographer of the Mar Aguiló National Dance Company, will be in charge of a staging that will capture Mediterranean roots and ocean currents on stage.
22.00 / Hollywood
'Star Trek'
United States, 2009 (120 minutes). Director: JJ Abrams. Cast: Chris Pine, Zachary Quinto, Eric Bana, Simon Pegg, Winona Ryder.
JJ Abrams, the creator of television phenomena of the caliber of lost Y Alias, resumes the veteran series star trek in order to get closer to the origins of the USS Enterprise. Of course, it is far from being a complete work, but it provides a fresh look at the protagonists of the story and clearly shows Abrams' affection for the original product.
10:00 p.m. / 13th Street
'Mercury Rising'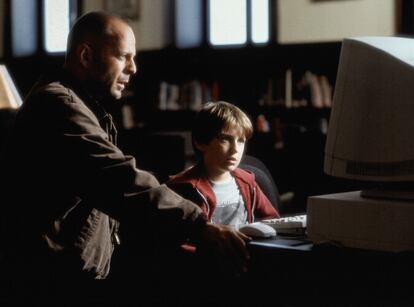 United States, (108 minutes). 1998. Director: Harold Becker. Cast: Bruce Willis, Alec Baldwin, Miko Hughes.
An autistic boy has managed to decipher a secret code that protects certain espionage activities. His life, of course, is in danger, but agent Bruce Willis will be in charge of protecting him. In this way a relatively modest man is born, who plays his tricks with skill despite the anodyne work behind the camera of the impersonal Harold Becker.
22.00 / #Come on
A portrait of the cyclist Marco Pantani
In the nineties, Marco Pantani marked the sport of cycling. His fleeting but intense career, his impossible attacks on the most difficult ports and his sudden death consecrated him as an Italian emblem. The report Pantani. the mountain pirate remembers his career thanks to unpublished images and intimate conversations with family and friends, 22 years after his loss.
22.00 / Movistar Classics
'Passage to India'
A Passage to India. UK 1984 (163 minutes). Director: David Lean. Cast: Judy Davis, Peggy Ashcroft, James Fox, Alec Guinness, Victor Banerjee.
David Lean's cinematographic farewell was one of the peaks of an unrepeatable author who, already in his seventies and after 14 years of silence since he shot in 1970 Ryan's daughter, poured his visual passion into an EM Foster novel. Lean not only fills the screen with classicism, but also draws a critique of British colonialism, an emotional portrait of a clash of cultures and a measure of introspection into the psychological ghosts of its protagonist. All this soaked in images of overwhelming beauty.
22.05 / The 1
First debate before the Andalusian elections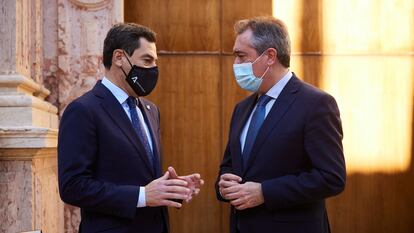 TVE organizes the first debate between the candidates to preside over the Junta de Andalucía. Moderated by Xabier Fortes, Juanma Moreno (PP-A), Juan Espadas (PSOE-A), Juan Antonio Marín (Citizens), Inmaculada Nieto (For Andalusia), Macarena Olona (Vox) and Teresa Rodríguez (Adelante Andalucía) will be present. The appointment will be structured in three thematic blocks: Economy, employment and taxation, education, health, social services and equality and territorial challenge, regional financing, democratic regeneration and post-election agreements. The debate will be broadcast live on La 1, Canal 24 Horas, Radio 5, RTVE.es and RTVE Play.
22.45 / Antenna 3
Safiye, insecure with her house in 'Innocents'
Tonight's episode of the Turkish series innocent recounts how the doctors support Safiye to make the house habitable, but she is not sure she can do it. On the other hand, while she has trouble suppressing Hasibe's voice, she comes face to face with someone unexpected at her house at night. In addition, the whole family is excitedly awaiting the reveal of the gender of Gulben and Esat's baby.
22. 45 / Four
Boris Izaguirre, Loles León and Melody, facing their fears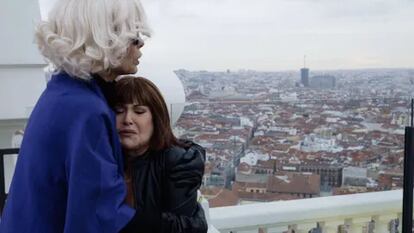 The latest installment of The fears of… will focus on the deep-seated fears of three popular new guests. Boris Izaguirre will have to face his fear of fire). For her part, Melody will defy her horror of grasshoppers and Loles Léon will oppose her aversion to English and will do her best to speak and understand it.
23.00 / Telecinco
Another enigma in the series 'Disappeared'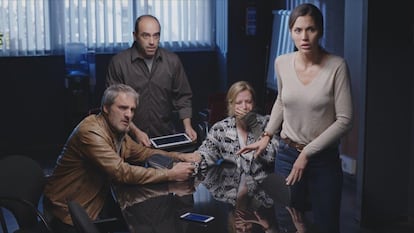 Chief Inspector Abad parks his work in Group 2 due to the worrying situation of his son Gaspar, accused of theft, in tonight's installment of the series Missing. Sonia Ledesma will remain as leader of the unit and will have to deal with two cases, a young man who disappeared four years ago after witnessing a robbery at a bank branch and the one raised by the mother of a missing young anorexic.
0.30 / Movistar Drama
'Ambition wells'
There Will Be Blood. USA, 2007 (151 minutes). Dir.: Paul Thomas Anderson. Int.: Daniel Day Lewis, Paul Dano, Ciarán Hinds.
Paul Thomas Anderson uses an Upton Sinclair novel to create an unhealthy film centered on the genesis of the American oil industry in the 19th century. An immense work by Daniel Day Lewis enhances the hallucinated tone of the film, wrapped in a mise-en-scène close to hyper-realism in which an avalanche of visual suggestions beats incessantly. Among all this, Anderson draws a protagonist poisoned by hatred that forces the viewer to dispense with all empathy.
You can follow EL PAÍS TELEVISION on Twitter or sign up here to receive our weekly newsletter.