A year ago, the Government approved the State Bicycle Strategy, a compendium of measures and recommendations that for the first time made the promotion of cycling a State policy. The document included the launch of the General Bicycle Office, dependent on the Ministry of Transport, to coordinate the work of ministries and administrations in this area. In front of it is Toño Pérez Peña (Madrid, 41 years old), an official who has been in the ministry for 15 years and who, of course, pedals daily. In his first interview, conducted on the eve of the celebration this Friday of the World bicycle Daypoints out that his office is working on a guide to build safe bike lanes and on a viewer of all the country's cycle routes.
Ask. Does this Government bet on the bike?
Response. There had never been a budget item in the General State Budgets specifically for the bike, but there were loose actions. Now the General Bicycle Office has been created, which leads the actions of the State Bicycle Strategy and centralizes and coordinates all actions. It is about giving importance to the bike as another means of transport and as a useful tool to move towards a new decarbonized mobility that also cares for health and the environment. Since the Strategy was approved a year ago, institutional support has been total. All administrations have jumped on the bandwagon of promoting the bike, although some go faster than others.
P. What can be done with a five million budget?
R. The five million from 2021 will be used for subsidies to build cycling infrastructure in municipalities with less than 50,000 inhabitants, which are those that have not been able to access the Recovery Plan funds. We trust that they will come out before the end of the year. With the five million from 2022 there will be another call to decide. But the State does many more things: Adif is going to install bike parking in train stations, the General Directorate of Highways is including cycling infrastructure in its budgets…
Information is the first tool against climate change. Subscribe to it.
subscribe
P. What does your coordination work consist of?
R. The office leads the actions in favor of the bike within the Ministry of Transport, but we also want to be a facilitating tool for the rest of the ministries, communities and town councils, that is, to be the reference for all administrations, transfer homogeneous criteria and seek synergies to get citizenship.
P. What are they doing to transform urban mobility?
R. Transport has managed 1,000 million from the Recovery Plan and 40% of the subsidies granted are aimed at active and sustainable mobility, that is, pedestrian and cyclist. Thanks to these funds, 500 kilometers of new bike lanes will be built and 450 existing kilometers will be rehabilitated and improved, in addition to improving and implementing public bicycle rental and secure parking systems. We trust that they will be a before and after in cycling mobility in our towns and cities. And then for this 2022 another call for 500 million more is enabled, and 900 million are transferred to the autonomous communities.
P. How will they convince the cities that they are not building bike lanes?
R. I think that it is no longer necessary to convince anyone, all administrations are clear about it, because it is a claim from society, which wants to ride a bike. But there are people who do not dare to share space with motor vehicles, which is why cycling infrastructures must be built to give citizens the freedom to travel by bike as another means of transport.
P. Is cycling still something considered hippie or leftist?
R. A few years ago it might have been that way, but not now. We have to achieve cultural change and banish the idea that 'the bike is not for me', based on awareness campaigns, education, construction of safe infrastructure… The more people you see on a bike, the more this multiplier effect. We are not going to make everyone ride a bicycle overnight, but the first step is for more and more people to consider it.
P. What projects do you have underway?
R. We are working on the drafting of a cycling infrastructure design guide. It is good that there is a national reference document for the construction of infrastructure, although they will be recommendations. The key is to make bike lanes protected and segregated from motorized traffic, which are the ones that really make it easier for most of the population to move by bike. It will be for November.
P. Are there items from the ministry to make bike lanes on roads?
R. The General Directorate of Highways is carrying out a program that we call Humanization of Crossings on highways that are the responsibility of the ministry and that are in disuse. Many projects are being drafted to humanize these crossings, narrow the lanes and build wider sidewalks and bike lanes.
P. The Strategy talks about training students in handling the bike. When will we see it?
R. The Strategy touches on so many aspects that there are many ministries involved. This measure is being piloted by the Ministry of Education together with the DGT and tries to include cycling mobility in the school curriculum. Those curricula have already been published and now we have to see the practical application in schools, but we trust that it will be a decisive step soon.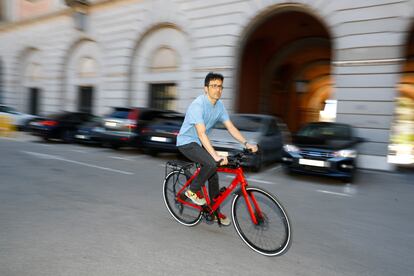 P. Will new buildings be required to have bike racks?
R. An order was published last week that it will be mandatory in public buildings. In the rest of the houses we still do not have a deadline.
P. Will there be an economic memory of everything that the State invests in bicycles?
R. Many ministries are applying measures: Health, Education, Agriculture… We are drafting an order to create an interministerial committee that will centralize this information to find out how much they invest in cycling and what results it is giving.
P. How will they promote cycling tourism?
R. We are working together with National Geographic Information Center in a viewer of recyclable routes, because there are many routes from the provincial councils, city councils, autonomous communities, greenways, natural paths… but the information is scattered and the user does not know which administration it depends on, so offering all the information in a single web portal will make it much easier to use. We want to be a point of reference for citizens, so that they know that there is a Bicycle Office that provides all possible information and that they can ask to request any information. [a [email protected]].
P. When will it be easy to travel by train with the bike?
R. Renfe is taking decisive steps both in the acquisition of rolling stock in which bicycles can be included and in providing this information and that from the website it is increasingly easier to mount bicycles on the train.
P. What do you think is missing for Spain to move by bicycle?
R. The first step is cultural change and that is already here, because there are fewer and fewer people who think that they cannot get around by bike. But many measures are needed: awareness, education, information campaigns… People already want to pedal, but administrations have to provide the tools to make it possible.
You can follow CLIMATE AND ENVIRONMENT at Facebook Y Twitteror sign up here to receive our weekly newsletter