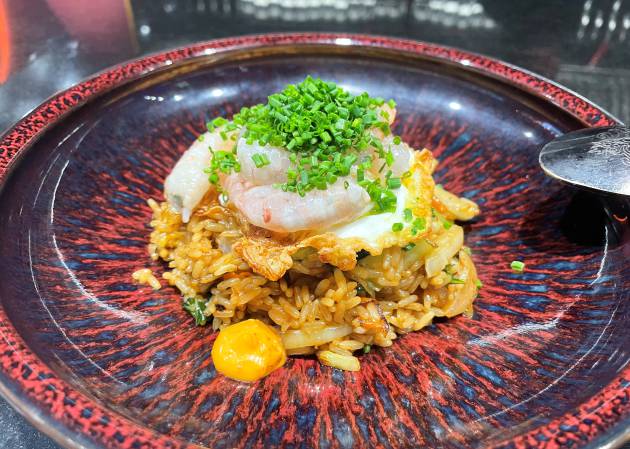 If Isidro López had followed his father's advice, he would have been a sculptor. Or anything but a cook, but he became a cook. If he had paid attention to the "wherever you go, do what you see", he would have opened a tapas bar with salad. If Isidro weren't an inveterate stubborn person, at the first failure he would have closed the deal. But since this 29-year-old chef was clear that what he does would end up working, today we can enjoy the cuisine of Tiemarone of the most recommended restaurants in Jerez de la Frontera.
Pretending to listen to his father's recommendations, Isidro put aside his dream of being a chef and studied ephemeral architecture and interior design. "For paying attention to my father and having some studies, but since I was three years old I wanted to be a cook," says López. He never practiced, so he began training in cooking at the Halberdier's Tavern (Seville). He left there and at the age of 23 he set up his restaurant in his town, Jerez: "I have never passed through the kitchens of the great chefs. I am in favor of learning by making mistakes alone".
Audience Award for a restaurant without an audience
In 2017 he opened his first restaurant with his mother helping him in the kitchen and his girlfriend in the dining room. That project was called Tiemar, the gastrofactory. "We were in a neighborhood far from the center, it was a place of just 40 square meters and we served food different from what is expected in this area. We were next to a hamburger restaurant that was always full and my restaurant was empty", says Isidro.
"Four months after opening, we won the Gurmé award in the province of Cádiz according to the public, but we had no people. I don't know who put us there or how we won, but we won." That gave them visibility. Some journalists from the area such as Eugenio Camacho or Paz Ivison went, ate and wrote about Tiemar and little by little he gained clients. A clientele who still did not fully understand Isidro: "They told me to put salad, which is where the kitchen of a Cadiz restaurant is measured. In Cádiz if you open a restaurant and there is no salad, you are crazy". Well, he must be crazy, because in Tiemar, the gastrofactory never had salad.
The new Tiemar: from the gastrofactory to the gastroshow
In 2019, he looked for a more central location, but what he thought was going to be a move of a few months, a pandemic, bureaucracy and construction work, ended up taking two years. Finally, Tiemar opened its doors in May 2021, this time under the name Tiemar Gastroshow. "It is the mixture of gastrobar and showcooking, because at Tiemar you can see how we prepare all the dishes. In addition, the gastrobar concept is hackneyed. It is called a gastrobar to places that take advantage of that name to offer food with pretensions and without quality.
This new Tiemar on Calle Rosario, 10 has an open bar, dark walls and neon lights. An atmosphere that is out of the conventional in Jerez. "I have not invented anything. It is a concept, both as a place and as a kitchen, that exists and works in Madrid, Barcelona, ​​London, New York… They told me that this idea is very risky, but the truth is that it was risky because no one opened it, not because There is an audience for her. I know of people from Jerez who, when they travel, go to places like this and enjoy it". From the old Tiemar, only nigiri and a dessert remain on the menu; a menu that changes according to season, product and desire to have fun (and where there is still no salad).
What is Tiemar's kitchen like? "Some tell me that it is signature cuisine, others that they don't even know what it is. I do the cooking that I like, so I guess it's Isidro cooking". Or, as the head chef, Mikel López Iturriaga, said: "Asian cuisine but at your own pace with products from here that don't fall into fusion nonsense". The cuisine that Isidro likes is the one that is full of flavor. Intense flavors, Indian spices, local product with a mixture of street food from Asia. "I like food to burst in the mouth, to taste. The kitchen is one of the pleasures of life and going out has to be going out to eat different from what you do at home: dishes with spices, good seasonings, flavors. I don't go to rarities either, I look for the flavor".
Tiemar's letter: in search of flavor
Tiemar is not characterized by an endless menu, one of those that require you to ask for days of your own business to finish reading it: less than ten proposals make up his menu and outside of the savory menu, the most expensive dish is around 16 euros. And we could put our hand in the fire that it will be difficult for something you find in that letter to disappoint you.
The puffed rice pasta nigiri with guacamole and tuna mojama is one of the classics, with strong competition from the liquid croquette, very liquid croquette, super liquid croquette, and gazpachuelo. The gazpachuelo -which is subject to changes depending on the season-, has a vegetable dumpling topped with smoked prawns and all bathed in creamy jalapeño gazpachuelo.
When you bite into the duck brioche your brain begins to look for what it is that tastes so good to you. It is an elaborate bite, but there is something that brings back a more common memory that is not that of the duck or that of a well-done bun: it is BigMac because it has a sauce that reminds you of the flavor of this hamburger. There is also wok fried rice with Korean sauce, fried egg and bluefin tuna. The noodles are the ones that change the most depending on the season: sometimes with chicken wings, others with meatballs and at the time this article is being written they are with pork head and mole poblano.
For dessert, the chocolate textures, with chocolate in sponge cake, in ice cream, tempered, crunchy and powdered. Or "the cocktail that wanted to be frozen", a sweet whim of white chocolate, caramel and passion fruit. However, one of his most acclaimed desserts is the pink panther. "It is a dessert that we had in the first bar and we plated it on a pink plate. I always liked that cupcake from when I was little, so I wanted to make it." In the new Tiemar they have changed the pink plate for a plate shaped like the Pink Panther. "I told him the idea to Pinero and that same day he had the design done. It was the first thing I bought for the new Tiemar". And what is the most famous pink panther on Instagram wearing? "Vanilla cream, yuzu cake and strawberry chocolate and citrus touches. It is reminiscent of the panther cake but it is more acidic and not as sweet", says Isidro.
On the wine list, the winning bet, but not the only one, is Jerez, which is why we are here. "But we are looking for somewhat smaller and less commercial wineries. In the wine list we go more slowly, Juan Ruiz-Henestrosa, from Little John, is helping us to bring references from here and abroad that go well with our cuisine. The roommate is being trained, "says López.
"You have to get out of the ordinary. In Cádiz, although they say there is a lot of change, I still see it very much the same. There are products that I have to look for in Seville or on the internet, spices, above all. And as for the public, Jerez is a difficult square, he thinks that it is the only place in the world where they opened a McDonald's and had to close it, "jokes the chef. Speaking of a difficult audience: What does your father think of you being a chef now? "He is the first to support me. He even comes to help me, along with my mom, with errands."
Tiemar: c/ Rosario, 10. Jerez de la Frontera (Cádiz). Tel: 856 191 303. Map.


#Tiemar #groundbreaking #show #29yearold #chef