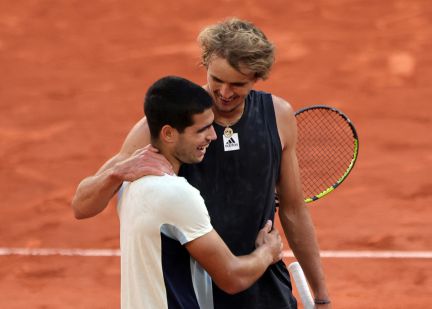 Zverev, on Alcaraz's reaction: "In my head I had: 'win before he fully wakes up'"
Zverev, after winning the match: "I'm happy because I saw how Alcaraz returned to the match. In my head he had: 'win before he fully wakes up,'" he jokes. And he adds, when asked about the change in the weather: "When I was alone, it didn't break me even once, but then the game started to change and it was slower," he explains.
Zverev took the first two sets, although in the third Alcaraz broke his serve and took the set in the only game in which the German lowered his percentage of firsts. In the fourth and final set, Alcaraz managed to break Zverev's serve when he served to win the match and placed a 5-5 on the scoreboard. The meeting went to tie breakwhere the Murcian fell defeated after wasting a set ball with the service.
In the photograph, which is from Pascal Rossignolfrom Reuters, Zverev greets Alcaraz after defeating him on Tuesday at Roland Garros.