Òscar Escobar, 45, works in logistics at a supermarket in Valencia, driving a mechanical forklift. He is one of the one hundred Spaniards chosen at random to be part of the Citizen Assembly for Climate, an initiative promoted by the Government but endowed with its own autonomy to agree on proposals from society with which to fight against climate change. "The first two months, he gave me fear and anxiety," says this Valencian. "They told us how everything was going to be with half a degree more, with one degree, with two degrees. And I thought of my six and 12-year-old daughters and I said to myself: 'God, what a shitty planet I'm leaving them with'.
Another of the people selected to discuss the climate emergency is Nuria Borda, 57, from Guadalajara, who has just been granted disability. As an account, it all started with a Facebook message, then some emails and finally the question of whether she wanted to be part of "a mini Spain". Those selected did not have to have knowledge about climate change, but the assembly did have to be a reflection of the composition of Spanish society. "They chose a hundred different people, from towns, cities, of different cultures and ages…", Borda emphasizes, explaining that in the first months they were trained by specialists from very different fields to later debate among all what can be done. "Being all so different, it is important that we have pulled this off. There are 172 very complete proposals, and it is something that fills me with pride", she says, leaning on her cane.
As has happened with the assemblies in France, the United Kingdom or Scotland, the deliberations of the chosen citizens had to answer the initial question, which in this case was: "A safer and fairer Spain in the face of climate change. How do we do it?". After nearly five months with meetings on weekends, first to prepare and then to debate, these one hundred Spaniards presented this Monday 172 proposals to the President of the Government. These measures include, for example, implementing an energy model with public control and regulation of fair prices; create free public recreational-cultural leisure spaces without the need for consumption, with public toilets and avoiding overcrowding; or guarantee social rent in all territories and neighborhoods to significantly reduce the need to invest time and energy in travelling.
"There were discussions, but we agreed and in fact I think that almost all the proposals have been approved with more than 80% support, that is, I think there has been a lot of consensus," says Gabriel Fernández-Gil, audiovisual director of 30 years living in Madrid, another of the participants in the Spanish climate assembly. As he points out, neither ideological nor age differences have been a barrier. "The new generations are already very aware of what is happening and we have thought that the previous generations were not, but in the assembly we have been surprised to see that the older ones are also clear about the problem," says this man from Madrid. Another even younger assemblywoman, Firdaous Alaoui, an 18-year-old from Barcelona, ​​completes her sentence, with a veil: "In our day-to-day we do see that we are alone, lost. It gives the feeling that nobody is listening to us and that this is already seen as a hopeless case. But we still have a future and they have to guarantee it to us. And with this assembly we are seeing that there is also interest on the part of the elderly to help us achieve it".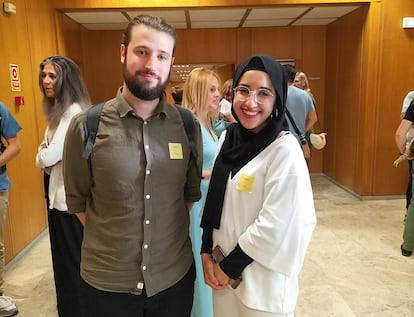 Information is the first tool against climate change. Subscribe to it.
subscribe
Among the 172 proposals of these Spanish citizens to achieve a safer and fairer country in the face of the climate emergency, there are also implementing reliable and accessible labeling that provides clear, concise and transparent information on the climate impact of consumer goods; accelerate the development and approval of a law to prevent losses and waste in the food system; promote teleworking to reduce displacement; create new protected natural spaces taking into account the impact of climate change; or classify ecocide as a crime in the Spanish legal framework in cases of massive damage and destruction of the ecosystem.
According to Alaoui, "we do not want this to be taken as just another small project, we believe that everything is very important to help the Government make decisions. Climate change is not something that will come, but is already here. There is no time to stop, think and react: we have to react now. And these measures serve to react. They have to be applied as soon as possible".
Both the hundred citizens and the panel of experts and scientists who have advised them received the Extraordinary Prize for the Environment for climate action and civic commitment on Monday at one of the headquarters of the Ministry of Ecological Transition. Nuria Borda and Òscar Escobar, representing the citizens, and Cristina Linares and Joaquín Nieto on behalf of the experts, have come on stage. "Avoiding catastrophic climate change means maintaining prosperity and peace. The transformation that we have to undergo is so enormous that it affects our way of living, working and consuming", Nieto pointed out upon receiving the award.
Other proposals launched by this Citizen Assembly for Climate are to create mechanisms to recover the use of homes, infrastructures, buildings and abandoned or disused land in rural areas, both privately owned and public and communal, with criteria of sustainability and energy efficiency; have a clear and binding zoning to preserve the ecosystems of high environmental value of the renewable energy installations; or create a state pact for action in the face of climate change. "A state pact, this is our star word. Without a State pact, this is going to shit", emphasizes Escobar, the forklift driver from Valencia.
You can follow CLIMATE AND ENVIRONMENT at Facebook Y Twitteror sign up here to receive our weekly newsletter
Exclusive content for subscribers
read without limits




#Spaniards #chosen #random #discuss #climate #change #months #scared #anxious #Climate #Environment