If some sources of film financing have dried up, others will have to be found. The premise works for many businesses and various cultural industries, but it is the cinema that has taken non-expendable art, that is, NFTs, very seriously. non-fungible token): those digital objects that are made from codes that make them unique, all with their certificate of ownership and authenticity. After a first wave in which archives with content derived from films were produced as a means of marketing and viewer loyalty, NFTs now appear as a manna that can fully pay for feature films. Together with audiovisual heavyweights such as Sylvester Stallone and Kevin Smith who have already launched initiatives related to this art, the American Julie Pacino has thus financed her I Live Here Now and she herself participates as an advisor to what will be the first European feature paid for with the marketing of NFTs, quiet, of Spanish Miguel Faus, which in September will shoot with Emily Mortimer, Paula Grimaldo, Susana Abaitua and Antonio de la Torre on the Costa Brava.
"A little over a year ago, a friend taught me what NFTs were and I recognize that it took me some time to assimilate it," he says from Los Angeles filmmaker Julie Pacino (Queens, 32 years old). She is the daughter of the legendary actor Al Pacino, the director had already directed numerous shorts since 2009 and she felt that the time had come for her to consider a feature film. "Once I understood how beneficial they were and the immense possibilities they offered to support artists, I didn't hesitate," she says. "I think it's going to open up a new way of getting budget money that will keep us from going down the traditional Hollywood path. What's more, NFTs connect you directly with your audience and build loyalty, making them feel part of your film".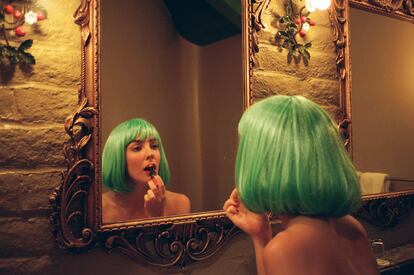 In his case, Pacino decided to take 100 photographs in a hotel, the Madonna Inn in California. The project was called I Live Here Now and centered on a woman who locks herself in a hotel to come to terms with her unwanted pregnancy, in a script that Pacino describes as "psychological horror." Those hundred NFTs were sold in less than 30 minutes and the filmmaker understood the possibilities. "We started a community of investors, Keepers of the Inn, who were invited to participate in the creative process during the making of the film," she says. Finally, it sold 3,365 NFT, the film has already been shot and is in post-production.
The noise generated in the digital world has been so great that the Spanish filmmaker Miguel Faus (Barcelona, ​​29 years old), who lives in London, thought that the path of the New Yorker could also be his. After two short films, The Death of Don Quixote (2018) and silent (2020), I wanted to go to the length with the development of the plot of the latter. "It is a very special process. I had already struggled to finance the film through the traditional paths in Spain, and I found myself with many closed doors", he explains by phone. "Turned into a producer due to the circumstances, I understood that through that system I was not going anywhere. In February 2021 I discovered NFTs, I got into that world and it hooked me", he sums up. For Faus, "the most revolutionary idea is that it assures you the ownership of the digital through software of the web3 crypto community. Is it digital crowdfunding? "In a way, yes." Faus has fragmented the short to make the NFTs and also on his website there are other non-expendable works inspired by the film.
All the culture that goes with you awaits you here.
subscribe
Currently, the project silent has raised 600,000 euros. "We will make the film in September and by then we hope to have reached a million euros. We have gone step by step. In March the first day we already achieved 80,000 euros. It is a small world that depends on many variables, true, but in our case we are doing very well", explains the filmmaker. Pacino says of him, "I admire his work ethic, and his approach to the NFT world is very similar to my work with the Keepers of the Inn community, meaning we both believe our NFTs would serve as proof of our visual concept for the movies. . And we know that we have to focus on creating authentic art and nurturing connections with more people in this environment." Faus in turn explains: "The world of filmmakers involved in digital art is so small that we quickly got to know each other. Julie has gotten involved because she supports the idea of ​​the more the merrier. We are a growing community."
silent develops, through a young Colombian maid, a portrait of the Catalan high bourgeoisie of the Costa Brava. "When I was shooting the short, I felt like I was leaving too many things out and I started taking notes for the feature," she recalls. The protagonist will be the same as the short, the actress Paula Grimaldo, and new characters have been developed to be played by the Englishwoman Emily Mortimer and the Spanish Susana Abaitua and Antonio de la Torre. "I think that Spanish cinema lacked more international ambition, and now that interest is noticeable."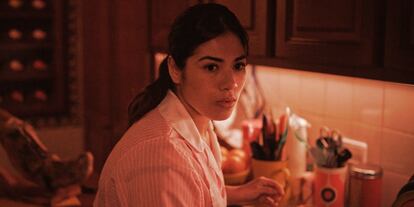 But NFTs aren't just a way to pay for independent movies or for Hollywood studios like Fox Entertainment, Universal Pictures and Metro-Goldwyn-Mayer (MGM) to digitally promote releases like The Matrix Resurrections, No time to die either Ghostbusters. At the beginning of this year Steven Soderbergh joined the non-profit platform Descentralizes Pictures (DCP), co-founded by American Zoetrope (Francis Ford Coppola's company) and run by his son Roman. Sylvester Stallone created the PlanetSLY platform last April and has already put 9,997 pieces up for sale there, 25 of them autographed by him.
At the recent Cannes market they announced more agreements with associations that have increased their funds to produce documentaries. Various platforms also participated, which demonstrates the advent of the NFT in the cinema: if cryptocurrencies are down, digital art is now experiencing its best moment, they assured from companies such as Electromagnetic Productions or Goldfinch, whose manager, Phil McKenzie, assured in The Hollywood Reporter: "We are still only scratching the surface of its potential." Within the same framework, one of the industry's financing roundtables dedicated itself to blockchain and NFT in the cinema, and the speakers agreed with an appreciation of Pacino. "This new way of raising money is going to open up films to minority talent, because it promotes collaboration and the involvement of those who contribute capital, it can really change the paradigm," insisted Hewie Rattray, from the company NFT Studios.
Across the Atlantic, in April 2021, Kevin Smith began auctioning off his anthology of horror shorts Kilroy was here (to whom he has dedicated five years) through his page Jay and Silent Bob's Crypto Studio. Owners of their 5,555 NFTs have been granted exclusive access rights to a package that will contain the films, commentary, how-to and exclusive art. And they will be able to do whatever they want with them: from reassembling them to turning them into material objects. In reality, he has made his 5,555 clients privileged, which is far from the spirit that Pacino defends.