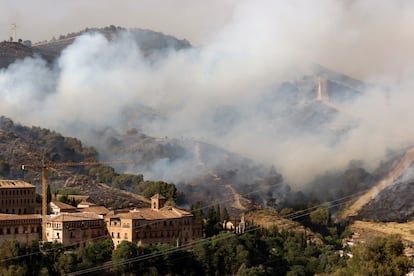 The majority of Spaniards believe that action should be taken against climate change with the same urgency as against the coronavirus, and only 13% of those surveyed deny the existence of this phenomenon. Citizens are in favor of raising environmental taxes to combat global warming —which causes extreme phenomena such as heat waves and fuels fires— and to change other habits, but not to give up the car on vacation. These are some of the conclusions of a survey of the BBVA Foundation Posted this Sunday World Environment Day. "All the data indicates that people have a clearer perception of climate change," summarizes Consuelo Perera, a technician from the entity's Department of Social Studies and Public Opinion.
The foundation has asked 4,500 people about these questions from July to December 2021 for its work Values, attitudes and environmental behavior of the Spanish. "The results show that citizens are becoming more environmentally aware, a trend that is accentuating over the years," continues Perera. Thus, if in 2008 44% of those surveyed considered that climate change was being given less importance than it deserved, that figure rises to 71% with current data. 84% of Spaniards consider it a scientifically proven fact, 80% attribute it to human activity and 78% believe that it is already having consequences in Spain. "With these figures there is no doubt that it does assume that there is global warming, although it is true that there is still 13% that do not consider it to be scientifically proven," says the researcher.
The majority (8.1 out of 10) perceive that we should act with the same urgency in the fight against climate change as we are doing with the coronavirus, a similar number considers that in economic recovery it is essential to invest in the economy green low in emissions, and 7.2 out of 10 believe that this phenomenon is even more serious than the pandemic.
"That concern is increasingly being transferred to behaviors and habits to alleviate the consequences of global warming", summarizes Perera. Thus, a majority of citizens are willing to increase their consumption taxes and income tax to conserve the environment (54% in favor, 20% in intermediate positions and 30% against), and are even in favor of a 5% increase in the price of water, gas, gasoline or electricity for this reason.
The Spaniards assume their actions
However, the resistances are greater in terms of mobility. Although the majority indicate that they have increased trips by public transport (more than 40%) or that they make more journeys on foot (70%) with the environment in mind, only 30% are willing to stop using the car altogether. leisure trips or vacations for these reasons. In any case, the Spanish assume their actions have an impact on the environment: 88% consider that the current level of consumption contributes a lot or quite a lot to accelerating climate change, and a large majority thinks the same about the use of means of transport such as the car (86%) and the plane (80%). "There is a lot of resistance to stop using the private vehicle for tourism trips or vacations, despite the fact that most citizens are clear that it is one of the means of transport that pollutes the most," says the researcher.
Information is the first tool against climate change. Subscribe to it.
subscribe
Regarding other questions, the majority declare that they always or frequently separate glass, cans, plastic or paper to recycle them (87%), consume local or seasonal products (83%), avoid the use of plastic bags new ones when shopping (81%), limits the consumption of water (79%) and electricity (79%), buys low-energy appliances (78%) and reduces the use of heating (74%) or the air conditioning (69%).
You can follow CLIMATE AND ENVIRONMENT at Facebook Y Twitteror sign up here to receive our weekly newsletter




#majority #Spaniards #action #climate #change #urgency #coronavirus #Climate #Environment