It is truly a farmhouse: a farmhouse. But its purpose, unlike the rest of these typical Levante farms, is not agricultural: basketball is planted here. L'Alqueria del Basket, inaugurated in September 2017, built around the Fuente de San Luis pavilion, not far from the City of Arts and Sciences in Valencia, is the largest European facility dedicated to the training categories of this discipline. A talent factory of which an entire NBA vice president like Chus Bueno said with admiration: "I don't know anything as powerful as this." gather to more than 50 teams masculine and feminine of quarry, about 550 boys and girls of all ages who, thanks to the existence of such a place, can combine school or institute and training, having at their disposal medical, psychological, gym or study rooms… all in one place.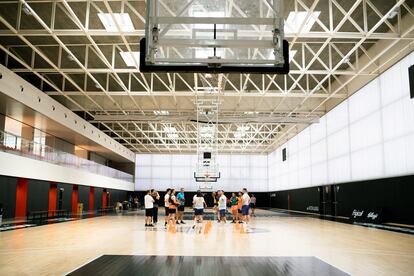 Players are cultivated, high performance is pursued but, according to the words of Paco Pardo, coach and psychologist, responsible for Personal Development, what distinguishes L'Alqueria is not the result, but the path. It all started five years ago: Valencia Basket already had a prolific quarry, boys and girls from all over the Valencian Community who trained in five different facilities. Logic dictated to combine them. "When you conceive a center like this, if you want it to make sense, at the very least you have to give the players a balance between sport and studies. We also include another leg: the life of the athletethe time you can dedicate to your family, your friends…", explains Esteban Albert, coordinator of the women's quarry, in a conversation with Pardo, who corroborates that, from the seed, L'Alqueria was imagined "like a house": they would be involved in the care of the players, they would provide them with support and they would also accompany them off the court, academically, of course, but also personally. Because teaching them to manage the hours, they say, the day gives enough of itself: don't have to choose, just be ordered. Because an athlete has to learn to deal with frustrations earlier than other children (missed shots, defeats, lack of self-confidence…). Because these values, integrated from basketball, make confident and mature people.
"There is no sacrifice. There is effort, says Pardo. They cannot perceive playing basketball as a constant renunciation. We would be lost.
—All the teams in the world want to train on Fridays, to prepare for the weekend game. I don't want players who feel like they've missed all of their best friend's birthdays. If the party falls on a Friday, I tell them: "go". And then they give me back double on the track, Albert exemplifies.
—With the fair support from us in the vicissitudes of the requirement to combine training, studies and life, they learn that effort brings daily rewards. It is a transcendent lesson, useful not only for the few who manage to dedicate themselves professionally to basketball, concludes Pardo.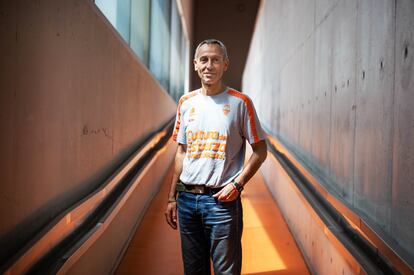 Albert and Pardo act as guides for a facility of 15,000 square meters that, this course, successfully welcomed 15 children's teams from the LF Endesa to play the Mini Cup, in which the best promises of Spanish women's basketball participate. The architecture of L'Alqueria took into account the suggestions of all the center's staff. A polymer filters the light from windows and skylights: it can be played without turning on a single electric light for most of the day, and without disturbing reflections in the pupil; there are changing rooms on each of the 13 courts (nine indoors and air-conditioned, four outdoors), which are just a few steps from the parquet. The heart of the facility is an area interconnected with the courts that houses a gym, medical consultations with ultrasound, rehabilitation areas, physiotherapy tables… "In case of injury, a proper examination can be done in a matter of minutes"presumes Albert.
The truth is that, before crossing the threshold, you are already breathing basketball. The screens in the cafeteria announce courses: a shooting campus, another for skills… The glass doors give access to a hall where the showcases exhibit all the shirts worn by the Valencia Basket teams since its foundation in 1986. Straight ahead, it It ends in the center court. A list of academy players who have managed to debut with the first team welcomes you with a reminder: the desired reward for the effort that Pardo mentioned, the one that drives everyone in there. The so-called wall of dreams. The first name registered, of the more than 40, is that of José Manuel Marí. His son Lucas watches him from the parquet floor, ball in hand; he points up with his finger. He is 16 years old and already measures 196 cm. If the promise taronja jumped onto the track with the first team it would be the first time that two generations, father and son, met on that wall.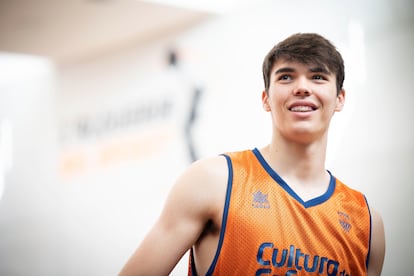 But, while he probably fantasizes about that day — he says he would change the number on his shirt for his father's '6' to celebrate it — what he is busy with, and what he is grateful for, is something else. Marí is aware that her routine, in another place, would be unthinkable. "From eight to ten in the morning I have class; then, the first training and back to the classroom. We eat and, afterwards, we have a little while to rest or study, in one of the rooms here in L'Alqueria; and, again, in the afternoon the exercise and the subjects of the institute are interspersed. At eight in the evening I come home with everything done".
The director of L'Alqueria, María de los Ángeles Vidal, believed that finding a school for her pupils would be a bureaucratic labyrinth, an exhausting battle. "I went to the meeting with the Ministry with the legislation under my arm, armed for war", she tells with hilarity. It turned out that they welcomed the project with amazement and everything was resolved naturally. A nearby public institute had already tried to adapt teaching schedules to the chores of musicians and dancers, and repeated the experience with the youth players of Valencia Basket. And the collaboration of the Ministry of Education, Culture and Sport with L'Alqueria did not stop there: "We welcome rugby or marathon teams, we provide training to coaches and other Physical Education professionals; our infrastructures are open to anyone who wants to enjoy them", explains Vidal. During the last year, the L'Alqueria facilities remained in use for around 14,000 hours.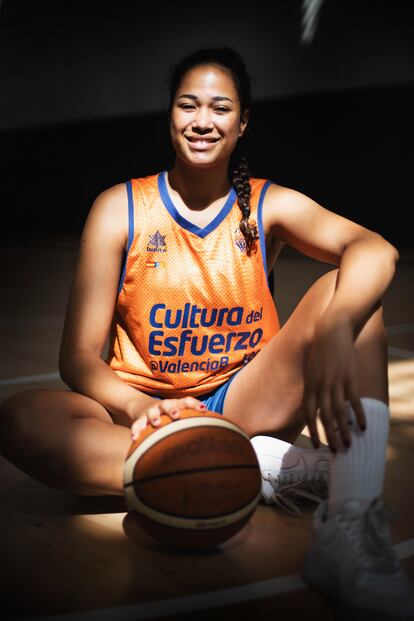 Marí shoots free throws with Noa Diju Morro; they laugh, they challenge each other… The Majorcan Morro, 17, already knows what it feels like to make her debut in the elite. Basketball also runs through her veins: in Mallorca, before her mother, power forward Sara Morro, retired, she was already able to enjoy a unique sensation: separated by more than two decades of age, they played together. For her, unlike for Marí, it is the first year at L'Alqueria: "everything is more difficult outside of here". She refers, in general, to juggling to combine the basket with the rest, and, more specifically, to the concern that now hangs in his closest future: selectivity. "I want to study a career while I play basketball. I still don't know which one, it will depend on what happens in these exams", she confesses with a nervousness that fades, ball in hand.
not just basketball
Basketball has a chair at the University of Valencia. At first, it was mainly about university doctors validating and homologating the training given at L'Alqueria del Basket: the continuous education received by its coaches and technicians, questions about physical preparation… Later, they ended up organizing mixed research teams, with professionals from the university and the sports center who, in just five years, says Vidal, "have managed to publish three scientific articles in prestigious journals." They investigate issues of nutrition, physiology or metabolism, but also other sociological ones, trying to measure the impact of basketball as a tool for social transformation. And, in all cases, says Vidal, the great challenge in progress is that the knowledge explored by the university ends up being useful and being applied on the slopes of L'Alqueria.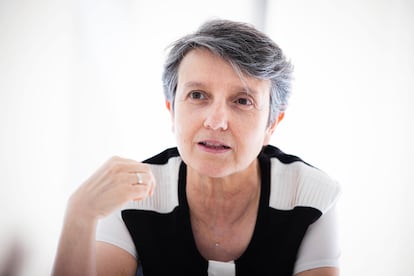 A prototype of a Valencian player
That, on any court, his pedigree is recognized: "that is a player forged in L'Alqueria". Andreu Casadevall, a coach with a long career both in LEB Oro and in the Endesa League, took on such a challenge when he agreed to be in charge of coordinating the men's section of the Valencia Basket training categories. He spent practically a year studying how the quarries of all Spain or international models such as Zalgiris (Kaunas, Lithuania) worked. Based on what was collected, he and Esteban Albert designed their own method, one that contemplates what physical, tactical and technical developments should be worked on with the players at each stage, from juniors to juniors, according to their age and conditions. Without distinction, of course, between women's and men's basketball. Briefly, Casadevall explains it like this: "we want the boys and girls to know how to defend in the open field, on the entire track; that they are fast, versatile and with very good fundamentals."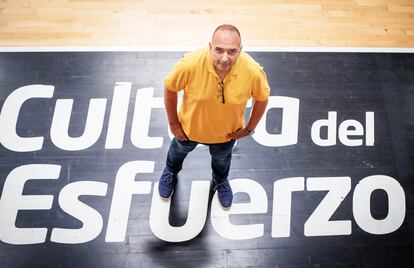 So how is a player? made in L'Alquería?
This is what Casadevall says: "One who, from a very young age, knows how to run and how to shoot a basket and put it in".
Shooting mechanics work daily.
Before the existence of L'Alqueria, says Casadevall, the gap was huge. "Junior-age players came out prepared to compete in competitions such as the EBA league, the fourth level, after the Endesa league, the LEB Oro and the LEB Plata." The jump to professionalism was, he confesses, almost impossible. "You had to be a Ricky Rubio, a real star, to get there." Now, the big difference lies, as he explains, in that the academy players have all the competitive steps, to grow up to the first team. "We have a team in LEB Plata made up almost exclusively of our juniors who, in fact, were only one triple away from being promoted to LEB Oro." A future in orange.