Beginnings of May, Turkish police stormed in a restaurant in downtown Ankara run and frequented by Somali immigrants to evict him and demand that it be closed. "We are not racist, but we have received many complaints," the police officer in charge of the operation is heard saying in a video recorded by one of those present and later published by various media: "It is not just you. [La gente] He doesn't want Iraqis, he doesn't want Syrians. go and open [restaurantes] in Esertepe, in Uyanis, in Keçiören [barrios del extrarradio de la capital turca] or where you live, but you are not wanted here".
Turkey is the country that hosts the most refugees: 3.7 million Syrians, plus a few hundred thousand Iraqis and Afghans, all of them protected by temporary status. If immigrants with residence permits (1.4 million) are added, and even if the number of undocumented immigrants is estimated at one million – Turkey is a transit country for those who want to reach European territory – foreigners in the country Eurasian people make up about 7% of the population (89 million, including refugees). That is, a level similar to or slightly lower than that of other European countries.
However, the fact that the foreign population has grown rapidly in recent years (a decade ago it accounted for less than 0.5% of the population) in the heat of the migration crises caused by the conflicts in the Middle East and Afghanistan, and the feeling that the European Union is using Turkey as a warehouse of refugees – due to the 2016 pact to prevent them from crossing into community territory – have created unrest in the local population. A malaise now spurred on by the increasingly critical economic situation in Turkey. If in 2015 the majority of Turks were in favor of the open-door policy of the government of the Islamist Recep Tayyip Erdogan and of welcoming refugees, now more than 75% are against it. "And this cuts across voters of all parties," says Berk Esen, a political scientist at the Center for Applied Turkish Studies in Berlin. Some politicians are preparing to capitalize on this discontent.
A documentary that talks about invasion
Just a few days before the raid on the Somali restaurant in Ankara, another video started making waves on social media in Turkey. In this case it was a work of fiction entitled Silent Invasion. It takes place in Istanbul in the year 2043 in which a young Turk can only apply, with luck, to a position as a hospital cleaner, despite his doctor's degree, because the Arabs have taken all the places. It is forbidden to speak Turkish at his work and the streets are increasingly dangerous. The video, which exceeded four million views on YouTube in its first week, has been directed by the journalist Hande Karacasu – who is now facing legal proceedings for inciting hatred – and has been financed by Ümit Özdag, an expelled politician of the nationalist right-wing party IYI (the second largest in the opposition), which is, in turn, a split from the far-right MHP (currently an ally of the Erdogan government). Last year Özdag founded his own Victory Party (ZP, for its acronym in Turkish), focused on the migration issue, with the promise of expelling all refugees and strongly racist speeches.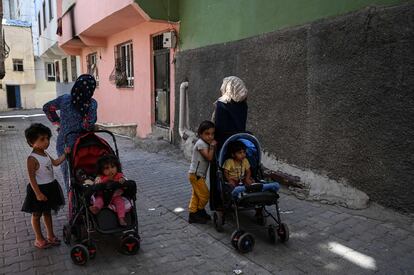 Join EL PAÍS to follow all the news and read without limits.
subscribe
Özdag is guided by "a few lines of populist politics of the extreme right, exaggerating the problems and offering simple solutions that are not feasible, but that, from the electoral point of view, make sense", explains the political scientist Esen. Although in the April polls the ZP obtained between 0.5% and 1.2% of voting intentions, in May it has made a jump: many polls place it with between 2% and 3%, and even a study raises it to 4.7%. Esen, however, doubts that he will be able to maintain this support in the year that remains until the presidential and legislative elections -or that he will be able to overcome all the obstacles to present himself in the elections-, but the truth is that he has managed to enter in the national debate. Helped, also, by his outbursts: the first week of May, Özdag challenged the also ultra-nationalist Minister of the Interior, Süleyman Soylu, to physically confront the doors of the ministry after he was called "inferior to an animal" and " son of Soros [en referencia al magnate y filántropo de origen húngaro George Soros]".
But Özdag is not alone. One of the star promises of the opposition coalition formed by the center-left CHP party and the right-wing IYI ​​is to reach an agreement with the dictator Bashar al-Assad and return the Syrians to their country within two to five years, and in the meantime gradually canceling or reducing the aid and integration programs currently underway (mostly financed by the EU). The Syrian Association for the Dignity of Citizens (SACD) has criticized these calls to expel the refugees from Turkey and other European countries and considers that it is still "premature" to speak of a return by " lack of security" of those who return, who in many cases face persecution from Damascus.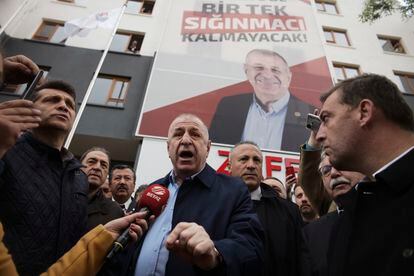 Build homes in northern Syria
The Turkish government has also tightened its policy so as not to be left behind, and in recent months the raids and expulsions of undocumented foreigners have multiplied. Erdogan has promised to promote the construction of houses in the territories under Turkish control in northern Syria to facilitate the "voluntary return" of a million refugees, but has warned that he will not hand over any "to the murderers", referring to the Syrian regime. A source from an international organization confirmed to this newspaper that the Turkish Executive has contacted them to implement this return program, about which they expressed doubts that it will be fulfilled.
"The government's policy is incoherent. On the one hand, it negotiates with the European Union how to get more money in exchange for keeping the refugees here; on the other, he tells the people that he is going to return them to their country while guaranteeing the businessmen that they will continue here and serve them as cheap labor without rights", criticizes Üstün Reinart, spokesperson for the Turkish association Puente de los Pueblos.
Many refugees work in small and medium-sized workshops, in exploitative conditions and for less than the minimum wage, without the ability to demand improvements, under threat from their foremen of denouncing them to the authorities, explains Ali Özdemirel, a lawyer for the Migrants' Union: "For Unfortunately, in recent years we have seen how the houses and businesses of immigrants were stoned. Many are afraid to leave home or are afraid to send their children to school. Even when they have legal reasons, they are unable to defend their rights for fear of being deported, which can happen without a trial."
The political polarization and how close the next elections will be make us foresee that the migratory question will continue in the debate, with increasingly demagogic postulates. "In Turkey there are serious economic problems and because of this people are tense, unhappy and hopeless. And that's why they look for a scapegoat", says Reinart, who adds: "Building an alternative based on real solutions requires more effort than singling out refugees. It is an easy and cheap way to get votes for opposition politicians. Racism has gone from being something to be ashamed of to being fully accepted. It is something that scares me a lot, because it can lead to a situation of chaos and violence."
Follow all the international information in Facebook Y Twitteror in our weekly newsletter.
Exclusive content for subscribers
read without limits