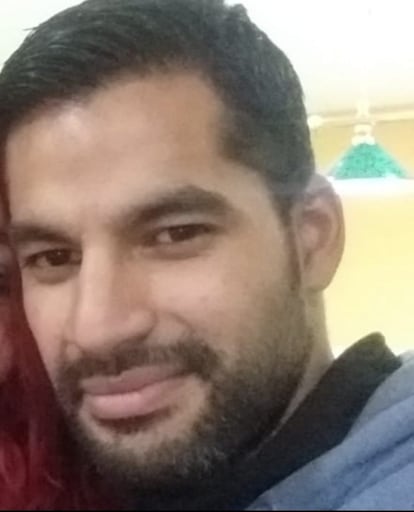 Danilo Carrasco left to celebrate his 38th birthday 70 days ago and has not returned. The Mossos have all lines of investigation open, and his family is still desperate to know what has become of him. The trace of him is lost at dawn at the bus stop that was supposed to take him from Rubí, where he works, to Santa Coloma de Gramenet (both in Barcelona), where he lives with his mother and his 11-year-old son, of whom he has custody. after separating.
"There are very strange things," explains his brother Patricio, two years older, about the disappearance. He assures that Danilo had never been absent without a reason before. Danilo and Patricio, of Ecuadorian origin, came to Spain together 20 years ago and both work in the logistics sector. On March 22, Tuesday, Danilo left work early and went with a group of five friends to celebrate his birthday in Rubí..
The last thing his family knows about him is that he said goodbye to his colleagues and walked towards the bus that had to take him to Santa Coloma at dawn. "The last camera that detects it does so at 02:17", says Patricio. He records it by the bus stop. He is seen waiting for the bus between 17 and 18 minutes. When there are still about 20 more minutes to go before he arrives, "he gets up, hesitates, and ends up leaving," describes his brother. In the images it is clearly perceived that Danilo is in a serious state of intoxication.
The next trace he leaves is through his cell phone. After three in the morning it connects to a Terrassa repeater, according to the Mossos investigation, and on the way is the wooded area of ​​Les Fonts, about four kilometers from Rubí. The connection to a repeater is not exact, but offers a wide range, sometimes several kilometers. And there it continues to give a signal until eleven in the morning, when they interpret that the phone runs out of battery. The Mossos have carried out two raids on the site, without finding a trace of the man. They also suspect that he could not get there on his own feet, nor because of the distance between the bus stop and the area where he gives coverage to his phone, nor because of the state in which he was.
"There is no trace of my brother in all of Europe," laments Patricio, who lives in anguish with his sister and mother. "They are more positive, but I prefer to stay in reality." They have thought of all the possibilities, also that he had committed suicide. But there is still no explanation as to how his brother got there. And why he has not been found in two raids.
"The Mossos are overturned, reviewing everything, but so far it has been inoperative," says Patricio. "Rubí is a small town, with 70,000 inhabitants…", he complains, about the fact that his brother has disappeared into an urban center, without further ado. In all this time, no one has used his metro ticket… "Not a penny is missing from his bank account," Patricio details. The police, he says, suspect that he may be in a ravine in the forest. "But if so, how did he get there? He did not give him time, nor did he have the spirit to do it, "repeats his brother.
What affects the most is what happens closest. To not miss anything, subscribe.
subscribe
More than 2,300 active disappearance reports in Catalonia
The Mossos have active 2,397 complaints for disappearances in Catalonia. The oldest is from 1997, according to data provided by the Department of the Interior to various parliamentary responses. Of all these files, most are more than a year old (1,802) and less than a thousand are from five years ago (741). Last year alone, 3,333 disappearances were reported, but 98% end up being solved: most people are either found or return home. Only a small proportion of all these complaints are what the Mossos call homicides with concealment of the body. In the last five years, the Central Unit for Missing Persons has taken on the investigation of seven cases classified as criminal.
Many of these disappearances are due to older people who become disoriented, sometimes due to mental health problems. On the table, they also have the disturbing case of Adelina Pintos, 81, in Sant Just Desvern. The woman, who suffers from Alzheimer's, went out with some friends on Sunday, March 6, and her family has not heard from her since.
Exclusive content for subscribers
read without limits