As the difficulties of obtaining an abortion harden in the United States, the networks of abortion escorts that have been woven for years in Mexico are expanding to the northern country. Between restrictions and new learnings, in the border cities with Texas, the first ties of women who accompany each other to abort are gestated following the procedure of the World Health Organization (WHO). There are text messages, translations from English to Spanish, telephone conversations and transfers to the other side of the border for those who require it.
Americans did not need to know because for half a century the ruling Roe v. Wade of the Supreme Court of that country guaranteed them abortion throughout the health system, but their neighbors to the south, from Mexico to Chile, have been accompanying each other for decades to abort with information and medications. His method, which has withstood endless obstacles, has begun to cross a new frontier, after the approval of the most restrictive law on abortion in Texas, which practically annuls the sexual and reproductive rights of women.
"We want all women to know that they are not alone, that there are options," says Vanessa Jiménez, co-founder of the organization I need to abort Mexico, as she finishes refurbishing the second floor of her house to accompany women who need a safe abortion. and without stigma. Next to her, Sandra Cardona, who also heads the association located in the State of Nuevo León, smiles as she imagines that this is the beginning of a cross-border network to protect the right to decide.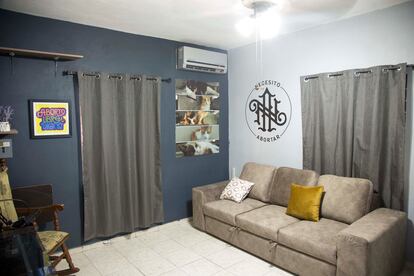 In recent months, activists have received increasing calls for help from women who cannot access an abortion in the United States, especially in Texas, but also in Arizona, Kansas, Ohio, Indianapolis and Louisiana. Cardona estimates that as of February, around 10 women from that country have attended each week. "Since practically all abortions are done in clinics, they did not know the model with medicines that we Mexicans have been working on because we had no other choice," she explains.
In Mexico, abortion was a crime in most states until last September, when the Mexican Supreme Court declared it unconstitutional to criminalize women for deciding to interrupt their pregnancy. As a leap in time, a few days before, in the State of Texas, what is known as the law of the heartbeat or SB 8 (Senate Bill 8) came into force, which prohibits abortion from six weeks of gestation, once they detect the heartbeat of the embryo, even in the event of rape or incest.
An abortion shelter in Mexico
A few weeks ago, the activists welcomed into her home a woman from McAllen, Texas, who was denied an abortion by her gynecologist after sensing the fetal heartbeat. "He told her to go to another state, but it was easier for her to come to Monterrey," recalls Jiménez. "She came with her mother, here she received all the information, she was able to get the pills and started taking them, and finally she went to her check-up with her doctor in Texas, it was very simple," she continues.
Like her, more and more women from the United States have sought support to have an abortion in Mexico, but not all of them have the same facilities to travel. "We are working with them in a different way, there are colleagues in Texas giving the same information or they give them our telephone numbers and we answer from here in Mexico," she details.
The most important thing is that the information circulates. Some receive an abortion kit at home, others only come looking for a reliable guide and have begun to build their own networks in their cities. "The compañeras who live there have adapted to being able to speak through a translator," Cardona details. However, although the WHO manual is available everywhere, the drugs are increasingly difficult to obtain. "None of them can access the medication because it is not sold without a prescription and if it exceeds 6 weeks, it is practically a crime," she explains.
Two decades of lessons
I Need Abortion is just one of dozens of networks that have responded to the growing need for abortions in the US, in the face of tightening restrictions across the country. The founder of the Las Libres association, Verónica Cruz, explains that the objective is to transmit the community knowledge that they have built for decades in the face of the persistent obstacles to abortion in Mexico. "We do not want to solve the problems of Texas, we want to accompany women, so they know they are not alone," she says.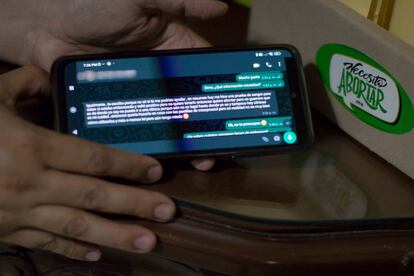 The forerunner of the right to abortion in Mexico is confident that the same model of accompaniment that began 21 years ago in the conservative state of Guanajuato can now be replicated in Texas. "All you need is information, medicines and companions," she says. In that state, in the last three months, at least 10 escort groups have been formed in various cities, she says. "We can do it from Mexico because it is no longer a crime, and even if it is a crime in Texas, the restrictive laws do not apply to us in Mexican territory," she points out.
When Cruz began training as an abortion companion, she remembers that the example to follow was the United States. Now, the ruling Roe vs. Wade, which since 1973 guaranteed the right to abortion, is in danger of being annulled by the same Court that upheld the law against abortion in Texas. "The highest standard was abortion in clinics, the problem is that today, in addition to being illegal, it is becoming extremely expensive and inaccessible for most women," warns the activist. "The challenge is how to take advantage of all the experience and infrastructure of organic support that has been generated. I believe that today in Mexico there is not a single city that does not have a support network," she adds.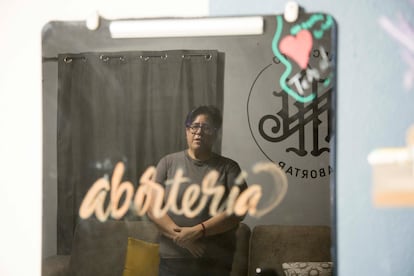 In Nuevo León, there are no abortion clinics, like in the US or Mexico City, but there is a space for women who want to exercise access to a safe interruption of a pregnancy, regardless of their place of residence. The Monterrey abortion center is the first place publicly announced for the accompaniment of abortion in Mexico. "I believe that it is going to be the beginning of a model of accompaniment under the pretext and the need that we are having to accompany women in the United States, particularly in Texas, to create accompaniment spaces or 'abortion shops' in the cities bordering with United States," he says.
subscribe here to newsletter of EL PAÍS Mexico and receive all the informative keys of the news of this country


#border #crime #Mexican #model #abortion #home #crosses #United #States