Twenty years ago, the world was still a place where a call from Marella Agnelli could fix your life. It happened shortly after the founders of Studio K.O. start working in Morocco. Although only two years ago Karl Fournier (Saint-Raphaël, France, 51 years old) and Olivier Marty (Paris, 46 years old) had graduated from The School of Beaux Arts in Parisa chance encounter at the airport with Pascale Mussard had led them to open a second office in Marrakech for their architecture studio, opened in Paris in 2000. Fournier and Marty had spoken to the former creative director of Hermès about their desire to settle there as architects, and just a few weeks later she He had put them in contact with one of his uncles, Patrick Guerrand-Hermès, great-great-grandson of the firm's creator, to design the interiors of two of his houses in Larache and Asilah. Fournier and Marty didn't know it, but they had just set off a red flare at that athenaeum to which the wife of the Fiat heir and Truman Capote's swan belonged: the Garden Enthusiasts Club.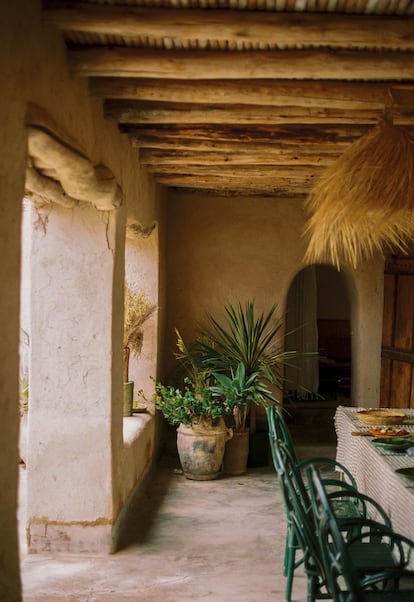 "One day, Marella came to Marrakech and got in touch with us through a client. She did not know the city and she wanted to ask us to be her guides. At lunch, she told us that she really wanted to visit the garden of Aïn Kassimou, the villa of Patrick Guerrand-Hermès in the palm grove of Marrakech. Actually, what she wanted was to buy it from him. She knew that he was a client of ours and had found out that he was thinking of selling her, so we became his intermediary, "says Fournier.
"First, Marella rented the house for a year. When she finally decided to buy it, she asked us to reform it, but since she thought we were too young, she put a supervisor on us: Gae Aulenti [la célebre arquitecta y diseñadora que creó el Musée d'Orsay]", Olivier Marty continues. "It was a nightmare! Gae was very tough, but with her we learned more than during the six years of her career. The scale, for example. It's the kind of practical thing that they don't teach you well at school and one day we showed up at her studio in Milan with some giant plans, because we thought her instructions referred to the scale of the print. Gae used to say horrible things about the French." The interior design of the villa was commissioned Alberto Pinto, author of the ancient and opulent decoration of the La Mamounia hotel and favorite of the Arab royalty. "In his house in Tangier he had an employee with the task of placing the apples that fell to the ground so that they gave the best face of him. That made a big impression on Marella. Alberto once told us that he had always dreamed of working for the Agnellis. We were the ones who suggested his name and, as we say in French, he thanked us by remembering to send us the elevator back".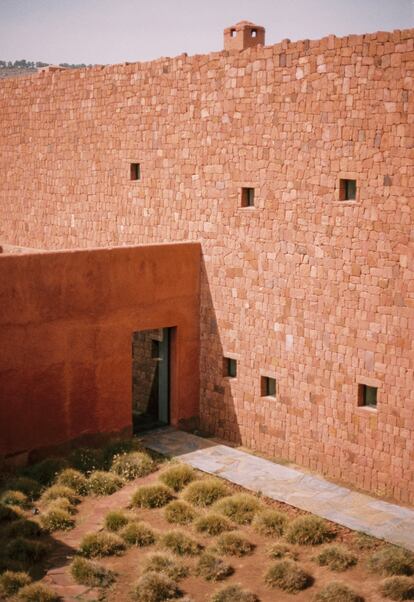 The works they did with Pinto for the Arab sheikhs form an invisible portfolio —due to confidentiality— that contrasts with the best-known works of Studio KO. Although in interior design projects such as the one carried out in the Cafe de la Poste -today the most popular in Marrakech- it is possible to find the imprint left by the decorator, Fournier and Marty avoid the exotic or the picturesque in their architectural work to opt for a contemporary revision of the traditional architecture of the places where they they build their villas, something they achieve after a careful study of local construction materials and techniques. In Morocco, they have found in traditional Berber architecture a stone on which to sharpen their minimalism and a reason to build with I stepped on [tapial] and use materials such as mud and clay, which allows them to integrate the landscape into the architecture.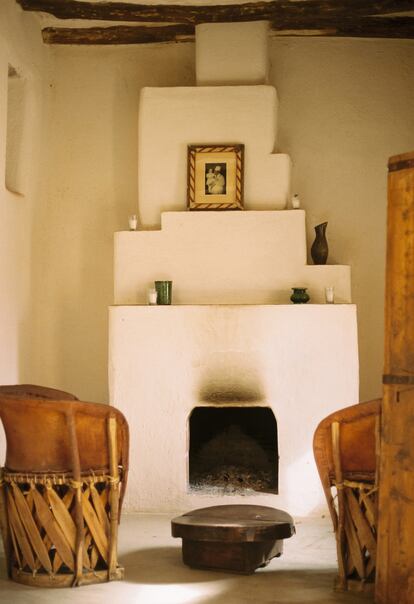 That the city was the same color as the land of the countryside was what captivated them during their first summer together in Marrakech, although the developmentalism that the city has been experiencing for some years has endangered many traditional buildings. We witness this during the drive to their home in the Agafay desert, an old farm that they bought and renovated to prevent it from collapsing when they found out that its previous owner was going to abandon it. The founders of Studio KO grunted and puffed in their car as the ring of villas under construction around Marrakech draw ever closer to their desert retreat. Meanwhile, the old Berber houses are collapsing like thirsty camels.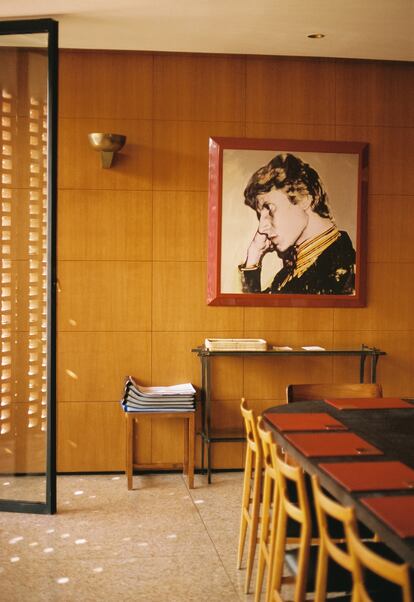 "The problem is that many Moroccans associate buildings made of mud and clay with poverty. techniques like the I stepped on they remind them of their past and Morocco is in a moment of globalization, so they reject them. They don't understand that it is actually more modern to build with earth than with materials bought in China," says Fournier, who, like Francis Kéré, winner of the last Pritzker Prize, defends that materials and techniques like these are not only compatible with contemporary architecture , but necessary in a world increasingly concerned about the scarcity of natural resources or global warming. "Architects have a responsibility to demonstrate that materials such as clay are still relevant. They are cheaper, keep the freshness well and are easy to maintain."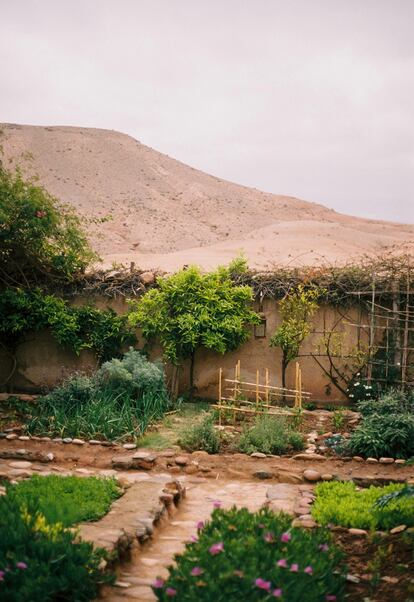 It is curious that it was one of those minimalist Berber villas that ended up putting them in the orbit of another client more prone to sumptuous interiors: Pierre Bergé. Fournier and Marty met the co-founder of Yves Saint Laurent through Madison Cox, widower of the businessman and designer of Agnelli's Moroccan garden. "One night Madison invited us to have dinner with them at Villa Oasis [la famosa casa que Bergé y Saint Laurent compraron en Marrakech]. At the table I did not dare to tell him, but then I sent him a note thanking him for having openly lived his relationship with Saint Laurent and having made it easier for the new generations, "recalls Fournier. Bergé replied saying that he was the second person to thank him (the first had been Jean Paul Gaultier when he was 14 years old) and from then on he became friends with the architects, although it took him several years to commission them with the project that would make Studio KO in one of the most coveted architecture studios. Opened in 2017, the Yves Saint Laurent Museum's terracotta, terrazzo and concrete building celebrates not only the importance of Marrakech in the designer's oeuvre, but also Bergé's conversion to contemporary architecture.
"Pierre told us once that it was during a visit to one of the houses we made with earth in Morocco [Villa K] when he realized that contemporary and traditional architecture could marry well. His tastes were rather Proustian and it was exciting to see how he began to appreciate buildings like ours", explains Marty, who remembers the emotion with which one day his friend told them about a visit he had made in Japan to the Miho Museum, the work of IM Pei. On another occasion, the founders of Studio KO were with him at his home in Normandy when Bergé took them on an excursion in his Bentley to Le Havre's Saint-Joseph Church, an immense concrete tower built by Le Havre's mentor, Auguste Perret. Corbusier, from which they left with several ideas for their museum in Marrakech. "At the end of his life, Pierre was very happy: he too had made his contemporary building".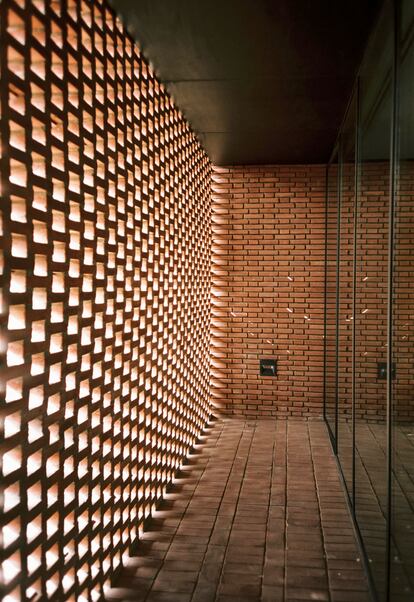 #Sharp #traditional #minimalism #Marrakech #Studio #architects #Yves #Saint #Laurent #museum #build #rammed #earth #clay #mud #ICON #Design