In the Retiro Park menagerie —now converted into the Eugenio Trías Library— three authors spoke last Sunday about the limits between the literature of memory and autofiction, in one of the colloquiums organized on the occasion of the Book Fair from Madrid. Alberto Moreno referred to when his self "sounded too much like me" while he was writing The movies I didn't see with my father (Chalk Circle); David Jiménez argued in favor of not having used real names in Director (Libros del KO) and Milena Busquets did not hesitate to affirm that "writing is a job of seduction". In her newly appeared diary, the fair words (Anagrama), Busquets, concise and direct, writes about the elusive label: "The term autofiction will disappear, in fact, it is already disappearing, but it will have served to point out a trend and a path".
The French critic and novelist Serge Doubrovsky was the first to use "autofiction" to describe his book. Sons in 1977, but it was in the last decade that this subgenre gained momentum and expanded its networks to cover a wide narrative field in which, depending on who defines it, almost any text in which the author appears directly fits. The Norwegian Karl Ove Kanusgård and his meticulous sexalogy My struggle marked a milestone in this hybrid form of novel based on real life, and David Shields proclaimed in his manifesto hunger for reality (Chalk circle) the irrepressible drive that marked the sign of the times in the era of Facebook and reality television. A fertile crack was opened in the strict separation between fiction and non-fiction that divides the Anglo-Saxon publishing market, while in other languages ​​with less marked borders, the first person with a proper name was taking up space on the news tables. If the New Journalism of Tom Wolfe and Joan Didion had used the tools of fiction to hook the reader in the sixties, the novel seemed to take revenge in the 21st century and focus on reality.
Now, in the post-pandemic, is fashion in literary matters coming to an end? "All fiction is autofiction, because one starts from his own experience," said Javier Cercas on the same Sunday, after spending the afternoon signing at a booth. But this author, who gave his name to the protagonist of Soldiers of Salamina, has a limited definition of the term, in which he leaves out the autobiography, the personal essay or the true stories in which a writer is included —"if everything is self-fiction nothing is." The fictional element, the invented story with real names, is what makes the difference for Cercas. "It is a narrative mechanism, a mask that allows you to use real elements as fiction. It is a very crowded territory and I don't think it is finished. I have left it because for me it was already over, I did not want to repeat myself", he explains, and emphatically adds that, contrary to what it might seem, there is little new in autofiction, it is enough to return to Juan Ruiz, archpriest of Hita or the divine comedy starring Dante.
The inflation of the novel of the self
All the culture that goes with you awaits you here.
subscribe
Time and context play a key role in this subgenre, according to Agustín Fernández Mallo. "When an autofiction book is published, what is and what is not the author, the component biographical true or fake biographical of the character, is very taken into account by the reader, who reads the book in that tension. Later, years, decades pass, and that is diluted in the reader and in his perception; another reading pact is established, either totally in terms of novel (fiction) or, on the contrary, purely biography (non-fiction), but not in that mix", he explains, and he also refers to Dante: "The Divine Comedy It is a work that falls into the category of autofiction, although who today reads Dante in that key? No one". the author of Nutella Dreamwho presented his ideas about the changing context in which a text is read in General Garbage Theory, appreciates in the Spanish novels of recent years "a renunciation of fantasy in pursuit of fictionalized sociology", a turn towards the confessional. "There has been an inflation of the autobiographical novel, but in the end the novel, as they say about capitalism, is indestructible, even if it mutates."
A certain taboo surrounded the personal confession in literary format, according to the novelist and critic Carlos Pardo, and this is what has been demolished. "Autofiction is a very minor label within the autobiographical genre. There has been an inflation, as there has been in writing about motherhood, and basically what it means is that it can finally be written about without being reviled. There is a recovery of areas that had been considered minor literature, as is happening now with terror, in the work of Mariana Enríquez or Samantha Schweblin". His conclusion is that the novel in which the autobiographical fits "has a lot of whiplash left."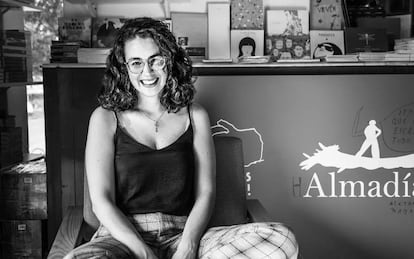 A course that is rarely followed in the vague line of autofiction is the one that the Mexican writer Andrea Chapela has taken in one of the stories of Ansibles, profilers and other machines of ingenuity (Raft). This Tuesday, in the presentation at the Residencia de Estudiantes in Madrid, Chapela spoke of the story starring a character that bears her name. "I wanted to try a memory speculative, because there are times when being faithful to reality is not enough to narrate what happened. I thought of sci-fi autofiction, what if you do a twist between what's yours and what's not?"
Valerie Miles, co-founder and publisher of great in spanish —on whose last list of best young writers Chapela was included— stresses that the idea that "there is something new in the use of the self as a narrative center is ridiculous", but concedes that in the age of the selfie, writing that takes the author as central axis has particular features. "It is abused as it happens with selfies, but if we look at Annie Ernaux or Emmanuel Carrère, theirs is not a flattering self-portrait, but an ego that guts the human being with hair and signs, that looks at the person beyond its splendor" , he reflects. "Autofiction is not exhausted in writers who use it to explore and experiment, but it is very difficult to expose yourself like an animal in a zoo, you have to have a very good pen. Many are wrong, but this is all or nothing."
"I don't know if it matters much what we call it," reflects Milena Busquets. "Everyone who writes wants to make literature and this depends on quality, ambition and commitment. A writer aspires to get closer to the truth. Annie Ernaux is for her a clear reference, "a surgeon" who dissects that elusive truth, whose brevity denies the widespread idea that women get involved more than necessary. Write Busquets in the fair words: "The most terrible intimacies that one can tell are always about oneself, I don't know why others care so much. In general, a writer is more suicidal than murderous".
Exclusive content for subscribers
read without limits


#Selffiction #resists #fashion #criticism #Culture