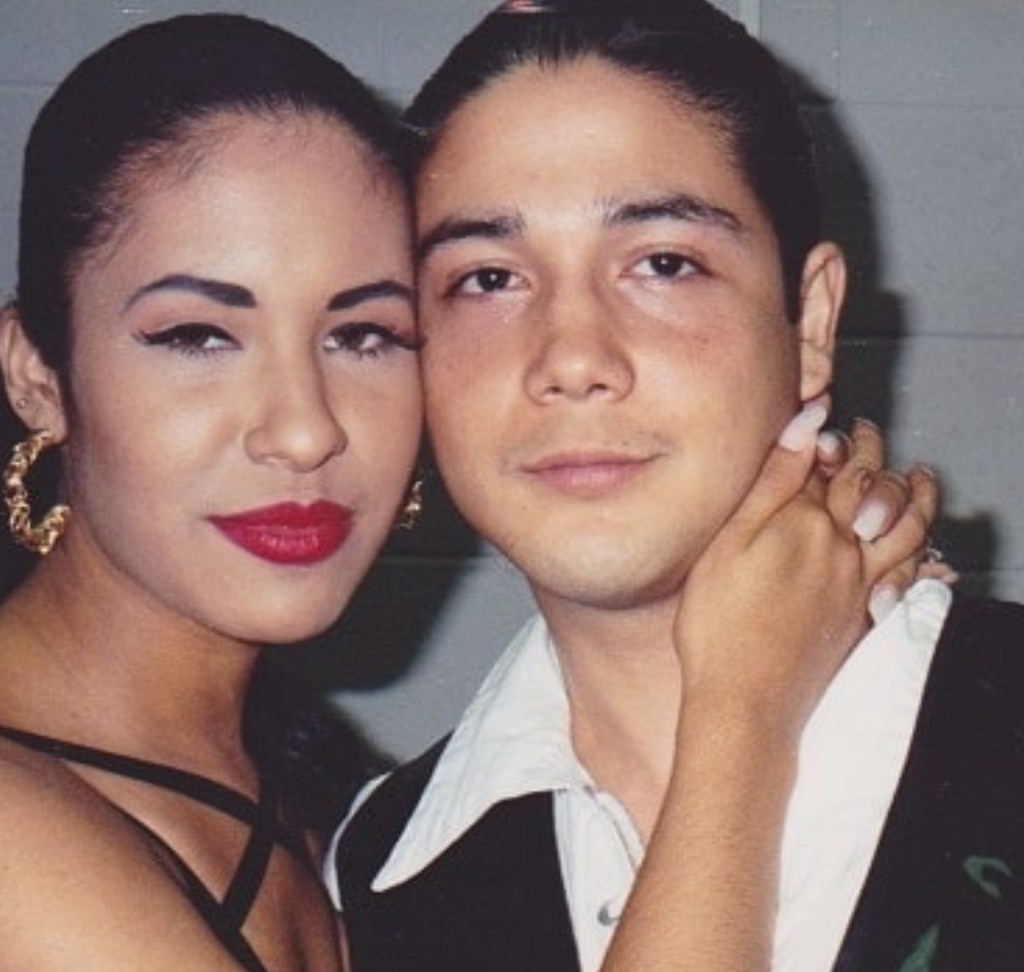 [Este artículo se publicó originalmente en diciembre, 2020]
Selena Quintanilla has become a legend and the new Netflix series based on his life proves it. With this new production, the interpreter who was murdered in Corpus Christi more than 25 years ago receives a new tribute that is taken to a more personal level. Chris Pérez was an important name in the life of the singer and Selena: The Series it only shows a glimpse of the great romance they lived.
In life, Chris and Selena were only together for 4 years, when he joined her band. In the series he can be seen from chapter 5 entitled "Sweet Love". Almost 30 years have passed since then and today both Pérez and the fans continue to remember his love story, but what was it really like? And now where is he?
How did Chris Pérez meet Selena?
The Texan had excellent guitar skills, so he was recruited by the singer's older brother, AB Quintanilla III, to join Selena y Los Dinos. She was 18 years old at the time and, as she recalls OprahMagThey were practically polar opposites that were meant to be together. They started a secret romance after a trip to Mexico and as soon as they revealed their true feelings, they couldn't stop. They arrived at the altar on April 2, 1992.
"I don't remember many of the details of that day because I was in a state of shock when it all happened," Pérez said of the big day during an interview with Texas Monthlypublished in 2010. "I was thinking 'Oh, God, we're going to do that. Oh, God, what are we doing?' The next thing I remember is when they declared us husband and wife."
The guitarist was only 22 years old when he married the legend (he is currently 51) and on more than one occasion he has remembered her over the years.
What happened to who was Selena's husband?
After the death of his wife, Pérez was devastated, he even took refuge in drugs and alcohol to be able to face his grief. He could not sleep and spent several days without eating, according to the media distractify.
Three years later, in 1998, he met Vanessa Villanueva and once again gave himself a chance at love. At her side she had two children whom they called Noah and Cassie. However, that was not their "happily ever after" because in 2008 they divorced. Since then the virtuoso guitarist has not wanted to find love again.
In 2012 he wrote a book titled To Selena, with Love, where he gives details of how his life was as a couple and the challenges that they overcame together in their relationship. The book served as a way for her to move on, plus she was able to dispel rumors like the one that Selena was pregnant when she was killed.
Through his social networks, Pérez has remembered his wife with tender messages. In April 2019, he shared an unpublished photo where the two can be seen on stage.
"A long time ago, in a galaxy far, far away, I promised the person who gave me this photograph that I would not share it on social networks… after all I feel that it is important to keep some things for myself, "he wrote in his Instagram post "But on this anniversary (April 2, 1992, when we ran away and got married) I felt I should let go and share this image with the world. It's an amazing image and it represents the most important things to me…life, love, music and most importantly…loyalty."
What do you think Selena: The Series?
About the series, the guitarist shared an image on his official Instagram account that month where he expressed his feelings: "Here is my opinion. I loved his music, even before I joined the band, I was always intrigued by the fact that his brother's name was on everything as 'producer' (…) his dad was wearing a great sound when I went to see them at an event in San Anthony," he wrote.
"Ricky Vela on keyboards was my hero (…) I learned a lot taking parts from guitarist Roger Garcia," he continued, "they had a girl on drums, Suzette is really great. Joe and Pete brought something 'extra' and took it to another dimension PLUS Pete wrote some amazing lyrics and they sounded STRONG.
"I will forever respect the band and the people who got involved in it, I hope you guys enjoy the series too," Pérez concluded in his post.
chris perez now
Four years after writing To Selena, with Lovein a post on your official Facebook accountPérez shared plans underway to turn his book into a television series. a lawsuit on the part of the singer's father, Abraham Quintanilla, truncated that dream, and Selena's widower and father they will face in a trial that will take place in February next year.
Meanwhile, the still guitarist and winner of the Grammy Award in 2000 in the category of Best Latin Rock thanks to his album resurrectionremains active on social networks, where in addition to sharing photos of his career, he is dedicated to promoting his line of sauces, Perez Pepper Sauce.
As for the character based on him (played by actor Jesse Posey) in Selena: The Series, the first season of the series ends just as Abraham Quintanilla kicks Pérez out of the gang. The culminating moment indicates that season two of the series, the production of which was confirmed in days pastwill contain more about the forbidden love between the Queen of Tex-Mex and the inveterate rocker.