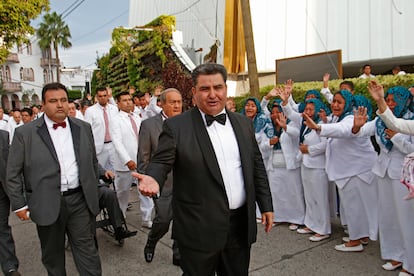 Rape of a 15 year old girl. Trafficking of minors to engage them in lewd acts. It deals with people. Possession of child pornography. Forcing a woman to perform oral sex and sexually abusing her. Extortion. This is an abbreviated list of the accusations for which Naasón Joaquín García, leader of the La Luz del Mundo church, will not answer. The apostle of Jesus Christ, as he is known among his followers, reached a last-minute agreement with the California Prosecutor's Office to avoid going to trial in the United States, in exchange for admitting only three of the 19 charges against him and spending 17 years in jail. It is the biggest case in memory against a Mexican religious.
After multiple pieces of evidence and explicit testimonies of sexual crimes at the hands of Joaquín García, the legal settlement has vanished into thin air the promise that five complainants can tell their story for the first time and the opportunity to hit the table with a possible conviction. to life in prison if found guilty of most crimes. "How can they make an agreement with a child rapist and human trafficker?" questioned Sochil Martin, the whistleblower who first brought to light the abuses perpetrated by the self-proclaimed "servant of God."
"This conviction sends a clear message that sexual abuse will never be acceptable in California. We will hold anyone who breaks the law accountable," said Attorney General Rob Bonta. Prosecutors heralded the guilty plea as a victory, in a high-profile case that spanned three years, due to the pandemic and multiple defense appeals that delayed the process. Joaquín García, who boasts of having five million followers in 50 countries (figures from the church itself), admitted having forced two minors to perform oral sex on him and having committed lewd acts against one of them.
The agreement was negotiated last Friday, less than 72 hours before the selection of the 12 jury members began. "Mr. Garcia was in the shower. She went in to bathe with him and wash him, naked. She described him taking her by the shoulders and saying 'he pushed me down to the ground'. On her knees, she performed oral sex on him," described an FBI agent at a hearing in August 2020. "The defendant Naasón Joaquín García gave them a speech about how a king has several lovers and stated that, being an apostle of God, he could never be tried for his actions," the indictment reads. In another part of the document, her harassment of a 15-year-old complainant is described: "He put her hands around her, kissed her lips, touched her buttocks and tried to touch her vagina." Thousands of text messages, explicit videos, pornographic images and testimonies of the victims were going to be at the center of a trial that was going to last between five and six weeks.
The agreement fell like a bucket of cold water among the people who left the church and claim to have risked their lives and their families to raise their voices. "Give us peace, not an agreement," Martin said in a statement. Five people who left the cult described this week in interviews with EL PAÍS that they received threats, were victims of harassment and, in some cases, had to flee Mexico, even with Naasón Joaquín behind bars. "When there are weapons involved and they are threatening your children, you know that all limits have already been crossed," said one of them, "they are criminals, the church is a façade." The organization has denied on multiple occasions that such harassment existed.
Until a few hours ago, La Luz del Mundo defended the innocence of its leader and accused the press of lying and distorting the information. For some of its spokesmen, the guilty plea of ​​Naasón Joaquín, now a confessed sexual aggressor, still does not prove anything. "The anticipated sentence was obvious, there could not be a fair trial," justified Silem García, one of the spokesmen. 24 hours after the confession, no statement has been issued on behalf of the institution.
"The Apostle of Jesus Christ Naasón Joaquín García is a spiritual guide and teacher of our faith," reads the only surviving mention on the cult's official website of its leader. Described as serious, feared and strong-willed by those who know him, little is known publicly about the religious leader before he came to power. A dual citizen, he was in charge of the church for the United States and led congregations in California, Arizona and Texas. He is the fifth of eight brothers and during a good part of the 50 years that his father, Samuel Joaquín, was at the head of the organization, it seemed unlikely that he would succeed him. Several members who belonged to the dome saw Benjamin Joaquín, the first-born male, as a more charismatic candidate, but they assure that a series of internal struggles kept him from that possibility.
After the death of the apostle Samuel at the end of 2014, Joaquín García took control of the institution by "divine mandate". As a result of a first wave of complaints about sexual abuse that reached the press in 1997 but were never clarified in court, the last stretch of his father's administration was marked by a more personalist tendency and where the figure of the apostle in religious liturgies. Naason's so-called apostolate followed that trend, albeit with more totalitarian control. He was often referred to by the faithful as "the anointed one", the "man of God" or his family as the "chosen race" and in the last decade policies and discourses about "apostates", who are marginalized and should be accused by their own family and friends if they criticize the apostle. Through several daily sessions of doctrine, in the eyes of his followers he is infallible and unquestionable: a living God. In separate interviews, several former members admitted that they would have committed a crime, if the church or the apostle asked them to.
Naasón Joaquín sought to continue the international expansion of the congregation and built a public figure with strong political connections. A series of steps opened the doors of the Palace of Fine Arts, the country's main cultural venue, to celebrate his 50th birthday, and in those days he received a controversial recognition from more than thirty Mexican deputies. He was appointed by United States and Central American authorities as a distinguished citizen. And he laid, together with President Nayib Bukele, the first stone of a mega-development of the church in El Salvador. All of this happened in the weeks leading up to his arrest in Los Angeles in June 2019. The sacrament, the congregation's main annual celebration, used to be a parade of politicians and guests of honor from across the political spectrum.
Critics also take aim at its opulence. The leader of a predominantly humble congregation was arrested after getting off a jet private and used to flaunt fine suits, high-end cars and watches. Later, journalistic investigations would uncover a millionaire ranch in Texas in the name of his family and the origin of pharaonic temples that were built without the followers receiving a salary, as well as gold bars, shopping marathons in luxury stores and hundreds of thousands of dollars in cash found in police raids on their properties. The bail he set after his arrest in California was $90 million, "the highest in history."
While more than a dozen serving politicians and candidates for elected positions attached to his church came out to defend him in public, the Mexican Financial Intelligence Unit filed five complaints in 2020 against the church for illicit enrichment. The sudden agreement with the US authorities also puts on hold the progress of a criminal investigation by the Mexican Justice, where the church was founded and concentrates its political and economic power, as well as its largest number of faithful: some 190,000 according to the last census, far from the figures presented by the organization.
"Naasón Joaquín García used his power to take advantage of children," says the California Prosecutor's Office. "This conviction can never undo the damage, but it will help protect future generations," says the Prosecutor's Office. In exchange for the plea agreement, there will be no trial. Faced with the risk of spending a life behind bars, an offer to serve a 17-year sentence. After three years of waiting, a confession to impose silence again.
subscribe here to newsletter of EL PAÍS Mexico and receive all the informative keys of the news of this country


#Scandals #sexual #crimes #minute #agreement #avoid #life #imprisonment #confession #leader #Luz #del #Mundo