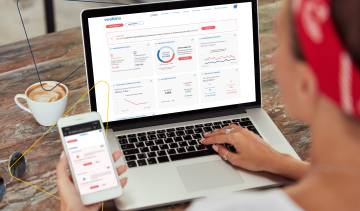 The shadow of inflation lurks and economic uncertainties, with a war in Ukraine that has already lasted a hundred days, are not few. But in this difficult context for domestic economies and companies, solutions arise almost daily that help reduce bills and expenses and optimize anyone's financial health. It could be said that, with the number of applications and tools offered in the market, it is much easier to control accounts and save.
The Watiofy platform, electricity and gas comparator, has launched the technology Wattmo, an independent virtual assistant for energy management and solutions focused on saving, sustainability and the best domestic and business uses. With their advice, it is possible to reduce the energy cost by up to 35%. Analyze and recommend the best rate to save in real time, using OCR technology. The tool uses elements such as smart meters and combined technologies (big data, loT and IA) that offer energy advice based on actual consumption, user data, their bills and the smart meters of each property. In this way, it helps to make decisions to change habits and move towards more conscious and responsible consumption.
The energy 'tech' Wattmo is born that helps save up to 35%
On its side, Banco Santander has made a "turnkey" service available to its customers to lower their energy bill. It includes from an online simulator for the approximate automatic calculation of the cost of the chosen reforms and the estimated deduction of the state income tax, to the management of European subsidies that can be requested and the energy efficiency loan. It will grant up to 100,000 euros to individuals with a 12-month grace period, a fixed rate of 4% and no repayment commission.
The startup Factorial, human resources software, has presented Factorial Expenses, an innovative solution to facilitate the tedious process of managing expenses for small and medium-sized companies. Streamlines and centralizes all processes, optimizing the time of workers. Collecting, reviewing and reimbursing each receipt is a job that, on average, takes 27 hours per month for a company. With this application, companies will be able to issue cards by setting a spending limit. "This way they will be able to control and approve the costs of their equipment and, above all, forget about reimbursement of expenses to their workers", they explain from Factorial, which also has a Factorial Card, a physical card to centralize expenses. It is possible to pay and upload the transaction ticket, saving paperwork and the possible loss of receipts.
Factorial and Revolut Business launch tools to streamline receipts and refunds
And the financial app Revolut Business has launched Spend Management in the US, UK and the European Economic Area (EEA). It assists companies and their teams in controlling their finances proactively and in real time. The variety of solutions integrated in the application allows administrators and business owners to issue physical and virtual debit cards and establish temporary and category spending limits, facilitating financial control in multiple markets and currencies, reducing unauthorized spending, claims and reimbursements.
Financial health. BBVA AI Factory, the bank's artificial intelligence company, is participating in the first edition of SofIA, the startup acceleration program of the University of Navarra (UNAV), to explore proposals from technology companies geared towards automatic finance, which help customers make good financial decisions. The objective is to connect with leading startups that propose solutions based on artificial intelligence that provide customers with the necessary tools to self-manage their finances in a personalized way, simplifying processes and saving time. The participating startups will defend their proposals on June 27. Once the winners have been chosen, they will have six months to develop their solutions. "We want to understand very well the processes that help manage the client's economy, to apply them in their day-to-day life and help them understand what their finances are like," explains Francisco Maturana, CEO of BBVA AI Factory.
Pixpay. The Pixpay app allows parents to teach their children to manage their money safely and responsibly. "Educating children about the value of money and the importance of saving will contribute to the proper management of their economy in their adult years," they say. To do this, it is convenient to speak naturally about money at home, educate by example, give pay for educational purposes as a savings tool, encourage responsible consumption and motivate to distinguish between need and whim.


#Saving #easy #endless #technology #reduce #bills #expenses #companies