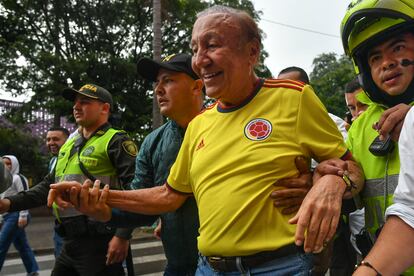 Rodolfo Hernández has scared away this Saturday any hint of moderation that had arisen on his way to the presidency of Colombia. The populist candidate had met days ago with Sergio Fajardo, the contender from the center who was left out of the presidential race, to reach some kind of agreement with which to include concrete and realistic policies on feminism or taxes, among other issues, in his program. . That is not going to happen. "It was a courtesy, but that's over now. They want to change the whole program that won. Since our program won, we have to make ourselves respected because it is backed by six million Colombians who voted in favor of the program we presented", said Hernández.
The 77-year-old businessman who sneaked into the second round of the elections by surprise with a speech against corruption and in favor of the austerity of the Colombian bureaucracy has found it necessary to reject Fajardo's offer – a mathematician from the center left that for some reason tried to join Hernandez. In the first place, since the express polls placed him at the head in the intention to vote for the June 19 elections, he has been gradually losing points, until he is in a technical tie with his rival, Gustavo Petro. And, secondly, because the Colombian conservatives, gathered around Fico Gutiérrez, the defeated establishment candidate, had warned Hernández that if he joined the moderates he could lose favor with the right, which has much more votes than the current centrist.
The decision should not have been very difficult: 900 thousand votes against five million. Even so, Hernández doubted the legitimacy that he could grant someone like Fajardo, who in certain circles has a reputation as an honest and decent man, as well as a proven track record. In addition, one of his conditions was especially offensive to the conservatives: Hernández had to reject the support of Uribismo. The right reacted furiously. WhatsApp was filled with messages against that agreement, which among other points included not closing the Colombian embassies in the world –Hernández considers them a superfluous expense– and a realistic tax reform. The one that he has presented up to now to square the deficit accounts of the State is not. In any case, Hernández was faced with a dilemma and has resolved it when asked by a reporter from Caracol Televisión. He replied to Fajardo's offer dressed in a Colombian national team shirt and with some indifference: "It was a courtesy." He hit it without any kind of solemnity, despite the fact that he had previously said that they already agreed on 95% of the issues.
Defeated the center, their leaders have now had to make a move. Several of the people who surrounded Fajardo, such as his number two, Luis Gilberto Murillo, joined Petro. The ex-rector of the Andes Alejandro Gaviria also did it. But that Fajardo himself did it seemed impossible. His enmity with Petro is biblical (his followers have harassed him on social networks) and he has preferred to test an anti-system without a clear electoral program and with an attitude towards knowledge diametrically opposed to his own than to try to reach some kind of agreement with him. leader of the left, with whom he shares a large part of the electoral promises. Hernández's slam seems to leave him with no choice but to do the same thing he did four years ago, when he washed his hands when choosing between Petro and the one who ended up being president, Iván Duque.
subscribe here to the EL PAÍS newsletter on Colombia and receive all the informative keys of the country's current affairs.


#Rodolfo #rejects #Fajardos #moderate #support #wanted #change #program #won #Presidential #Elections #Colombia