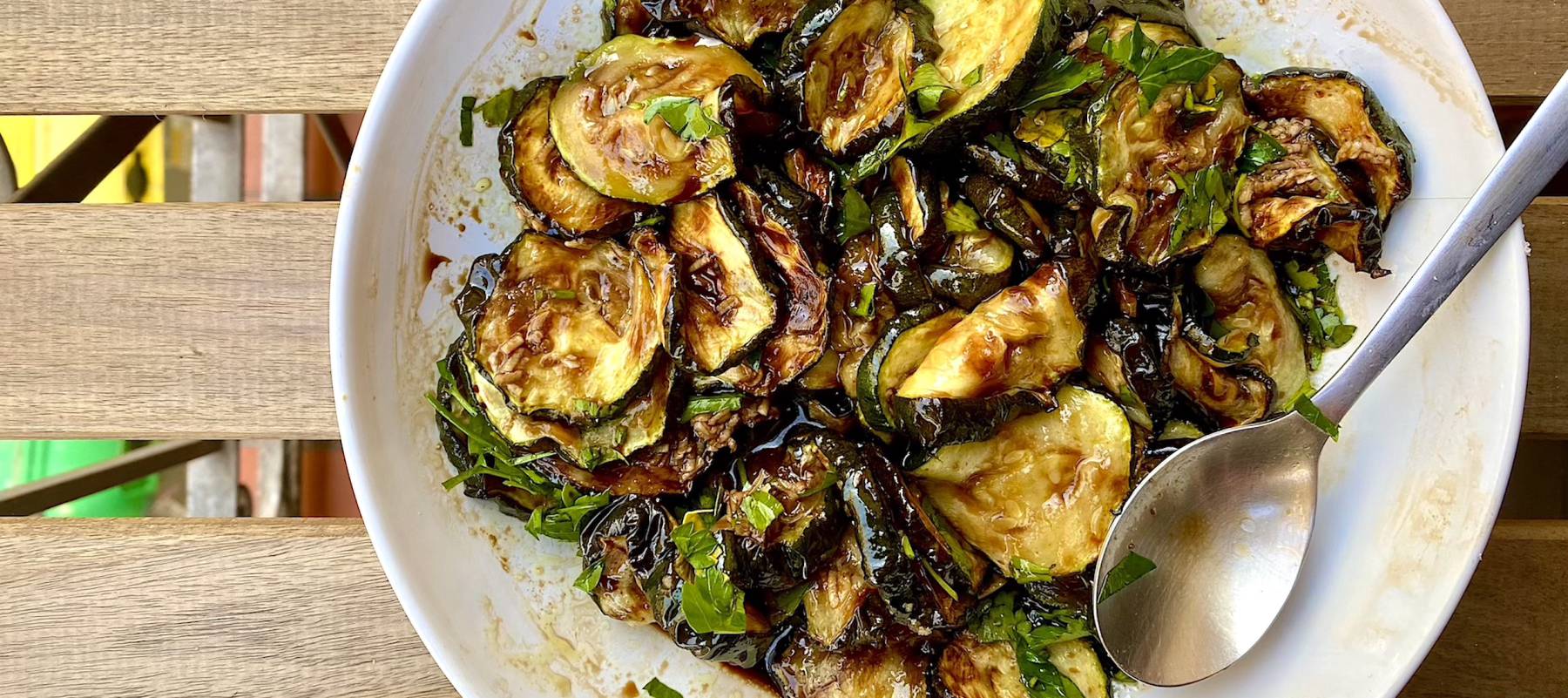 There is no need for recipe inspiration to be conspicuous by its absence or for the muses to become elusive: in the sacred food tables it is written that a recipe can be stolen as long as it is sufficiently appetizing (and the person who prepared it first is properly named, of course, that we don't want to be the culinary Lucías Etxebarrías or Anas Rosas Quintanas either). Today I once again turn to those of my Macedonian friend Nikola Lazovsky -who already lent me a delicious coleslaw some time ago-, once again willing to show that vegetables have a lot to offer in Balkan-inspired cuisine; Today we are going with some very simple roasted courgettes that become a flavor bomb thanks to a cheerful vinaigrette and a little rest.
We use a simple technique that we have already talked about on more occasions: cook some vegetable in the oven, pan or steam and mix it -normally while it is still hot- with a vinaigrette so that it absorbs all its flavor. In this case, it is not necessary for the zucchini to be hot, since we will dress it cut into slices thin enough so that the adhesion of the vinaigrette is assured. Keep in mind that we are not looking for zucchini chips, but roasted zucchini: it does not have to be crispy or completely dehydrated, just a little brown around the edges.
For cooking we can use both a frying pan and two appliances, one of them -the oven- very common but whose use is currently a bit scary; although its use does not affect the electricity bill as much as it is believed. To optimize it, we can put an extra tray to roast our courgettes while we prepare something else, since it is such a thin layer it will not slow down its cooking.
If we prepare them in an air fryer, we must stir them, and know that in the points where they touch each other they will be more humid and it will be more difficult for them to brown, so if we see that they take up a lot, it is advisable to cook them twice, or stir more often (using tongs or tapping the pan to create circular motions, the same flick of the wrist as when using a wok). If we make them in the pan or the oven, it doesn't matter if they are very close together, because when they cook and lose water they will shrink a little.
Difficulty
If you do it in the pan it is entertaining, but only because you have to turn them.
Ingredients
For 4 people (as an appetizer or side dish)
3 medium zucchini
6 + 2 tablespoons virgin olive oil
Salt
Pepper
Balsamic vinegar to taste
Garlic to taste (between ½ and 1 clove)
Two handfuls of parsley leaves
Preparation
Remove the ends of the courgettes and cut them into slices of approximately 4 mm. Lightly salt, let stand for ten minutes and press down a bit -with a very clean, lint-free cloth, cheesecloth or kitchen paper- to release the water.
Add two tablespoons of oil to the courgettes, well distributed with a brush, in a very fine trickle and stirring non-stop or using a spray.
Meanwhile, prepare a vinaigrette with finely chopped garlic, Modena vinegar to taste, salt and pepper; stir well and add the oil (it can also be done in a jar with a lid).
If it is prepared in a frying pan, put the slices that fit in a large frying pan without oil over medium-high heat and cook for two minutes on each side, turn over, cook for two more minutes and transfer to a bowl. Repeat until you finish with all the zucchini.
If it is prepared in the oven, distribute it over two trays and cook for about 15-20 minutes in the oven at 200 degrees, or until it is soft and golden around the edges.
If you prepare it with an air fryer, put it at 200 degrees for three minutes to heat it up, add the courgettes for six minutes, stir them and repeat the cycle. If after this time they are not ready, do another cycle of two or three minutes.
Dress with the vinaigrette, stir well, add the parsley, not too finely chopped, and refrigerate for at least an hour so that the flavors mix well (it can be from one day to the next). Take out half an hour before serving to cool down and serve as a side dish, or as a light starter with a little fresh cheese, olives and some chopped dried fruit.
If you make this recipe, share the result on your social networks with the hashtag #RecipesComidista. And if it goes wrong, complain to the Cook Ombudsman by sending an email to [email protected]