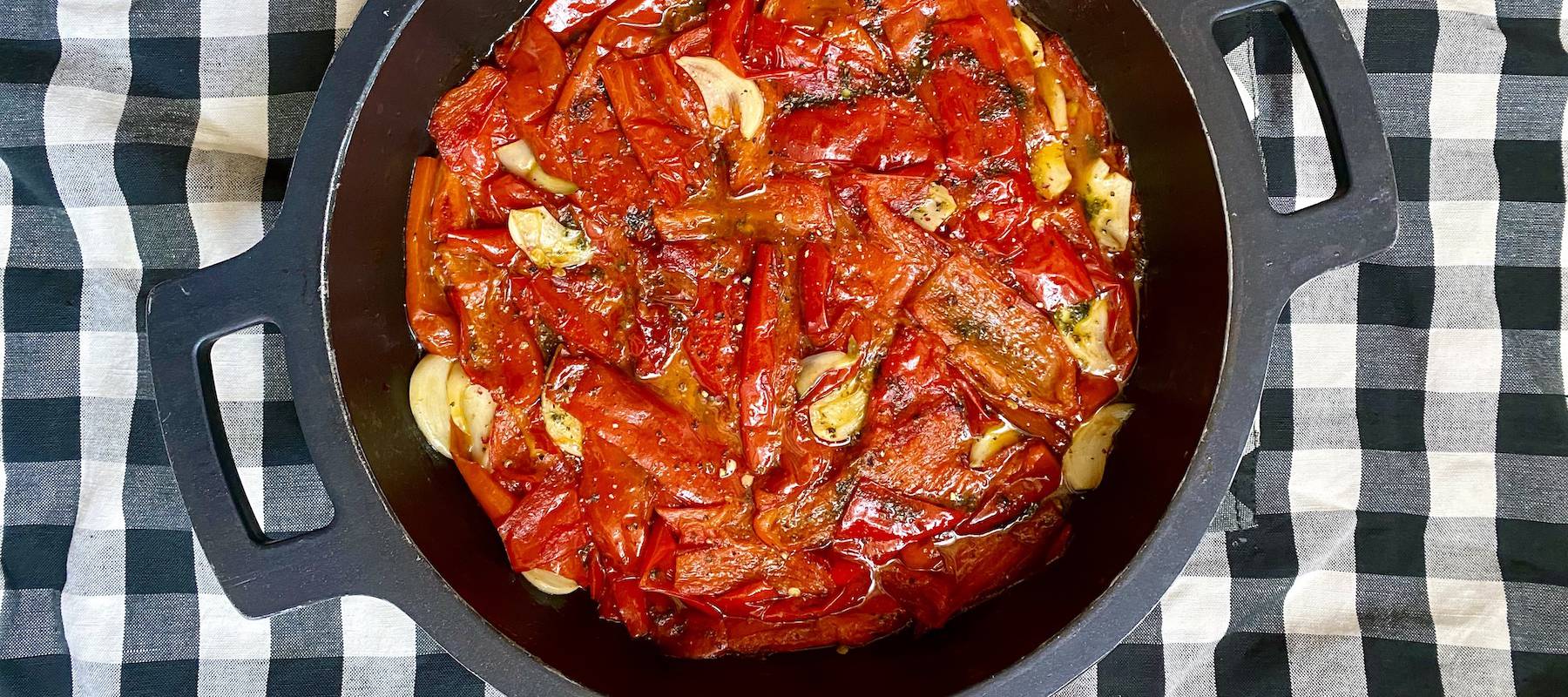 After five hundred years working in the food cause, from time to time I realize that some of the recipes that I prepare very often at home have not yet appeared here, and it never ceases to amaze me how sometimes the domestic and work spheres are so far apart -especially when part of my job is to make domestic recipes-, but luckily we have time to remedy it. Here are these stewed peppers, which are a staple in season and are used for almost everything.
Roasted peppers are a delight, but turning on the oven at this time of year is starting to be less appetizing than a shot in the knee, so taking advantage of any time you have to mess around with other things in the kitchen to prepare it will take you little time. effort and a lot of subsequent satisfaction. I know that vinegar -and acid flavors in general- are not to everyone's taste, but in this case they contrast perfectly with the sweetness of the pepper, so I encourage you to try it, even if it is in small quantities.
The amount of pepper that you can cook at the same time depends a lot on the size of your pan and the patience you have: the ideal is that there are not 20 layers of this vegetable, because in this case it would be more boiled than stewed, and the result it looks less tasty. But if you're patient and don't mind uncovering and stirring often, you can get an equally delicious stew even if you pile up the pepper.
It may seem that the recipe calls for a lot of garlic, but in this case, garlic is an intrinsic part of the recipe: I love to prepare a toast of good rye bread and spread a good amount of this delicious garlic on it, put the peppers on top with a little of its cooking juice, a touch of pepper and a little flake salt and eat it as is; without anything else, for breakfast or snack.
If so much minimalism kills you, there are a lot of things with which you can accompany these peppers. Without moving from the toast, the avocado is killer, just like a couple of generous spoonfuls of hummus or any vegetable spread. I can't think of any canned fish that doesn't go well with it: I've eaten it with tuna, bonito, mackerel, sardines, mackerel and anchovies with excellent results; and in a salad with chickpeas or lentils, pickled onion and these same preserves, success is guaranteed. A good cooked ham or smoked lacón will also be good companions, and almost any fresh or cured cheese, since it has a sweet and acid point that makes them come up at the same time.
More ideas? In a salad with potato, couscous or pasta, accompanying a simple grilled pork loin or tenderloin, chopped over any cold soup, in a million sandwiches or as a filling for hard-boiled eggs, simply mixed with their yolk. The possibilities are so many that I think I'll finish sooner if I tell you where I wouldn't put it: in a dessert (and I'm sure everything has to be put on to find the fit).
Difficulty
The one to cut the peppers.
Ingredients
1.2 kg of red peppers
100ml olive oil
apple cider vinegar to taste
A handful of parsley leaves
A level tablespoon of za'atar (or a mixture of thyme, rosemary and sesame)
A head of garlic (or a little more if it's small)
Salt
Pepper
Preparation
Crush the parsley with two tablespoons of oil and one of vinegar. Store in the fridge so it doesn't brown.
Wash the peppers, remove the stem and the seeds and cut them into strips.
Put them over medium heat in a saucepan with the rest of the oil, the garlic peeled and cut in half lengthwise, salt, pepper and a good splash of apple cider vinegar, the za'atar or the mixture of herbs and sesame and cook covered about 10 minutes.
After this time, uncover, stir well and assess: if there is a lot of liquid, continue cooking uncovered for a few minutes until much of it has evaporated -stirring often-; if not, continue cooking covered.
Stir about every five minutes, until the peppers have a candied appearance and their juices have reduced and mixed with the seasonings (total time depends on thickness of peppers and freshness).
When they are ready, add the parsley dressing, stir and cook uncovered for three more minutes. Remove from heat, let cool and refrigerate at least 24 hours before eating; the ideal is to take it out of the fridge a while before to consume at room temperature.
If you make this recipe, share the result on your social networks with the hashtag #RecipesComidista. And if it goes wrong, complain to the Cook Ombudsman by sending an email to [email protected]


#Red #peppers #stewed #garlic #vinegar