Sometimes, in training, when he wants his players to express themselves, Oleksandr Petrakov, the Ukrainian coach, yells at them: "People are dying in Ukraine!" Later, in his hotel room in Brdo (Slovenia), in a bucolic setting a few kilometers north of Ljubljana, he has some regrets, doubts if he is not being too harsh, if he is not putting too much pressure on some guys who have friends, relatives and acquaintances on the front lines of the war; or disappeared, or living poorly in cities under Russian control like Kherson. But Petrakov's team has a mission that the country's president, Volodymyr Zelensky, has integrated into the general strategy to resist Russia: try to qualify for the World Cup in Qatar. He needs to win two games: on Wednesday against Scotland in Glasgow and on Sunday against Wales in Cardiff.
The first was scheduled for March, but Russia attacked Ukraine early on February 24, FIFA kicked the Russians out of their competitions, and the match was postponed. Petrakov was caught less off guard by the invasion than the rest. A couple of weeks earlier he had been in Turkey at a tournament for teams from the lower categories, where he discussed with several Russian colleagues his plans to prepare for that classification: "What preseason are you doing if the war is going to start on the 23rd?" he recalls. what did they tell him. "On the 23rd I woke up, and there was nothing. But on the 24th around four in the morning my son called me: 'Dad, it's started'.
When it decided to postpone Scotland-Ukraine, UEFA hoped that the situation would calm down before June. It didn't happen. So with the country still resisting the military attack, on April 30 the coach, four footballers and the team's technical and administrative team left kyiv for temporary Slovenian exile. "When we came, we saw the big difference: in Ukraine we couldn't find anything, not even gasoline. And leaving and arriving in Europe, the contrast, there is everything, people are happy, they smile. Peace," recalls Petrakov.
Throughout May, players from various parts of Ukraine, and others who play for clubs outside the country, have been joining the concentration. The last to arrive, Real Madrid goalkeeper Andriy Lunin, after the Champions League final in Paris.
They set out to prepare for their war by other means, as Dinamo kyiv midfielder Oleksandr Karavayev explains: "We have to win on all fronts: in war, on the cultural front, on the sporting front," he says.
Karavayev spent the first days of the invasion sheltered with his family in the sports city of his team. Later, the club took his wife and children out of the country, and he stayed there until the national team called: "I think we can help our country more with things like this, leaving Ukraine, playing charity games, showing everyone the world what happens in our country", he says.
The soldiers send messages from the front on Instagram to the soccer players to encourage them.
It's not just that they think so. Petrakov wanted to stay in kyiv, despite the fact that at his age, 64, he could have left the country at any time. He visited military posts in the capital, as well as cities devastated by the Russians like Bucha, and he remembers the most common message they sent him: "When I went to the trenches to visit the military, everyone asked me the same thing. They said: 'Look, we only ask you for one thing, that the team qualify for the World Cup'. We also have to show that we are alive", explains the coach.
In the concentration of Ukraine these messages are also received very frequently. Oleksandr Pikhalyonok, a Dnipro midfielder, is told by the head of the club where he played until the war took the Ukrainian league: "Our president has gone to the front. He calls us on the phone, and he makes us video calls. He is there with the soldiers and we talk to them," he says. "A boy who used to play for Karpaty is also in the front, and sometimes he asks us for help."
He is not the only one who maintains communication with the military in Brdo. Many soldiers write to footballers through Instagram, as Pikhalyonok recounts: "A lot of people from the army who don't know me write to me there. They tell me: 'You have to go to the World Cup, it's going to make us happy'.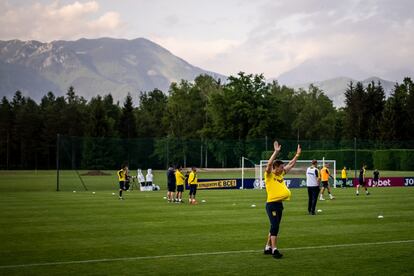 Soldiers from the front, under fire, send encouragement to soccer players exercising at the foot of the Julian Alps, on the fields of the National Soccer Center in Brdo, a complex with golf holes, forest, lake, swans, carriages vintage and aroma of fresh fertilizer. A landscape where newlyweds come to photograph themselves with long shots, and where the silence is barely broken by the whistle of the buggies electrical and the drone of the drone that records the training sessions in Ukraine.
Karavayev is impressed: "I am amazed at how brave you have to be, what spirit you have to have to be there on the front lines, on the front lines, defending the country. And they send messages of support to us so that we can give positive results to the country and brighten their day. They are always supporting us, they are always with us. When we are the ones who have to support, "he says.
Guilty feeling
The drone images are later scrutinized by Abraham Campomar, the Spanish analyst for the Ukraine team, from where he was able to leave in the first hours of the attack thanks to his passport. Ukrainians between the ages of 18 and 60 are not allowed to leave the country, but Campomar was able to reach Burgos, where his family comes from, with an expedition of around 25 people, after a bumpy road trip: "It took us three days to travel 700 kilometers to the border", he recalls. Campomar grew up in the Ukraine, where his parents moved when he was very young, and from there, from Mariupol, she is his wife, his children were born there and his friends are from there. Leaving the country, leaving part of his people behind, triggered the feeling of guilt: "There was a feeling of injustice, of feeling strange. I do… And why not them? Then I was able to deal with those emotions, not blame myself, but think about what I can contribute. Each one has to help in their front, in what they can".
The football front is not easy either. When the coach was still in kyiv, he spent a month and a half without being able to watch a minute of a game. He couldn't get away from the news, and when he went out to walk the dog, he was reminded by the explosions in the background. In the retreat from Slovenia he doesn't find it much easier: "I sit down to think and I always come up with the same question: Why me? Why did they give me the national team in August and now the war has started?" He snorts, looking at the ceiling of the terrace of his room. "But I have to be strong. I can't be sorry. I have to show the players that they have to go forward".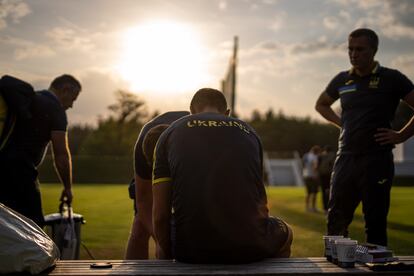 In Brdo, football is very important, but it is far from being the most urgent: "I have spoken with each one of them to ask them where their family is, how their fathers, their mothers, their wives, their children are now… , when peace reigned, we only talked about football. But now, for example, we have a masseur whose father was in Mariupol, and still no news from him. Many fathers of soccer players have enlisted in the army. That is why we have to train and talk about football, but also about this situation", explains Petrakov.
Football is a very important social and political platform.

Abraham Campomar, Ukraine national team analyst
The coach is aware of the pressure his footballers live under, to which he himself sometimes contributes, and that is why he gave them a couple of days off after the first 17 in a row locked up between the first floor of the Hotel Elegans and the training camps.
He also tries to lighten the mood in the work sessions, with a few jokes even when he has to tell his boys that the next friendly match they had scheduled, against the Democratic Republic of the Congo on May 26, had been suspended, and they would not try each other again. against a rival 90 minutes until the first decisive game, on Wednesday against Scotland. The African federation was changing its demands until it was impossible to organize the meeting. It was not the first country that let them down in preparation, but despite that, Petrakov managed to get a few laughs out of them before work. Because in the background there is always war.
"I can't forget it," says Karavayev. "You cannot isolate yourself from this situation. This touches each one of us. I can't stop watching the news. I am very worried because my parents have stayed in Kherson, and Kherson is now occupied by the Russians."
Meanwhile, they have to continue preparing to play football, but for none of them it is just playing, as Campomar explains with a speech assumed by everyone in Brdo: "Football is a greater force, the opportunity to show something more, to represent an entire country that wants to feel that it lives, that it is free, independent, that it can fight for its place in the world on its own. Soccer is a very important social and political platform," he says. And Pikhalyonok finishes describing what meaning they give to Wednesday in Glasgow: "It is the most important football match in the history of Ukraine", he assures.
If they win, on Sunday they will have in the Wales of Gareth Bale the last obstacle to access the World Cup in Qatar. Later they still have three games left in the League of Nations, and then this exceptional team stationed in Slovenian exile will be dissolved again. Many, like the coach, will return to Ukraine despite the war: "There is my wife. My children are in Ukraine. I want to go home, that's for sure. I really like my country, I really like kyiv, I was born there, I've been there my whole life. That's why I'm coming home."
You can follow EL PAÍS Sports in Facebook Y Twitteror sign up here to receive our weekly newsletter.