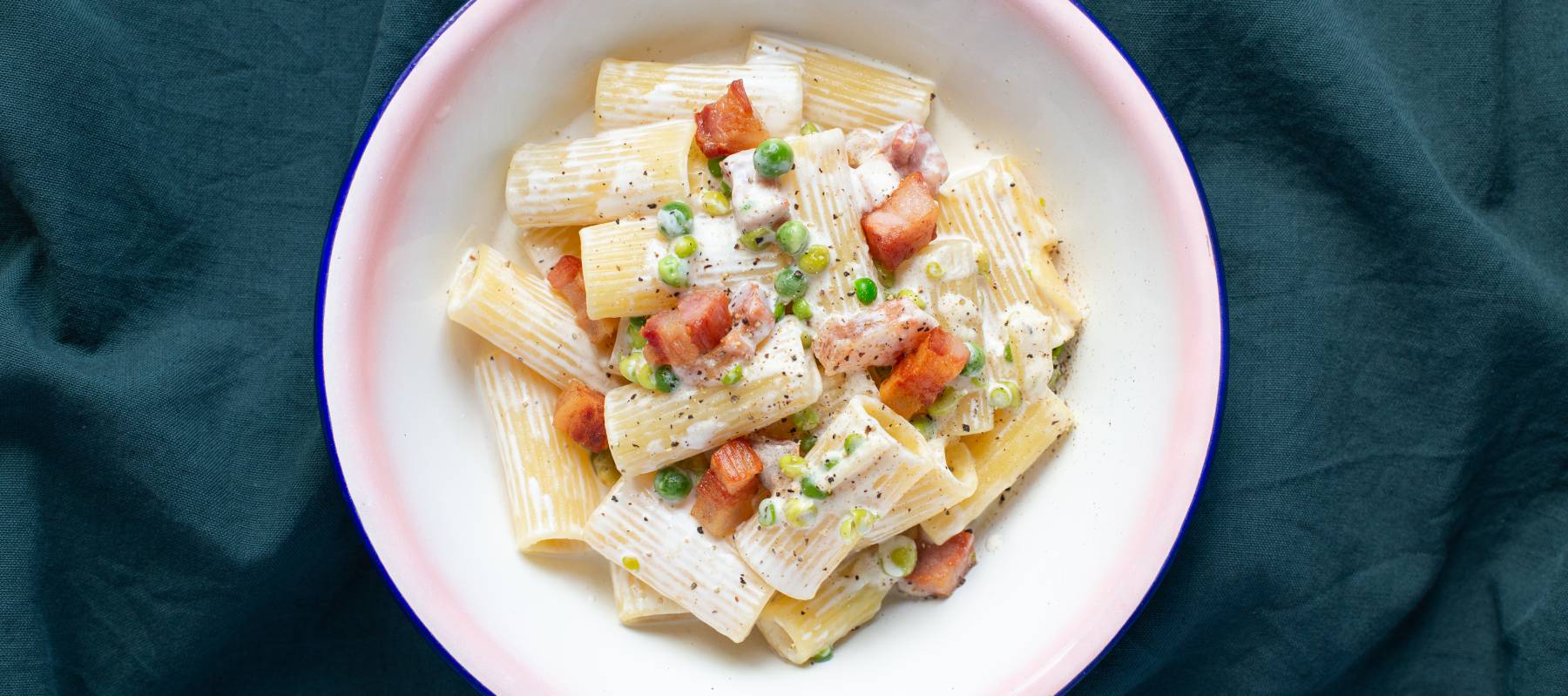 I have a very bad memory, and although I had a full and happy childhood, I find it hard to clearly remember moments from that stage of my life. I think that is why, among other things, that food's ability to relive scenes and sensations from childhood never ceases to amaze me. The pasta with peas, ham and cream that my mother prepared is one of the dishes that has that effect on me.
It is extremely simple and easy to prepare since it is enough to have four ingredients and spend 15 minutes in the kitchen. My mother is like that: she has the great virtue of good cooks, turning the simple into a dish to remember. I hope that over the years, observation and practice will make me as good a cook as my mother and hers, with her sensitivity, common sense and keen eye.
For now, I have dared to take his plate and change the ham for a few cubes of crispy bacon. The key to optimal texture is to brown the cubes in a nonstick skillet over medium-high heat in the bacon's own fat. If you do it over low heat, they will end up cooking and will not brown; and if you do it on a very high heat, you will burn them in a pas pee.
As for the other protagonist of this recipe, the peas, there are not too many demands. Being in season I recommend using them fresh but it would not be a sacrilege to opt for frozen ones. If you don't like peas, you can change them for some mushrooms, some asparagus, some artichokes –previously cooked– or some spinach.
Difficulty
Let the bacon be crispy.
Ingredients
for 4 people
500 g of short pasta
250g peas (fresh or frozen)
200g pancetta
1 clove garlic
400 ml of cooking cream
freshly ground black pepper
Salt
Preparation
Bring plenty of salted water to a boil to cook the pasta.

Meanwhile, cut the bacon into approximately 1×1 cm cubes and brown them in a non-stick pan over medium-high heat with their own fat. Once they are golden, remove the bacon and leave the fat in the pan.

Add the peas, the peeled garlic clove and cook for three or four minutes. Cover if necessary (they can start to jump into the air like popcorn).

Remove the garlic. Add the pancetta and cream again and lower the heat to a minimum. Taste and season (bacon is usually quite salty).

Strain the pasta a minute earlier than the manufacturer says and add to the sauce with a little of the cooking water. Blend for a minute and serve hot with a little extra freshly ground black pepper.
If you make this recipe, share the result on your social networks with the hashtag #RecipesComidista. And if it goes wrong, complain to the Cook Ombudsman by sending an email to [email protected]


#Pasta #peas #bacon #cream