The death last Tuesday of the photographer Ouka Leele, an icon of Madrid's Movida for her images of colored and surreal portraits, once again brings to the fore a controversial, mythologized and crushed artistic and cultural movement, which more than forty years after its hatching continues to feed discussions and memories. "It was a group of beardless people who rebelled against their older brothers, those with long hair and trench coats who ran in front of the gray ones," says photographer Miguel Trillo, born in Jimena de la Frontera (Cádiz) in 1953 and a portraitist by phone. of the youth of the streets and bars of the Movida. He was at what is considered the start date of the Movida, the concert on February 9, 1980 at the Escuela de Caminos in Madrid, in homage to the drummer of the Tos group, Canito, who died in a traffic accident on New Year's Eve in 1979. However, before that recital, Ouka Leele, for example, had already presented his series Barber Shop, portraits of friends that she adorned with headdresses that she made from dead objects or animals. Ouka Leele (Bárbara Allende) herself told this newspaper in an interview a year ago how she found out about the Movida: "At Christmas 1981 we returned to Madrid [de Barcelona] and the photographer Carlos Serrano told me: 'Do you know what's cool? La Movida… la Movida is going to someone's house and then going to another…".
Who knows that creative magma is the art collector José María Lafuente, owner of the Lafuente Archivewhere there are important funds with works and documentation of, among others, Ouka Leele, Miguel Trillo and the painters José Alfonso Morera Ortiz, The Gardenerwho died in 2016, and Carlos Sánchez Pérez, Ceesepe, dead in 2018. The Lafuente Archive, through exhibitions, has been telling the unique Madrid counterculture. "There are two key people: Ceesepe and the photographer Alberto García Alix, and from them, ramifications of movements, magazines… They are also the two that entered the conventional market", explains Lafuente. The journalist Elsa Fernández-Santos, a collaborator of EL PAÍS and who has worked in the Lafuente Archive in the part of Transition and counterculture, points out that "a new youth culture crystallized in them, whose referents came from outside; They were interested in comics, fanzines and music…". "I went to see Ceesepe and with the material I found, from the seventies, an exhibition was set up at La Casa Encendida (Madrid) in 2019. More than 90% of his comic production, for example, was intact," adds Lafuente . This businessman from the dairy sector has brought together the documentary and artistic collection of a group that has given rise to unequal evaluation. However, he points out that in the organized exhibitions, such as the one by Ouka Leele a year ago at the Círculo de Bellas Artes, he has verified the great response of the public.
Another recent example was the one curated this year (closed on March 20) by Carmen Alcaide on El Hortelano in Alcalá de Henares. Alcaide, who directs the Fine Arts classroom at the Complutense city university, remembers that in 2019 she visited the workshop that El Hortelano had in Madrid, near the Retiro: "I was fascinated. There was a lot of work that goes beyond the Movida, and in other formats, such as prints, posters…". The family has the majority of its production, which is also distributed among friends and private collections.
The link between El Hortelano and Alcalá dates back to 1975, when he did his military service there. On his days off he went to the Madrid Rastro, where he met Ceesepe, who had a comics stand. It was the beginning of their friendship. El Hortelano and Ouka Leele became a couple and the three moved to a flat that became a meeting point for the members of the Movida. The three of them, together with García-Alix, formed what was called the Cascorro Factory, a horny Madrid version of Warhol's The Factory, a place of inspiration and parties for the artist and his friends in New York.
All the culture that goes with you awaits you here.
subscribe
Miguel Trillo emphasizes that "what the Lafuente Archive is doing is not being done by the institutions, for example, the Reina Sofía Museum, which in the reorganization of its rooms has tiptoed through this period; nor is there a Movida museum". However, the Ministry of Culture has recently decided to acquire the Archivo Lafuente, which will remain in the orbit of the Reina Sofía once the purchase is formalized. To this forgetfulness have been added on occasions the invectives from different tribunes, which have branded those of the Movida as posh children, or subsidized, or that the PSOE used them because it saw in them a fishing ground for votes ("Movida promoted by the City Council ", sang The Refrescos). "We were young and aware that we were living in a situation of freedom, there was a desire to survive because there was a lot of violence: ETA, the Grapo, the extreme right… We wanted happiness and our bodies asked us to enjoy ourselves without thinking about big projects," he adds. Trillo, who recalls that in November 1983 the magazine The moon of Madrid"the official bulletin of the Movida".
This photographer sees in that disdain for the Movida the contempt for "something that was not planned and that was difficult to digest". "Perhaps because there was no literary power. If we had had a great writer, but, of course, they wondered: 'And these kids are the protagonists of culture?' Fernández-Santos completes: "There is still a long way to go to definitively value them. They are artists who will be discovered and seen in a different way. There are more prejudices in older people. Young people are infinitely more unprejudiced because they haven't lived through that movement, they see it in a cleaner way". A fact that corroborates Lucía Casani, who curated the exhibition on Ceesepe at La Casa Encendida in 2019, entitled Modern vices: "It was a precious tribute that put his work in contact with a younger generation that did not know him. That work has elements that today would not pass the censorship of the politically correct".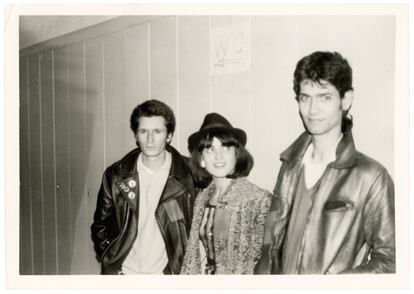 In this line it is stated the gallery owner Pedro Maisterra, which organized an exhibition in 2021 on the Movida artist duo known as Costus, the painters Juan Carrero and Enrique Naya. "Now there is a group of experts, from a generation of whom some were not even born at that time, who look at them in a demystifying way. Many young people between 15 and 25 years old came to see the exhibition from the discovery, not from the cliché. That time had an artistic value in creative freedom and in the hybridization between disciplines, but it has been painted with many clichés and prejudices to revile it. They were just a group of friends, some guys who lived through the explosion of youth culture.
Trillo, who has been photographing the youth of Southeast Asia for twenty years, points out that it is "a territory in which there is an icon that is Almodóvar; To the detractors of the Movida I would tell them to think of another movement that has that work and those names. La Movida updated a country in black and white with bright colors, and that is why they were not accepted. Almodóvar's name is also pronounced by Maisterra: "This movement persists over time thanks in large part to him. Not just for him boom that it supposed, but because it was the sponge that absorbed diverse people".
The curator Salvador Nadales, from the Reina Sofía Museum and an expert in the work of the painter Guillermo Pérez Villalta (Tarifa, 1948), can speak of the treatment they have received from the institutions. Nadales underlines that the market price of Movida works remains "quite affordable, despite the emergence and importance they acquired due to their pop conception of art." They are highly demanded authors by public institutions and large collections. In the case of Pérez Villalta, most of his production is at the Andalusian Center for Contemporary Art (CAAC), in Seville. "In the Reina Sofía we have quite a few of his works, 26 of painting and drawing". He defines the art of the Movida as "inconsequential and banal", but clarifies: "I don't say it as something derogatory, but vindictive. They were not aware of that movement that would be created later".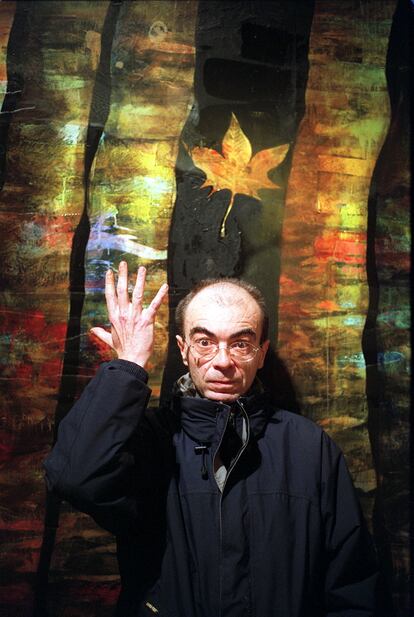 Nadales indicates that the revaluation of this current is due "to the fact that they continue to arouse interest, as happened with the Villalta exhibition, entitled Art as labyrinth in the Alcalá 31 room, in Madrid, a retrospective that could be seen in 2021. "It attracted all kinds of audiences. Those who are alive in the group have not remained anchored in the past, they evolve".
This renewed interest in the Movida is not only in the capital. One of its collectors is the artist Pablo Sycet, who has made Gibraleón (Huelva, with 12,600 inhabitants) another point on the map of that movement. Sycet has brought together some 2,500 works from the 20th century, especially from the 1980s. He is judge and jury. Sycet was a lyricist for the group Fangoria for 25 years (1990-2015) and author of some of Luz Casal's hits such as Crazy either Feel.
When did the Movida end? The answer would give for another long article, but Trillo places that end in two fires, that of the Alcalá 20 nightclub, in which 81 people died, in December 1983, and that of the Rock-Ola room, nerve center of the Movida , the next year. Some ashes from which this movement seems to rise again and again, as Carmen Alcaide says: "La Movida never ends".
Exclusive content for subscribers
read without limits