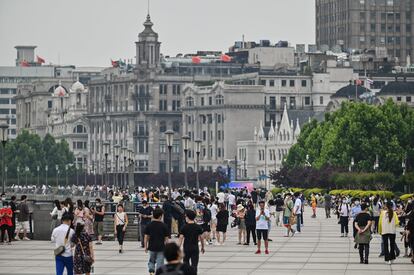 Shanghai is already from this Wednesday at the end of the tunnel. With fireworks -which, according to Chinese tradition, drive away evil spirits- and an atmosphere worthy of the New Year celebrations, the economic capital of the Asian giant celebrated from midnight the goodbye to a draconian two-month confinement, which has generated widespread discontent among the population, unusual protests by its residents on social networks and in the streets, and serious problems in the national economy and global supply chains.
As was the case in Wuhan, the first city confined at the beginning of the pandemic, the authorities set a date for the city to officially reopen. On 1st June. The date that ended restrictions that, for many of its residents, have been extended for more than 76 days (the duration of Wuhan's confinement in 2020), and that has given the green light for more than 22.5 million of its almost 26 million inhabitants can move freely around the city. Health authorities have reported 15 new cases in 24 hours, an abysmal drop compared to the average of 20,000 daily infections that were detected in April.
This Wednesday, the largest city in China has woken up without most of the fences that had been placed to block access to residential complexes, without police tape in squares and public buildings and with operational means of transport. Some did not believe it. They went out into the street almost gropingly, with the strange, almost dizzy sensation of sailors when they set foot on dry land after a long journey. Very long and with very restricted movement.
For weeks, practically the entire population had to stay locked up in their homes, unable to leave except to undergo PCR tests, go to the doctor in case of illness… or be transferred to the dreaded fanang, the temporary quarantine centers in precarious conditions for the mildly infected and their contacts. The food supply system collapsed in the first weeks, causing an avalanche of complaints, reports of extreme cases and ingenuity, neighborhood solidarity and picaresque to obtain food.
Authorities originally announced that the Shanghai lockdown would be staggered and would last a maximum of four days for residents on each side of the Huangpu River, but that lockdown officially lasted for two months, and in some cases exceeds 80 days. During this period, complaints have been frequent on social networks about food shortages and inflexibility when applying protocols against covid, such as not treating patients with other diseases in hospitals.
Some areas with fewer cases had already received authorization in recent weeks to allow their residents to go outside for more or less long periods of time, generally with passes for a certain number of hours or for specific missions (going to the bank for cash, for example) signed by your ward committee. In previous days, in streets like the emblematic Anfulu liberated residents, most of them young, had gathered in spontaneous street parties to celebrate their freedom under the gaze of the police.
"Everyone has sacrificed a lot. This day has been hard-earned, so we have to cherish and protect it, and welcome the Shanghai we know and miss," local government spokeswoman Yin Xin told a news conference.
The official opening this Wednesday, however, does not mean a return to pre-pandemic normality. Residents of areas where there have been no recent cases can leave their homes without needing an hourly pass. With a but: they are required to present the result of a PCR test carried out in the last 72 hours to access both public places and community transport. Supermarkets, shopping centers and outdoor tourist spots will open with up to 75% of their capacity, while museums, bars, gyms and cinemas will remain closed. Restaurants will also not be able to resume their normal activity for the time being, and will have to continue limiting themselves to takeout.
"I'm happy, but I feel strange and bittersweet after so many weeks locked up at home," says Ming Ge, 30, a multinational worker. She compares managing the pandemic in Shanghai to a romantic relationship that starts out idyllic before turning into hell. "It has been like when you have a partner with whom everything is going smoothly for two years, but suddenly it takes a radical turn and in recent months he insults and mistreats you. Then she asks you for forgiveness and that you forget what has happened, assuring that she wants everything to return to normal, "she reproaches.
A foreigner who prefers not to identify himself describes the situation on the streets as "a strange mix. People are happy, of course. But at the same time, he doesn't quite believe that this is over. And the suffering has been such that it will take a long time to overcome it. These things are not forgotten. Underneath the joy there is still a lot of discomfort.
"If it wasn't for (leaving behind) my parents, I would have already gone abroad," says Li, 40, an exhibition organizer. Videos circulate on the internet this Wednesday in which local media reporters move the microphone away from those interviewed who, live, criticize the closure. Currently, some 190,000 people remain in confined areas and another 450,000 in so-called controlled areas (close to places with infections, but where no positive has been detected in the last week).
Economic impact of the zero tolerance policy
The Government has committed to installing PCR testing stations within a 15-minute walk in the main cities of the nation and to building field hospitals to receive covid patients in the event of a resurgence. The Reuters agency calculates that between March and May more than 300 of these facilities were built and estimates that China will invest some 48.5 billion euros in measures to combat covid throughout the year.
However, there is concern about the financial impact that these measures will have. Shanghai is, in addition to the business center of the country, the place where the largest cargo port in the world is located. Chinese economic activity in April registered its biggest contraction in two and a half years and, after eight weeks of inactivity, in Shanghai it has been even more noticeable. According to data from the city statistics agency, industrial production fell 61.5% year-on-year in April, while retail sales fell 48.3% in the same period. This precipitous decline comes after posting weak results in the first quarter: Shanghai's economy grew by just 3.1%, below its 5.5% target.
Despite these figures, China remains firm with its policy of zero tolerance against the coronavirus, and proof of this is the delay of several large-scale multi-sport events scheduled for this summer and the recent decision to give up its status as host of the Asian Soccer Cup, scheduled for 2023, and for which a multimillion-dollar disbursement had already been made in the construction of stadiums. That resignation to the inevitability of coexisting with the virus that has been adopted in other countries remains outside the alternatives that are being considered in the upper echelons of Beijing, especially in the face of the 20th Congress of the Communist Party to be held in the fall, when it is scheduled the appointment of Xi Jinping for a third term.