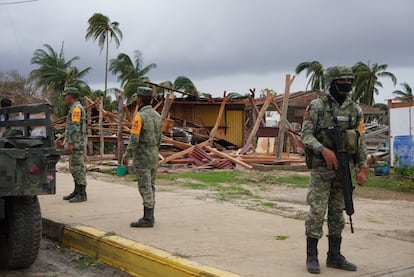 The hurricane Agathe has left a trail of destruction as it passes through Oaxaca that has caused the death of at least 11 people and the disappearance of another 33. The governor of the state, Alejandro Murat, reported this Wednesday during the president's morning conference that the phenomenon has caused serious damage in the upper area of ​​the coast and in the southern highlands due to overflowing rivers and landslides. Murat asked the population of the affected municipalities to remain sheltered because the rains continue and lamented the deaths, which may still increase: "Oaxaca is in mourning."
Agathe It made landfall as a category 2 hurricane last Monday and has been losing strength until it has become a remnant low, but the intense rains and gusts of air that it has brought with it for days have led to devastating images in the State, one of the poorest in the country. country. The phenomenon has also hit well-known tourist beaches such as Huatulco, San Agustinillo, Zipolite or Mazunte. The situation could still get worse: the governor has warned that two other phenomena are forming that could become a cyclone in the next five days, so classes are suspended in six municipalities and the Puerto Escondido airport remains closed.
In addition, it is possible that the number of deaths will increase in the next few hours, since there are still municipalities that are incommunicado, such as those of San Juan Ozolotepec and Santa María Ozolotepec, located in the southern highlands. The governor has assured that the Army has a helicopter to bring supplies and doctors to these communities when conditions allow. The passage of 'Agatha' has also destroyed two bridges: the Azufre bridge, which connects Oaxaca with Pochutla, and the La Herradura bridge, which links Huatulco with the highlands. The Ministry of Communications and Transportation will take two mobile bridges there and install them next week, Murat assured.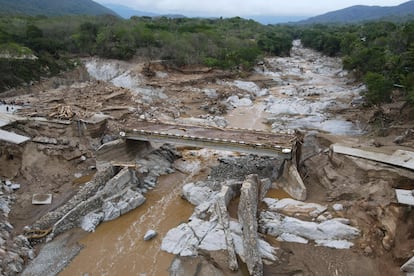 Given the situation, which has been revealed more complicated as the hours have passed, the governor has requested the declaration of emergency for 26 municipalities. Murat has reported that 240 shelters have been installed in all the areas affected by the hurricane, many of them poor communities with fragile buildings that have not been able to withstand the heavy rains and floods. The images that have been known so far show streets converted into true rivers, as in the municipality of Tehuantepec, and beach constructions reduced to rubble in towns such as San Isidro del Palmar.
Meanwhile, the Federal Energy Commission has announced that more than 40,700 people have lost power in nine towns. "It is expected that as the day progresses, electricity and telephones can be restored, except in places where there is still a lot of rain," said the governor, who has reported that the CFE has 30 mobile units to deal with power outages. .
The meteorological phenomenon made landfall on Monday on the coast of Oaxaca at 3:30 p.m. and was downgraded to a tropical storm with heavy rains that have also affected the neighboring states of Chiapas, Veracruz, Tabasco, Quintana Roo and Yucatán. President Andrés Manuel López Obrador lamented the situation and sent his condolences to the victims. "My hug to the relatives of those who have lost their lives. The desire that the disappeared be found when all the communities can be reached, we are going to be in that search and we are going to be pending, all our support for the victims."
subscribe here to newsletter of EL PAÍS Mexico and receive all the informative keys of the news of this country