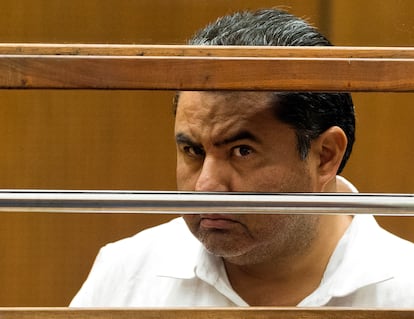 Naasón Joaquín García, leader of the La Luz del Mundo church, pleaded guilty this Friday to three charges of sexual abuse of three underage women. The guilty plea comes three days before the apostle of Jesus Christ, as he is known to his followers, began his trial in Los Angeles. Garcia was facing 19 court charges for sexual abuse of minors, rape, possession of child pornography and human trafficking. He is expected to receive a sentence on Wednesday morning for crimes committed since 2015. "As leader of the Light of the World, Naasón Joaquín García abused his power to take advantage of girls. He trusted those around him to groom worshipers for him to abuse," California Attorney General Rob Bonta said in a statement. "Sexual exploitation will never be acceptable in the state," he added.
The religious leader has admitted his guilt of committing lewd acts with a 15-year-old girl and forcing her and another woman under 18 to have sex with him. The character, who had great influence among political groups in Mexico, now faces a prison sentence of around 17 years, as a source explained to EL PAÍS. Garcia has been in a California prison for three years, where he was awaiting trial. On Monday, the defense and prosecution were to begin selecting the 12 jurors who would hear testimony from the victims. García had defended his innocence at all times, but this Friday's news has taken an unexpected turn in a case that brought to light the darkest side of a church with a presence in more than 50 countries around the world.
"I still trust in God! I know that God is for me! I will not fear what the man can say! ", Reads one of the last messages that Joaquín García published on his birthday, on May 7. The trial was scheduled for 2020, but the outbreak of the covid-19 pandemic and a series of appeals delayed the start. "We have full confidence that the time will come when the apostle's innocence and honorability will be proven," Eliezer Gutiérrez Avelar, a spokesman for the organization, said in a video in May. Sources close to the investigation have said this Friday that the negotiation took place this morning in exchange for a reduced sentence. His attorney, Alan Jackson, acknowledged in a 2021 motion that his client could spend the rest of her life behind bars if convicted of the charges.
Joaquín García was detained by FBI agents on June 5, 2019 at the Los Angeles airport after landing in a jet private. An iPad was found inside his luggage, where the police found a video of a naked 14-year-old boy, masked and receiving oral sex. The woman who performed fellatio, according to the testimonies presented by the Prosecutor's Office, was the adolescent's aunt. In recent days it had been announced that the judge had authorized that recording to be shown to the 12 members of the jury during the trial. Other images of minors having sex were found on their electronic devices. Joaquín, self-proclaimed servant of God, claims to have more than five million faithful throughout the world, although his critics claim that the real figure does not exceed one million. In Mexico, where the church was founded in the 1920s, it has more than 190,000 followers, according to the latest census.
The case in California uncovered that the religious leader surrounded himself with a group of maidens, girls and adolescents who were instructed on the principle that serving him and being touched by him was a blessing. Joaquín García assumed power after the death in December 2014 of his father, Samuel Joaquín, who headed the church for more than 50 years. The organization was founded by his grandfather, Eusebio Joaquín, also known as Brother Aarón. The Prosecutor's Office assured that, under the narrative that Naasón was part of the "lineage chosen by God", everything was allowed and that the abuses were facilitated by the church machinery: with women in charge of recruiting the girls, as well as a dome of ministers and unconditional members who were in charge of covering up the crimes.
"La Luz del Mundo is a criminal organization, Naasón did not act alone," said Sochil Martin, who belonged to his close circle for years and was the first person to publicly denounce the abuses. Martin affirms that she was abused in her youth by Samuel Joaquín and that Naasón Joaquín asked her to recruit several young girls. A civil lawsuit targeting the president of the church and his closest group is still pending in US courts.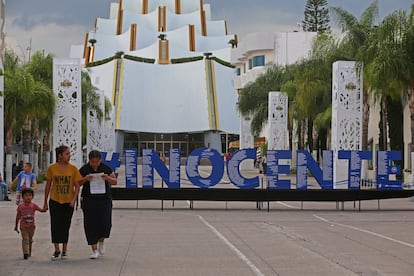 Three weeks before his arrest, La Luz del Mundo had displayed its political power. Thanks to contacts in the Mexican Senate, the apostle had received a unique tribute for his 50th birthday: the party was not at the Hermosa Provincia temple in Guadalajara, the religious organization's equivalent to the Vatican, but at the Palacio de Bellas Artes of Mexico City, a venue reserved for cultural events that does not usually celebrate any type of religious act. A few days later he traveled to El Salvador to meet with the president, Nayib Bukele, and lay the first stone of the City of Light of the World, a new mega-construction the size of 100 soccer fields.
Joaquín García and his family have multiple properties in Mexico, the United States and Central America, including a ranch with exotic animals in Texas, valued at more than four million dollars. The predominantly humble congregation had to give offerings, gifts and tithes each month to "honor the man of God," according to former members. "When you are inside, Naasón is God and the greatest blessing is obedience, your whole life and your salvation depend on him," says Elisa Flores, who left the cult early last year when she learned of the accusations. After his fortune was made public, a Los Angeles judge set bail at $90 million for him to face trial in freedom, a record figure.
Despite the coup, several people who belonged to the organization point out that Joaquín García has paved the way to maintain control, even from prison. "They told us, for example, that the apostle Paul had also been in prison and that he will continue to be an apostle no matter where he is," says Flores. However, the picture is full of unknowns. For people who have decided to expose the abuse, the guilty plea is not the end of the story. "Even with Naasón in jail, my life and that of my family are in danger, but no matter what happens, I will continue to fight," says Martin.
subscribe here to newsletter of EL PAÍS Mexico and receive all the informative keys of the news of this country