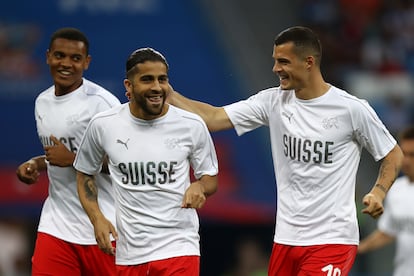 There is no country in Europe like Switzerland, which stands as a flag of its neutrality and grew for decades thanks to immigrant labor. Three out of ten inhabitants in the Swiss confederation are foreigners and if you look at the ancestors, the percentage is above 40%. That melting pot finds a reflection in football: 14 of the 26 footballers in the squad that receives Spain this Thursday (20.45, La1) were born or have ancestors abroad. In front is Murat Yakin, of Turkish origin.
The Swiss describe themselves as a willensnation, a word in German, the language of more than 60% of its inhabitants and one of its four official languages, which serves to express the idea of ​​a nation created with the will and desire to unite diverse peoples. But the road was not always easy. Between 1934 and 1966, Switzerland played in all the World Cups except one, but then spent 28 years in white. In 1994, Spain dismounted in the round of 16 a team of native clothing in which a nationalized Argentine, Nestor Subiat, the son of a couple from Malaga, Martín Rueda, and the descendant of Italians Ciriaco Sforza were barely integrated. "Before that team there was a great cultural distance and way of living and feeling football between those who spoke German and French. Today everything is more globalized, many players live in other countries and the mentality is very different among young people", describes Silvan Kämpfen, deputy editor-in-chief of Zwölfa magazine specialized in describing soccer from a social accent.
Switzerland grows with mestizo football. At the 1996 European Championship he showed the world Kubilay Türkyilmaz, a powerful striker who championed one of his most football-loving communities and who was born in Bellinzona, the Italianized capital of the canton of Ticino. Shortly after, at the beginning of this century, the Basel team that appeared in the Champions League was led by the Yakin brothers. Some 70,000 Turkish citizens live in Switzerland today, 3,500 have a federated license to play football, a figure that must be multiplied by five if applied to the Portuguese, who, however, have barely managed to take a countryman to the national team and was last September. This is Ulisses García, a left back born in Lisbon, the son of Cape Verdeans. From that archipelago came Gelson Fernandes, that midfielder who scored the goal that sealed Spain's only defeat in the 2010 World Cup.
"In Switzerland, the second generation of emigrants is called seconds, in Italian", warns Ricardo Cabanas, who clarifies that there is no xenophobic hint in the expression. "Switzerland is an exemplary country. As a child you grow up with people of so many races and religions that you learn to accept, live together and understand", explains this son of A Coruña born in Zurich, a World Cup player with Switzerland in 2006 who also wore the shirt of the Galician team. More than half of the 80,000 Spaniards who live in Switzerland today are Galician, many others ended up returning. They arrived in waves from 1959 to the early 1980s, preferably from rural areas, as did the father of Ricardo Rodríguez, a defender for the national team and for Torino, who left from Freixo (Crecente), a village on the border marked by the provinces of Pontevedra and Ourense with the north of Portugal.
Rodríguez experienced one of the greatest epics in Swiss football, winning the U-17 world championship thirteen years ago. "That was very important because it became clear that Swiss football had something to gain, that we were more than just little Switzerland," explains Kämpfen. That team was already a pure mix, with Seferovic, Xhaka, Rodríguez or the son of Tunisians, Ben Khalifa, a promise that has ended up in the Japanese league. Shaqiri also belonged to that generation, although he did not play the championship. After the waves coming from the Iberian Peninsula, the Balkan hornet's nest led to large population displacements. The Kosovar Albanian community exceeds 112,000 inhabitants and more than 6,000 soccer players in the country and among the ex-Yugoslav republics there are almost 200,000 more people and 13,000 of them are federated.
"There is a minority that is very loud and deplores the fact that the players in the national team have the surname Zakaria or Shaqiri and not Müller or Meier, or dislikes that they are not all white," explains Kämpfen. This week, after the defeat against the Czech Republic, a racist comment by a reader in a story published in the daily Blick provoked the reaction of Granit Xhaka, the Arsenal footballer of Albanian origin and captain of the national team. "This will never change!" he wrote on his Instagram account. The newspaper withdrew the comment and apologized to the footballer for not having leaked it. "Switzerland is multicultural. A person named Granit, Djibril or Xherdan is just as Swiss as someone named Roger, Andy or Claudio. Respect and tolerance are basic values ​​in our country", responded Steffi Buchli, editor-in-chief of Blick, who also reflected the opinion of Fankurve Schweizthe organization that brings together fans of the national team: "These people do not understand Swiss culture or our immigration policy or our vision of football, which represents tolerance and the plurality of cultures."
Today Switzerland is a country that continues to depend on the workforce it absorbs. "And above all of immigrants with high qualifications", clarifies Kämpfen, who in any case observes a cultural clash that is trying to be qualified because the players forged in migration are too proud of where they have arrived, with an ostentation that has already provoked some criticism. "There are those who think that perhaps in their countries of origin it is normal to show it, but that it does not correspond to typical Swiss values, which advocate more discretion and humility," he points out. In any case, that mentality has another face, that of impudence and confidence, values ​​that they apply with the ball at their feet and that the old Switzerland needed to raise their football level. In Qatar, after beating Italy in qualifying, they will play their fifth consecutive World Cup, a milestone never achieved before.
You can follow EL PAÍS Sports in Facebook Y Twitteror sign up here to receive our weekly newsletter.