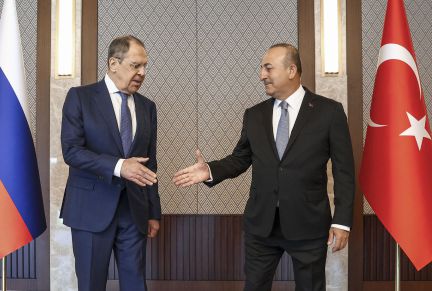 Inform Andres Mourenza from Istanbul. Moscow is willing to allow a naval corridor from Ukrainian territory to remove the cereal blocked by the Russian invasion and "it will not put up obstacles", assured the Russian Foreign Minister, Sergei Lavrov, at the end of a meeting with his Turkish counterpart in Ankara, in which the situation in Ukraine was discussed, above all. "The ball is now in Ukraine's court," said the head of Russian diplomacy in reference to the need to demine the ports that are going to be used, a need that, however, arouses suspicion in kyiv, as they fear that Moscow use the occasion to attack southern Ukraine.
The Government of kyiv assures that 25 million tons of cereal are stranded in the Ukrainian silos and ports, subjected to the naval blockade of the Russian Federation. Before the war, 95% of Ukraine's agricultural production destined for export left the country through the Black Sea, something that is now being compensated for by land transport, although it is not enough. This situation has set off alarms, since several countries -especially in North Africa, such as Tunisia, Libya or Egypt- are highly dependent on Ukrainian wheat and it is feared that if the war and blockade continue, they will suffer a food crisis.
"Russia has taken the necessary steps to open the corridors for grain transportation. And we are prepared to offer security to the Ukrainian ships, and to work on it together with our Turkish friends," Lavrov said, although he then charged against the Ukrainian president, Volodymyr Zelensky, whom he accused of putting "obstacles" to the plan by conditioning it on shipping of weapons to defend the Ukrainian coasts and ports against the Russian Navy.
In the photograph, from Efe, the Russian Foreign Minister, Sergei Lavrov (left), shakes hands with his Turkish counterpart, Mevlüt Çavusoglu, after the press conference at the end of the meeting in Ankara in which they discussed the establishment of a naval corridor to remove the Ukrainian grain blocked by the Russian invasion.


#minute #war #Ukraine #live #Zelensky #fate #Donbas #decided #Severodonetsk #International