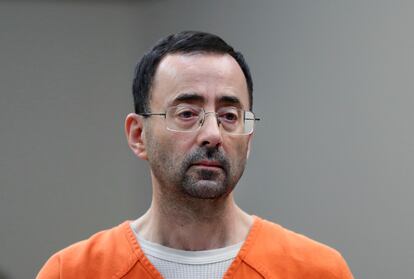 More than 90 gymnasts who accuse former US team doctor Larry Nassar have sued the FBI for 1 billion euros for doing nothing for several years after they reported sexual abuse they suffered. Some demands, reveals the New York Times, which come after the Justice Department refused to prosecute two officers accused of hindering the federal agency's 2015 investigation into Nassar, allowing him to assault girls for more than a year before Michigan authorities arrested him . The agents were accused by the Justice Department's own watchdog of making false statements on the matter. Nassar, who was sentenced to up to 175 years in prison, was accused of sexually abusing hundreds of girls and women, including many members of the US Olympic women's gymnastics teams. of 2012 and 2016.
The plaintiffs, who have already settled with the gymnastics federation, include gymnastics Olympic gold medalists Simone Biles, Aly Raisman and McKayla Maroney and gymnastics national medalist Maggie Nichols, as well as former University of Michigan gymnast Samantha Roy and former gymnast Kaylee Lorincz, who now works as an advocate for victims of sexual assault. "My fellow survivors and I were betrayed by every institution that was supposed to protect us: the US Olympic Committee, USA Gymnastics, the FBI and now the Department of Justice," Maroney said in a statement. . "It is clear that the only path to justice and healing is through the legal process," she added. Something that Nichols already warned: "The FBI knew that Larry Nassar was a danger to children when his abuse of me was first reported in September 2015; for 421 days they hid this information from the public and allowed Nassar to continue abusing young women and girls."
It turns out that following investigations, the Justice Department's inspector general charged W. Jay Abbott, who was in charge of the agency's Indianapolis field office, and Michael Langeman, an agent with that office, of making false statements to investigators investigating his actions. In a report released last summer, the inspector general said Abbott made false statements "in order to downplay errors made by the Indianapolis field office in its handling of the Nassar allegations."
"I'm sorry for what you and your families have been through," FBI Director Christopher Wray told the Senate Judiciary Committee last September. "I'm sorry that so many different people have let you down, over and over again. And I'm especially sorry that there are people in the FBI who had their own chance to stop this monster in 2015 and failed." Wray said the allegations happened before he was a director, but that he is doing everything in his power to make sure it doesn't happen again. Nassar's victims in Nichols's mouth, however, are clear that "it is time for the FBI to be held accountable."
You can follow EL PAÍS Sports in Facebook Y Twitteror sign up here to receive our weekly newsletter.




#Larry #Nassar #sexual #abuse #victims #sue #FBI #billion #dollars #Sports