It is noon, the sun is setting and Juancho Hernangómez (26 years old, Madrid) has spent more than three hours attending the press in a central hotel in the capital. He is not used to it, he admits it himself: "I don't like interviews. If I could, I wouldn't. I did not choose this life to be famous, "he tells EL PAÍS, tired, while he stretches his legs on the sofa and asks for a glass of sparkling water. The reason for so many meetings is not basketball. At least not the only one. The Spanish national team player debuts as an actor on June 8 in Clawa Netflix movie produced by LeBron James in which he plays Bo Cruz, a young Majorcan who is recruited by a scout to make the jump to the NBA.
Despite the non-sporting commitments that the experience entails, Juancho, as he likes to be called, has not stopped following the news of the best league in the world, now immersed in the fight for the title. "I think the Warriors will take it, but hopefully Boston wins so that I can take the ring," he acknowledges. The man from Madrid started the season with the Celtics, but he did not have the opportunities he expected – he only had minutes in 18 games: "I was not comfortable there, it was very hard. There was no communication, I didn't know what was expected of me, there were a lot of very selfish players, there was no team building… I lost a bit of love for basketball".
After the blur, he was transferred in January to San Antonio, a franchise that, full of "kids", as he calls them, is in an eternal transition towards the roots: "They are very young, they have not yet been intoxicated by the business of the NBA". There, Juancho, obsessed with studying the game, met Gregg Popovich, considered by many to be the best coach in history. "It's amazing to see how he teaches him. He is like a teacher, he makes everything look like a game again. It's the best thing I've ever seen, and look, I was there for two weeks. I learned a lot, I played more than 20 minutes again and, in short, I felt like a basketball player again".
In February, a few minutes after the transfer market closed, Hernangómez landed in Utah. There, in his third team in five months, the Spaniard played an important role in a franchise with weight in the league. "After everything that has happened to me, I have thoroughly enjoyed this final stretch. I've competed, I've shot very well and I've adapted to the coach's system". So much so that Quinn Snyder, the Utah coach, counted on him for the Jazz's rotation in the playoffs. There, with an average of nine minutes per game, Juancho could not prevent his team from falling in the first round against Luka Doncic's Mavericks.
Now, with the whole summer ahead of him, Hernangomez doesn't know what the future holds for him, which is the usual rule in the NBA. "I don't decide, so I'm very calm. I have given everything, I have competed, I have trained and I have been a good teammate. To be honest, I'm not worried about playing ten or 12 minutes, what I want is to play. I still feel that I can do it against the best in the world", he assures, confident. And he adds, now with a slight smile: "If they say yes, I'm happy because I'll be in Utah for another year. If they tell me no, I'll see what I do. In any case, my goal is to continue in the NBA."
End, then, to the rumors that placed him in Europe, especially in the two transatlantic Spanish basketball. "I still can't see myself coming back. And it's not because I despise the ACB or the Euroleague, on the contrary, I don't see it as a step backwards in my career. But when they say, Madrid, Barça, CSKA back in the day… I don't care, I'm not a fan of any basketball team. I have not spoken to anyone, nor have I signed any offer, "he says, aware of the expectation generated by his next destination.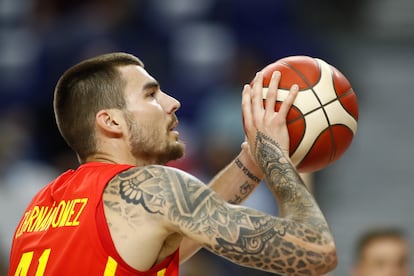 As he finishes off the sparkling water, Juancho speaks calmly, maturely. He feels that he doesn't owe anyone anything: "If I retire right now, I'm already the happiest guy in the world. I play because I love basketball, not for anything else. I am lucky that money will not be lacking for me, neither for me nor for my family. I've given everything, I've won a World Cup, I've played six years in the NBA, I've played in the ACB… I don't have any pending accounts". Although, when asked about the national team, he quickly recoils: "Well, yes, it's true, I would love to play in the Olympic Games. I couldn't be in Rio 2016 because of the draft of the NBA and then in Tokyo what happened happened. Being in an Olympics would be a dream for me".
Of course, he recognizes that emulating the golden juniors it is an impossible task. "We know that we are not Ricky [Rubio]nor Paul [Gasol]neither [Juan Carlos] Navarrese. We don't have that talent. People are born with it or not, and I don't have it, even if I train every day. It's something I'm not going to get. I will be the best possible Juancho, but I will never be Pau or Marc [Gasol]. These guys are above good and evil. I have lived it, I have been with them and I have not seen anything like it".
In September, Spain disputes its first big date without the older Gasol, and Juancho doesn't want to miss it: "I would love to go to the Eurobasket". There, with the assured losses of Ricky Rubio, Carlos Alocén and Sergio Rodríguez, Scariolo has a job in the point guard position. In April, the Italian coach assured that he "would have to invent something". There was even talk of the possible nationalization of Lorenzo Brown, a 31-year-old American point guard who plays for UNICS Kazan. Juancho is taken by surprise by the news: "Mmm… [piensa unos segundos]. Poof, but is it 100% already? Checking that no, he breathes. "Well, the day the list comes out, we'll see." What he wants, as he reiterates so much, is to compete. He doesn't care with whom.
You can follow EL PAÍS Sports in Facebook Y Twitteror sign up here to receive our weekly newsletter.
Exclusive content for subscribers
read without limits