José María Ordovás (Zaragoza, 65 years old) shows a graph showing the results of low-carbohydrate and low-fat diets for a year with the aim of losing weight. The researcher from Tufts University (USA) explains that both offer benefits when their effect is observed at the population level, but individual by individual, the results of both diets vary greatly. Although studies on the effects of certain foods at the population level are useful to get an idea of ​​what is good or bad for health, they are a very limited source of information for your personal use. In the future, the availability of information about genetics and other factors about the specific effects of each food on the health of a single person will guide the design of personalized diets that promise to be much more effective in maintaining optimal health throughout life. life and even promote greater longevity.
Ordovás has spent decades trying to understand the interplay between nutrition and our genes, and that experience makes him wary of overly optimistic or radical claims about nutrition. Despite considering that science is on the right track, he knows that the way of collecting information and analyzing it leaves a significant margin of error and distrusts the Taliban of nutrition. A few days ago, he participated in Food 4 Future, in Bilbao, a forum for the agri-food industry on the future of food.
Ask. Many times, in nutrition, there is talk of certain compounds that are part of foods that are eaten in regions where people are very long-lived. And it is about isolating them and selling them in capsules to try to extend the healthy life of people who have completely different lifestyles from those of those regions. This makes sense?
Response. Companies zero in on one factor to sell it as a silver bullet. With that we have a winner, because you can get a patent or exclusive rights or whatever is associated with what you're trying to develop and sell. But we are seeing a lack of integration of different factors acting synergistically. It's the supplement industry's problem. They have focused on a supplement extracted from a natural product, but that loses its capacity when it is not surrounded by everything that is around it in nature. What we call the dark matter of food.
All foods have thousands of compounds that we don't know about yet, which fall within that dark matter of food. Olive oil is an example. When I started in nutritional research, the main focus was on the composition of fatty acids. And it was about making the best olive oil by modifying what we knew. But over the years it was discovered that the benefits of olive oil were probably in what we were not looking at, in minor components. When we recommend a food, we say it's because it has this or that, but that may not be the reason. It may be due to something we haven't identified yet.
Opinion parties have been created in nutrition, just as there are rights and lefts
A classic example related to olive oil is oleocanthal. Several years ago, a scientist who was an expert in flavor and aroma was invited to a congress in Italy. The organizer of the congress gave him an oil to try that they drank at his house and this scientist almost spit it out, because it sore his throat. But he was left wondering where he had noticed that taste before. And he realized that he had to do with a previous job with a company that was trying to make acetaminophen more palatable. He took the oil with him and spent years investigating until they isolated a compound in olive oil that they called oleocanthal that had the same anti-inflammatory properties as the drug. 30 years ago we didn't think about those things and now we still don't know much about what we eat and why it has the effects it does.
P. We have more and more information about what we eat and it is something that is going to grow exponentially. Will having access to information about what is good and what is bad make us eat better? Since the advent of the internet, we have almost unlimited access to information, and it is not clear that we are better informed or that we act more rationally thanks to that information.
R. I believe that this information that is being generated regarding food is going to influence, but not so much in the behavior of individuals, as in the information to the industry so that it can put healthier products on the market. Returning to olive oil, there are some that have a lot of oleocanthal and others that have practically nothing. With better information you can focus on producing one that is almost medicinal. And that people who are looking for health can easily get it and know what they are buying.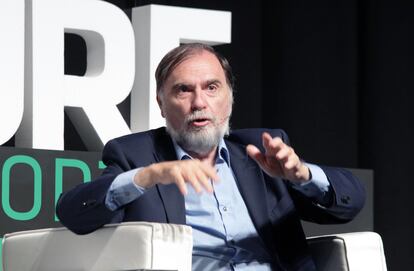 P. But the industry won't use that information to make healthier products if it doesn't make more money.
R. Health sells and we have already seen what happened to butter in the past. People began to say that it had cholesterol, that it was bad, and the industry began to make margarine. The industry can react very quickly when such scientific information appears.
P. We now have better information than 20 years ago, but the levels of obesity and diabetes continue to rise almost everywhere in the world. How is it explained?
R. There is information, but we do not reach the people who need it most and we do not offer solutions that those people who need it most can adopt. If a person who has been working two or three shifts comes and has an apple for 2.50 and to buy it he has to go to the fifth heck and next to it there is an offer for 1.99 with chips, coke and everything, well then you know where it will go. If you want people to eat well, you have to put it on hand and they can pay for it.
A supplement extracted from a natural product loses its capacity when it is not supported by everything around it in nature.
P. In other words, our problems related to food really are, in addition to information, the creation of good products or the understanding of the biological mechanisms related to food, a social issue.
R. Exactly.
P. Some fashionable practices related to food, such as intermittent fasting, which according to laboratory experiments works with respect to health, involve a use of information that can spoil other fundamental aspects of food such as the pleasure of eating or the social relationships.
R. We see this more and more, for one reason or another. I am not going to get into the mind of each person, but sectarianism is being created with food: I belong to the vegans, to the vegetarians, to those who practice caloric restriction. And you create a tribe around that belief that something may or may not be good for you.
P. Why do you think that nutrition gives rise to debates with such bitter positions, even more so when the degree of uncertainty is important in many aspects?
R. Because nutrition research has been built on a very shaky foundation. Much of the research in nutrition has been done in an observational way, that is, we take a population group and see what it does. And depending on what the researcher has in mind, where the emphasis is to be placed, how the models are made, if it is stated, for example, that fats are bad, that may be the result. Then comes the correction of errors, but it can take two or three decades. And then you can point in another direction, looking for another scapegoat. The sugars, let's go for them.
That's why sometimes it seems that one day the coffee is good and the next week it kills you. And people shrug their shoulders and say: I'm going to do whatever I want. And it was our fault. Just as there are Republicans and Democrats, just as there are rights and lefts, parties of scientific opinion have been created in nutrition. And scientists train scientists. And if you train under the dogma that such a thing is like that, you go out defending tooth and nail that such a thing is like that, and that they do not come to convince you otherwise.
There are insults in scientific publications saying that certain researchers are inexperienced or are not researchers. They are as investigative as you. What happens is that they think differently. And they use the same data, but interpret it differently. Nutrition research needs to acquire the solidity that can be associated with neurology or immunology, which are solid sciences. In nutrition it seems that everyone knows. Everyone can comment on nutrition.
P. How do you think this situation can be improved in the future?
R. More and more objective information, that we will be able to have with new developments and that it be processed in an agnostic way and not with people who say this has to come out because I say so.
P. And will that information reach the population and make them make better decisions?
R. We can give people the best and most accurate information in the world, but then there is their free will. Whether or not you adopted these recommendations. But there are studies that have shown that when you give people a personal, individualized recommendation, people are more likely to follow those recommendations. Obviously, there have to be many social changes. There are few people who can do genetic tests and have a nutritionist. And we are seeing how, in the social aspect, the division is getting bigger instead of smaller, and for this increase not to continue, political decisions are needed.
You can follow THE COUNTRY HEALTH AND WELLNESS in Facebook, Twitter and Instagram.