The accused was studying nursing in Aichi Prefecture, in central Japan, and was 21 years old. The clinic she went to when she found out she was pregnant told her that she could not have an abortion if she did not have written permission from her parent. She had lost touch with him, an old schoolmate, and she couldn't get that part. She ended up giving birth in a public bathroom. She claims that she lost consciousness and that when she recovered it the baby was dead. In a panic, she abandoned the little body under some bushes. She was arrested four days later. At trial, in May 2021, she was sentenced to a deferred sentence of three years in prison for neglect of care and corpse abandonment.
Japan allows termination of pregnancy in certain cases, including rape, or if the pregnancy or childbirth is expected to be particularly difficult for physiological or economic reasons. But the Maternal Health Act of 1948 also requires women to have their husband's permission to have an abortion. A requirement that only a handful of countries in the world demand, such as Saudi Arabia, Indonesia and Malawi. The World Health Organization and other international groups recommend that this practice be abandoned.
In theory, the law does not apply this requirement to single or divorced women, something that the Ministry of Health reiterated in 2012. But clinics often require the signature of the father of the fetus, fearing that the man will take them to court. If a woman falsifies the authorization — imitating, for example, the father's signature — she can be sentenced to one year in prison.
The authorization could also be required even in the event that the woman resorts to abortion pills, illegal until now but which the Government considers allowing. "In principle, we believe that spousal permission is necessary, even if an abortion is induced by an oral drug," Yasuhiro Hashimoto, director of the Office of Child and Family Policy, told a parliamentary committee in May. "It is grotesque to have to ask a spouse for permission to take a pill," replied the leader of the Social Democratic Party in the same audience. "Is Japan still living in the Middle Ages?"
"Men's feelings matter more than women's rights"
"The feelings of men matter more than the rights, health or happiness of women," says Kazane Kajiya, of the campaign for women's reproductive rights Safe Abortion Project Japan and author of a online petition to amend Japanese law so as to remove the need for male consent. So far, his appeal in several languages ​​- including Spanish – has collected more than 50,000 signatures.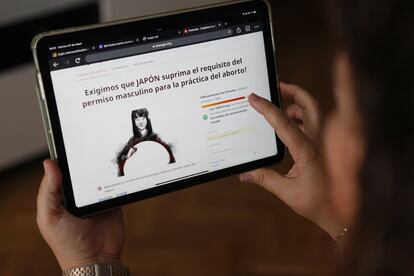 "[Las mujeres] they know what they want. They have the right to decide what to do with their bodies. Denying them that right is equivalent to a sexual abuse perpetrated by the nation," says Kajiya, 25, in a telephone conversation. "Japan does not protect women, what it tries to do is protect their bodies as public property and future Yoincubators. We are treated as mothers or mothers-to-be. We want the human right of access to contraception and abortion without the need for anyone to give us permission, but Japan treats our bodies as if they were national property."
Her campaign, she maintains, has opened the eyes of many women. "We know that abortion is legal in Japan, but many did not imagine that they would have to ask their husband for permission. When they found out as a result of my request, their jaws dropped."
One of the reasons why the law has not been changed so far, considers the activist, is the low number of women in the Diet, the Japanese parliament. "There are very few women in politics. It's considered a man thing." Although things are changing — "she collaborated with several legislators on this issue, and a political party included changing the law in its program in the last elections", she comments —, they are changing slowly, she admits.
"We don't believe that men can decide what women can or cannot do with their bodies. And it shouldn't matter if they're married or not. Due to this law, there are women who have been forced to continue with an unwanted pregnancy because some hospitals or clinics required them to show permission from an ex-husband, from men who were sexual predators or had abused them, and they simply did not they could ask for that authorization," explains the activist. In those cases, the requirement can re-traumatize victims.
victims of abuse
In response to the growing public attention to it, the Ministry of Health issued a circular in 2019 to registered doctors reminding that it is not necessary to ask the man's permission in case of rape. But, out of shame, few women report to the police that they have been victims: a white paper from the Ministry of Justice from 2019 indicated that only 14% of victims of sexual abuse had reported it to the police in the previous five years.
Normally, according to Kajiya, women who continue with an unwanted pregnancy because they do not have the man's permission are "poor, or very young, who do not know where to go or who to talk to, and end up giving birth in public toilets." ", he points out, referring to the case of the Aichi student.
In the 12 months prior to March 2019, some 160,000 were practiced, including 13,588 women under the age of twenty, according to official data. In 2020, the number of voluntary interruptions of pregnancy was around 140,000.
Spousal permission is not the only obstacle to freely exercising the right to abortion, Kajiya denounces. The abortion pill is still illegal in the country, although it is being considered to authorize its use. Until then, the main method used is curettage, for which one has to wait longer before being able to practice it, carries risks of complications and is physically and mentally more painful for the woman.
The practice is also not covered by health insurance, so the applicant must cover the costs out of pocket. Something that not everyone can afford. In the first quarter, fees exceed 100,000 yen (740 euros). The price doubles after the twelfth week, when few clinics are willing to carry out the operation.
Limiting the right to abortion is not something that happens only in Japan, Kajiya recalls, referring to the initiatives that are being developed for it in countries like the United States. "Men try to control women to benefit themselves, and they use the word 'protection' to make it sound better. But it is not better. Women have brains to think for themselves what they want to do and what suits them. There's nothing they can't do without a man. And society has to understand that."
Exclusive content for subscribers
read without limits