Margarita Luengo (Castilblanco, Badajoz, 1946) and her bouquet are literally the history of Atlético de Madrid. Every home game of the mattresses, the flowers rest in the corner, since that distant first afternoon of 1996, when they were dedicated to Milinko Pantic.
It was a coincidence, an accurate prediction that became a ritual for all mattress makers. The innkeeper of his rock, next to the Manzanares River, had a vase of carnations. Luengo, not knowing that this would make her one of the most famous fans in Spain, told her: "I'll take four, one for each goal we're going to score against Athletic today". She deposited them in the corner of the long-awaited Vicente Calderón as a gift for Pantic, her favorite from that squad — "and always" — in which a seasoned Simeone or Kiko Narváez played. That day, Pantic scored a goal and gave two assists. 4-1. And, as her prophecy had been fulfilled, as Atleti won the double that year, she promised herself never to fail her team. She had to explain it to Pantic himself through a note she left on the bouquet: 'Don't throw them away. They're for you'. No one separates them anymore to take corners. They have remained there ever since. It does not matter if it is no longer in the Paseo de los Melancólicos. For this reason, for always being there, on its last great evening as an athletic club, the Calderón dedicated a banner and a standing ovation to it. When Atleti plays at home, they get on the bus from their supporters club in Talavera de la Reina, where they have lived for more than 25 years, to travel the 120 kilometers that separate the city of Castile-La Mancha from the Wanda Metropolitano. A ball boy waits for her at gate 35 and escorts her to her lawn, so that she can tell him where to religiously deposit 12 red and 12 white carnations, with some daisies in the middle of it as a small self-tribute. Not even the pandemic prevented the ritual. The template couldn't let her amulet go missing. Captain Koke, in June 2020, telephoned Margarita:
-You tell me.
—You stand next to the fence and put the flowers facing the goal.
"Are they okay there?"
-Nope. More towards the pennant.
That day also had an effect: Atleti scored the winning goal from that corner.
Margarita Luengo's experience
in your own voice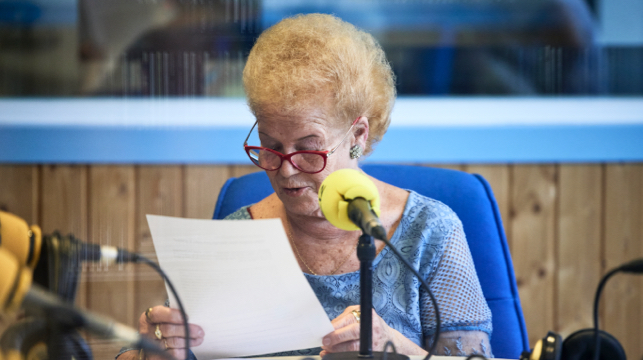 Hello!
I am Margarita Luengo, the one who has been putting a bouquet of carnations in the corner of Atleti for 26 years.
Right now I feel like I'm missing something.
I have all summer until football comes back.
Until my Atleti returns to the Wanda, and I with him.
I amuse myself reading about signings: who stays, who goes… I pray to Cholo every day, but it's not the same…
And that 50 years ago I did not like football.
Then it was not like now, Sunday was the day I could see my boyfriend, Dionisio, now my husband, he was already a mattress maker.
It was the only way to see him on football Sundays.
That's how I started.
There were hardly any women in the stands.
I wandered around the Calderón.
Until that was a central part of my life.
Dionysus too, of course.
We got married and, in half a century, we were together following Atleti everywhere.
I know all the courses in Spain.
Let me tell you: I'm missing the New San Mamés… maybe another one.
But few.
Since I became famous, they call me peñas from everywhere, some clubs invite me to the box.
Pantic, the culprit a little bit of all this, also sends me messages from time to time and I talk to him, of course.
It is like a son.
He also says that we are his Spanish parents.
And that was the first to remove the bouquet from the corner.
I had to leave him a note telling him they were for him.
Now any athlete already knows.
Once, a rival kicked them.
The stadium screamed.
Diego Costa was the one who explained the meaning of that bouquet.
My husband is very proud that he also appears in the documentaries with Professor Ortega, with Simeone, with Oblak.
People don't know the photos they want to take with me in the stands and on the street!
And that I don't even live in Madrid.
I have been living in Talavera de la Reina for almost 30 years now.
Every weekend when we play at the Wanda, I get on the bus with two garlic inside the bouquet to ward off any evil and then I return home, sometimes after midnight.
It's almost two hours of travel, yes!
I no longer jump into the field [como en el Calderón] because the stands are not open to the grass.
It would have to go a long way, a huge turn.
And I'm 75, but this is what I look forward to all week.
The pity is that my husband can no longer accompany me.
He suffers from the heart and cannot see it.
Before, if Atleti were losing, they would leave the field and wait for me on the street.
Now he can't even see it on TV.
That's what the doctor told him.
I'm the one who calls him to chronicle the game.
Sometimes I think: "Who told me to get into this, with how calm I was…"
My children carry it in their blood, they inherited it.
Atletico matches [como visitante]now that I don't travel, I see them with them in their bar.
I prepare the appetizers: lean meat, croquettes…
There are times that I end up attacked.
Looks like he's going to give me something…
And, even so, I think that football is the most beautiful thing there is.
For me if.
But I guarantee you that no true athlete dies of a heart attack…
Courage and heart…
I got all three of my nieces to become athletic… oh my.
They go to a Wanda that is full of women: there are as many as men.
That gives me a lot of joy.
I would like them, and their daughters after them, to feel Atleti like I do, that they always want it to be Sunday to go to football.

CREDITS
Drafting: Pablo Vande Rusten and Alejandro Martin
Photography: Jacobo Medrano and File As
Design and layout: Belen Daza and Belen Polo
Audio: Lourdes Moreno and Jesus Blanquiño
Editorial coordination: Juan Antonio Carbajo
Design coordination: Adolfo Domenech