It is not by chance that home comes, etymologically, from fire. As Alberto G. Prelcic, chef from Vigo with a Michelin star, responsible for Silabario, says, "there is more magic in the gathering of loved ones around the coals, in the wine with which you toast, than in the act itself of eating a rice or a barbecue". With football, he says, it's the same: it's not about the goal, about the joy of your team's victory. It is the shared ritual, from hours before the ball rolls, which turns football into a place of belonging. Your team is your home. Carlos Cao, from the same neighborhood as Prelcic, director of RC Celta's Business Area, calls the club's headquarters "the home of Celticism". And what but a restaurant could there be in its dome, with views of the Vigo estuary? The unifying fire. Silabario is the cheapest restaurant with a Michelin star in Spain (with menus from 27 euros), the commitment of a deeply rooted club that defends its land and wants to take its essence to the whole world: whoever watches an RC Celta match gets Galicia in the retina; whoever tastes the snacks from his restaurant, takes it to the palate.
"There are few things that are more transversal and that arouse more passions than football and cooking; the table, in Galicia, is present in any social custom", explains Prelcic, demonstrating the logic of this communion: whoever stays to watch a game with friends, prepares an appetizer, some beers… Good cuisine, says Prelcic, had to get there. Prelcic grew up next to the fish market, in the Berbés de Vigo market. He remembers waking up from her and that her grandmother had left even before dawn, going to pick her up when it was approaching noon and that a smell "that was almost part of her DNA" had impregnated her. His family, for generations, linked that relationship with the sea, with fish, to the point that the child he was already distinguished a skewered hake or a monkfish of the day from others that were not. He tasted the point of the tortilla, before his mother curdled it, or of the stews. However, he first tried to get a law degree.
Until he fell from the cherry at the age of 22: he was not happy and almost everyone around him imagined what his path should be. So he trained in cooking in Galicia and, after gaining experience in gastronomic temples such as Casa Solla or Arzak, again, following an almost incontestable logic, he ended up in Tuy, in Bajo Miño, in the little hotel of his father. They gave a daily menu, for workers and neighbors, above all; but since he took over, those who came to eat were gradually more and more. In 2008 they opened a restaurant; In 2011, when Prelcic turned 33, this modest establishment next to an inn in a border area already won a Michelin star.
How it happened? For the same reasons that have brought him closer to RC Celta: due to a combination of talent —worked until exhaustion, because he cannot conceive of not demanding the maximum from himself— and a scrupulous respect for what the Galician environment offers him. A philosophy that has been transferred to Silabario, the restaurant opened in 2018 at the sky-blue club headquarters: "Just as Celta bets first of all on offering a window to the kid from Coruxo, Valladares, Cambre… to the Galician boy who wants to play; Just as Celta has turned its quarry into a benchmark for innovation, Silabario is a Galician restaurant that works 99% with producers from next door who generate first-class raw material and intends to put them on the showcase as well". Both football and table, says Prelcic, are the best possible ambassadors of what Galicia is.
Eat in Syllabary
The restaurant offers four menus: the most economical is dedicated to the fish market, the Berbes, and it allows you to taste, depending on the season, a pickled mackerel or a Lourenzá broad bean stew with mushrooms. In total, an appetizer, two dishes and dessert for 27 euros. The menus Tempo (62 euros) and Estate (95 euros) rescue and reformulate the cuisine of seasonal and traditional products —from the Mos rooster to the scallop—, revolutionized by its author. Finally, Prelcic offers a menu, solaina (150 euros) made with delicacies as exclusive as they are purely Galician, such as eel or lamprey.
Football and gastronomy, a business on the rise
Carlos Cao wanted to be a footballer. Inside right. About to reach the age of majority, he received a call from the club of which his father, his brother and he had always been members, from his RC Celta. He had the opportunity to wear his jersey in the national youth league. And who knows, then. However, his parents answered him: the first thing is studies. He had to swallow his wishes and decline the invitation. But there are offers that can't be turned down twice… Cao graduated with an engineering degree, specializing in business management and, when the club was looking for a base to settle in and a way to expand — "give their fans much more than match day , an experience of Celtism that could open up to many more areas"- contacted him. The president, Carlos Mouriño, asked him: "Why should you be the one to lead that process?" "Because I wanted to be Celta's right midfielder. Because I have sucked Celticism in the stands and in no other job in the world could I feel such identification. And because I have ideas." Cao says that it was the president himself who suggested dedicating the attic of the building in the center of Vigo to a restaurant that, like the rest of the headquarters, would be open to everyone: "A success. When a rival comes to play here, a meal is held beforehand, can there be anything better than literally welcoming him into your home? Can we offer him something better than what the estuary and the surrounding mountains give us?"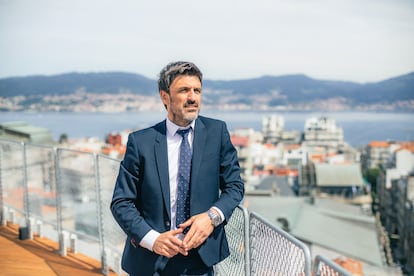 Cao believes with blind faith in what he says: "If I wanted to try to conquer the audience of, for example, the United States for our Celta, who would I take to New York? I have it clear: Alberto. They would watch the game and we would win them over, showing them who we are".
This football-gastronomy communion is a real business on the rise, two disciplines where, as Cao says, Spain has boundless talent. Without going any further, Martín Berasategui (12 Michelin stars) will open a restaurant at the Santiago Bernabéu; And what about the Athletic Club, whose president, Aitor Elizegi, is precisely a chef. In San Mamés, gastronomy has a preferred space: leaning out on the lawn, you can taste dishes by the Michelin star chef Fernando Canales, and names such as Eneko Atxa or Zuriñe García have passed through the stadium's kitchens.
"It's the future," Prelcic and Cao agree, for endless reasons: because each Spanish region has dishes that deserve a showcase like the one that football can offer them, because it is an unbeatable way of promoting a healthy and quality diet… Both they dream, in fact, of what that rite of belonging could be like, the hours before the ball rolls: families that, before taking their seats, "get together to try some oysters or some grilled razor clams from placeras and fishmongers from the Berbes," says Prelcic. Like his grandmother.