As the path turned sharply, she could see the parking lot crowded with vehicles parked next to a couple of bars, the place from which she had started on foot, carrying her backpack and ski boards three days ago. The asphalt road, the first town, more cement and, again, ordinary life down there. Hilaree Nelson felt uncomfortable and noticed that something had changed in her head: a certain rejection of life civil and a strong longing for the world he had left above, the mountains. Many mountaineering careers start like this and, in many cases, the mountains end up becoming a refuge. Without going any further, Jim Morrison, the same name and surname as the singer of The Doors, one who felt exactly the same on another stage. At that time, he did not even know Hilaree, but both followed a parallel path, almost traced, becoming great specialists in extreme skiing, first competing and then taking the commitment of skiing and mountaineering to the great mountains. In 2018 they lived a dream, the high point of their careers: they were the first to ski Lhotse (8,516 m) and they deserved unanimous recognition. Two years later, the magazine Sports Illustrated published his story, much more amazing than any of his descents.
When they met, both Hilaree and Nelson were struggling to stay alive. Now, Hilaree has passed away and Nelson will have to create new reasons to move on. The body of the North American skier was found on Tuesday, two days after falling down the south slope of Manaslu (8,163 m), the last great summit she achieved in her career. Here she drew the last ski turns until something made her lose control and fall. She was 49 years old and had two sons, Quinn and Grayden, from a drama-battered marriage.
Hilaree Nelson had trained as a guide and led clients on ski touring outings. What should have been a routine heli-ski outing became the turning point of his life. When crossing a snow bridge over a stream, one of his clients hesitated, stumbled and ended up in the bed of the same head down. When she was rescued, she had drowned before the horrified gaze of the rest of the clients, including her boyfriend. Nobody blamed Hilaree: not the police, not the press, not her boyfriend, grateful that she tried to save her partner. But she Hilaree did take the blame for her. All of her guilt and more of hers, so disproportionately that she was gnawing at her, plunging her into a self-destructive whirlwind of rage. She got hooked on the pharmacy, she got away from climbing, skiing and her husband. Nothing about her allowed him to recover a certain poise, certainties, security. She staggered, she traveled to Nepal to face the Makalu (8,485 m) and ski it. One member of the team was Jim Morrison, unknown to her, though also sponsored by The North Face.
A fatal plane crash
The happy marriage of Jim Morrison did not water down. He just disintegrated. Her wife, an airline pilot, was returning home from California at the helm of her plane with her two children on board when the plane crashed. Nobody knows why. He should have accompanied them, but he had so much work that it was impossible for him. The detail that saved his life was killing him. After trying in vain to discover what caused the accident, visiting several therapists, dragging himself in pain, he delegated his construction company and became a professional skier. "Because even though I no longer have a purpose in life, taking it away from me would not make them proud of me. So I will live life in his honor," he said at his family's funeral. It was not so simple: guilt also visited him to torture him daily. It is no coincidence that in the Makalu, two strangers ended up trusting each other: who could have understood them better?
After the failed expedition, everyone returned to their routine. Hilaree Nelson got divorced and moved away from the expeditions, but not from the mountain, to take care of her children and rebuild. The friendship with Morrison blossomed and with it came the plans, the dreams, the challenges: in 2017, 14 extreme runners skied together in Telluride (USA), Papsura (India) or Denali (Alaska) after climbing the Cassin route. A year later they amaze the world by skiing the 2,000 meters of the Lhotse corridor. At that moment, they are already a couple and the enormous wounds of the past continue to hurt, especially in the case of Morrison, who needs to return again and again to the tops, the only place that makes sense to him, the place where he finds some peace because his home is a sum of empty rooms where memories follow him in procession. By now, Morrison is a mountain junkie.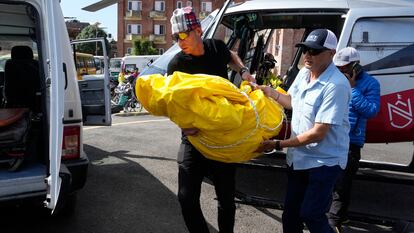 Other more severe limits
Family responsibilities allow Hilaree to focus and the expeditions give her a shot of hope, a renewed vital force. Always with his feet on the ground, he follows the fabulous projects proposed by Jim, who at that time has already climbed and skied Everest (8,848m) and Cho Oyu (8,201m). Both continue to search for answers on the mountain, but the only thing they know is that together they are fine, even when the tension of their companies at eight thousand meters tests them to the limit. They come out with flying colors because they come from crossing other more severe limits.
At Manaslu, there was one thing they both shared: the certainty that their elite careers had started a countdown. Hilaree hoped that her children knew more about her individuality, about the personality of an atypical mother, that she could explain it to them when she had retired. Nelson only longed to find peace. Seeing the image of him on the news carrying in his arms the body of his friend, rope partner and partner is an unfathomable image as soon as one tries to sneak into his skin. Will he continue to find refuge in the mountains?
You can follow EL PAÍS Sports in Facebook Y Twitteror sign up here to receive our weekly newsletter.
Subscribe to continue reading
read without limits