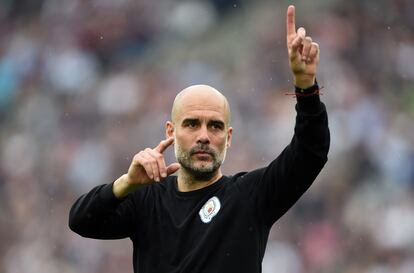 Pep Guardiola does not stop playing and thinking without knowing yet whether his heart or his head moves more, or both at the same time, right now the protagonist of a golf tournament in Mallorca. The journalists have gone there to know his diagnosis on the state of Barcelona and his projects at Manchester City.
The coach is an oracle for the Barça fans, orphans of Cruyff and Messi: "Sometimes assuming a lower profile helps to grow faster. The perception I have is good, but you have to be calm. It will take a year or two and it won't be easy when you can't make big signings, but the successes will come, "says Guardiola when asked about Barça's bad moment.
The next challenge at City has something to do with his four years at Camp Nou. The coach transcended tactically by turning Messi into a false 9. The expectations generated by the coach after the victory of his team in the Premier in an overwhelming heads-up with Liverpool are increasing. Obsessed with reducing uncertainty, Guardiola wept like a fan after City came from behind in five minutes from Aston Villa's two goals: 3-2.
That May 22, he won over the critics who accuse him of giving too much thought to the games, a victim of overthinkingas the English call those who think too much, so much so that they lose focus and make mistakes considered absurd in extreme situations, few like those that occur in the Champions League.
City's defeat at the Bernabéu not only increased the Real Madrid legend but fueled doubts about Guardiola and his difficulty managing European Cup matches. The memory activates the lost final with Chelsea (2021) for not remembering the defeats against Olympique de Lyon (2020) or Monaco (2017).
Guardiola was described as a "crazy professor", "arrogant", "inventor of formulas to lose", of being both a good coach and a bad match director for committing guardioladas, as a radical follower of Cruyff. And he was pointed out for turning minor rivals into windmills with approaches far from conventionality, in such a way that in his eagerness to surprise the rival he surprised his team, as he recognized in Bayern-Madrid in 2013 -2014.
Although he still hasn't won the Champions League without Messi —he was champion in 2009 and 2011—, Guardiola is seen differently today since his team won the last Premier: "I called Madrid and they gave me good advice. There was no explanation for the Bernabéu and neither for today. He was a momentum", he argued after a day that evoked the one lived in 2012 when City reached the title with a goal in the 93rd minute from Kun Agüero.
The momentum it helped to combat the prejudices that existed about this rational coach who turned a championship of unpredictable results into a victorious routine: City had only conceded three defeats to Liverpool's two. That team as happy as it is reliable, unforgiving in the most unpleasant stadiums, could also be romantic on the last day of the season, exposed to chance and error, in its duel with the Anfield club.
The rivalry with Klopp
The rivalry with Klopp has made Guardiola a better coach. The dispute with Mourinho also exhausted him as Barça coach. The fight and the journey have been in any case very enriching because Guardiola has decisively influenced German and English football, in the tactical debate and in the training of footballers or in their evolution as noted for example in Cancelo.
Guardiola loves to think, innovate and deconstruct the game, "because the only thing that intimidates the opponent and the only thing that people love is the game", he insists after certifying that he is a born winner with 32 titles —11 City, 7 at Bayern and 14 at Barça—, only surpassed by Alex Ferguson with 49. No trophy defines him better than the League: he has 10 out of 13 since his debut in 2008.
"Pep is a volcano, an ingenious and self-demanding coach who prepares each game like a great battle and whose dedication is infinite," warns one of his former collaborators. "Now he gets praised because he wins. From the victory a story of prosperity is articulated that, doing the same things, would become lousy if he lost; the same would not be written if he had not won the Premier".
The next challenge is to win again, keep playing and creating, starting from a figure like Haaland. The coach works very comfortably in a club that is familiar to him due to the presence of the executive director, Ferran Soriano, and the director of football, Txiki Begiristain, who was already his technical secretary at Barcelona. Txiki gives Guardiola stability and security. The priority is to create the best possible environment and that the coach only has to deal with the game and has no more pressure than his own; not the City one. "The club does not require the European Cup," says a senior leader of the entity; He "asks him to compete for the titles with the best football possible, which, on the other hand, is Pep's goal." Nor did anyone ask him to assume a symbolic burden that provokes controversy and yet he defends his political activism —Catalan nationalist— and social activism in an unapologetic way, even though it is difficult for him to regulate the internal tension with which he lives, passionate and rational at the same time. , seny and rauxa as they say in Catalonia.
"There is a detail that explains his work and it is not the game of his teams with the ball," he says from the Etihad and a Premier coach agrees. "His footballers press today, six years later, just like when he arrived at City. The way everyone runs to retrieve the ball is a sign of fidelity: those who arrive press as hard as those who are there. I love City's work without the ball. I already want to know what Pep feels and what he thinks about how Haaland should play".
You can follow EL PAÍS Sports in Facebook Y Twitteror sign up here to receive our weekly newsletter.
Exclusive content for subscribers
read without limits




#Guardiolas #momentum #Sports