Cadiz guitarist Pipo Romero knows what it's like to play the guitar in front of more than 100,000 spectators. He knows almost all the stadiums, pavilions, bullrings and recording studios in Spain. But in one of his most recent concerts, at the Abonavida cafeteria in Madrid, he exhibited his instrumental mastery before a total of seven people. Not one more. At just 39 years old, he now feels much more accomplished and proud of himself, willing to persevere and reach the ultimate consequences with his determination to develop his own instrumental repertoire that draws from flamenco and popular Spanish and Latin American music, but that does not resemble that of any other musician.
It is a laudable aspiration, embodied at this point in three solo albums of serene, dazzling, precious and furiously melodic beauty. Everything sounds good. In reality, there is only one problem: entrusting himself to excellence and virtuosity, Pipo Romero does not make ends meet now. "I have several credits open to pay for my latest album, Ikigai. I juggle accounts. I get calls from the bank almost daily. I keep going thanks to the help of my family and my girlfriend, who is an intellectual property lawyer, but I am retired from social life. I couldn't afford it. I spend the day studying guitar and perfecting my English, and I only leave the house to take loke Y Audrey, dogs. We're not even going on vacation. Right now, I don't live as a couple, "she explains.
I spend the day studying guitar and I only leave the house to take Locke and Audrey, the dogs, for a walk. We're not even going on vacation. Right now, I don't live as a couple
The scene of the 100,000 souls before Romero's eyes took place on June 23, 2009 at the Torrejón de Ardoz fairgrounds, on the outskirts of Madrid. Pipo was the guitarist for the El Canto del Loco tours and that night, in the middle of the patron saint's festivities and with free admission, madness was unleashed, never better said. Dani Martín, David Otero and company had hired him in April, exactly two days before presenting the album tour People in L'Hospitalet. Pipo memorized two and a half hours of repertoire in one sitting, scribbled a cheat sheet with the successions of chords and hit the road. He says he has "no special gift, except seriousness." While the members of El Canto del Loco walked or rested before each concert, he obsessively reviewed in the hotel room. Pure work ethic, it is said.
A moonlighting 'plumber'
Impossible for a case like his to go unnoticed in the world of studio musicians. Of the "plumbers", as he, with Cadiz joke, liked to call himself. When El Canto del Loco announced its dissolution in 2010, Pipo became one of the most sought-after guitarists in the country. "In 2013 alone ″, he recaps it, "I was working for 14 different artists". They can attest from Amaia Montero to Nena Daconte, Andrés Suárez, Mr. Kilombo, El Viaje de Elliot or Salvador Beltrán, not to mention the countless accompaniments for promotional performances on the radio. There were no days off. Until the most succulent proposal of all came to him. The manager de Carlos Rivera, the famous and very international Mexican ranchera singer, invited him to a posh booth to offer him the job of musical director. He told her about the luxury apartment where he would reside in Mexico City and suggested that he himself decide the amount of his salary. It was an irrefutable offer. A blank check. But he said no.
All the culture that goes with you awaits you here.
subscribe
"I came to the conclusion that the life I was leading made no sense," he reflects now as he orders a sparkling water at the Club Matador in Madrid, the scene of this interview. "I earned a lot of money, I spent a lot and I didn't feed anything internally. He had been flirting with his own instrumental compositions for a few months. And I decided to bet on them, for something of my own".
It was, and he freely admits it, "a suicide". This is how they made him see "no less than 80%" of his relatives. "Don't complicate your life, now you have a good job and you're established," his parents insisted. He ignored them all, even knowing that they were not without reason. "I write very accessible and singable, hummable music, but sometimes the climactic melodic moment doesn't come until minute six. And I'm not going to change it, no matter how aware I am that, in these times of social networks and algorithms, you have to get attention in less than five seconds.
David Otero, co-founder of El Canto del Loco with his cousin Dani Martín, corroborates that his connection with Romero "was very strong from the first minute." He sometimes played hide the chops with the chord wheels in the middle of the concerts, but the Cádiz-born guitarist, who had just joined the band, always came out on top. "Now I have become his number 1 fan. On a musical level, he is the most powerful thing I have seen and known up close," he underlines. "And besides, it allows me to rest from the parameters of pop and gives me peace, tranquility, beautiful things. I had never known such a talent. It's got me hooked."
Miki Ramírez, the man from Madrid who hides behind the alias of Mr. Kilombo, is no less complimentary when he recalls his years of collaboration. "The Pipo thing is something from another planet," he exclaims as soon as he picks up the phone. "It was enough for me to hear him play three notes to realize how meticulous he is with his interpretation. I confess that he made me very angry when he told me that he was leaving us to become a soloist, but… now I understand everything. The things he is doing are outrageous." And he even slips an unpublished confession: "He is one of the first people I consult every time I compose something new".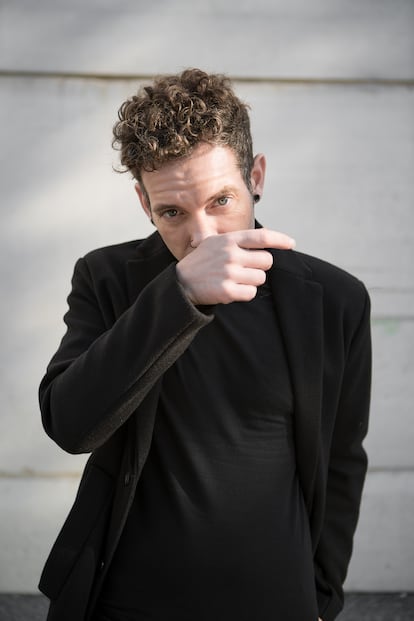 Pipo Romero's first solo album, Folk, It dates from 2015. It sold little, as one might well suspect, but it laid the foundations for a personal and very unique style. With ingredients of flamenco, traditional and classical music, although without adjusting to any predefined genre. He bordered the Spanish guitar for the acoustic one, preferring metal strings to nylon, developing extremely rare tunings that force him to develop a "muscular memory" for execution. Romero had everything to seduce the followers of Vicente Amigo, Pat Metheny or Acoustic Alchemy, to search for three illustrious references, but he did not manage to find any niche. In any case, there was no turning back: to "avoid temptations", the musician had taken care to sell his entire collection of electric guitars, pedals and amplifiers beforehand. The world of pop was no longer for him.
That new language would take hold three seasons later with a second installment, with a title that was more of a self-affirmation: ideology. And with him, this time yes, something beautiful happened. Pipo uploaded to his YouTube channel a solo interpretation of the wait, a beautiful and virtuoso piece, devilishly complex, and that recording reached the ears of the Canadian Michael Greenfield, one of the most famous guitar builders in the world. His clients include Keith Richards or Pierre Bensusan, and the most basic model of his creations costs, according to what is stated on his website, "from 15,000 euros". But Greenfield was stunned with the wait and personally invited Romero to visit him in Toronto. He wanted to "feel the pride of building him a custom guitar" and lower the price "whatever was necessary".
Romero is today the proud owner of two greenfields exclusives that cost you much less than they are worth. With them he just registered ikigai, another beautiful and detailed album that takes its name from a Japanese term that means "the reason for being" or "the reason for living". Theirs is called conviction, perseverance, tenacity. He is still very clear about it, but at some point in the conversation his voice breaks and he has to stop so that those enormous light eyes don't continue to blur. "The life I lead is to burst into tears," he sighs. "I wake up every day with the accounts in the red, but I continue. Misunderstood for now, but with the tenacity of a horse that he does not stop looking ahead. And doing something different for the culture, or so I want to believe.
Reports have been dedicated to him on NPR, the prestigious American public radio. He has one of the best luthiers in the world, he is supported by some music and sound brands, he has just received the applause of the Budapest Jazz Festival. "Me manager He gets offers from much more famous guitarists than me, but he stays with me. The problem", he insists, "is that I don't know how long I can continue like this".
They are the problems of swimming against the tide in these moments when the leisurely life is an entelechy. just before posting ikigai, Pipo Romero decided to review the seven compositions that make it up by playing them on public roads. he fucked his greenfield and a Bosé amplifier, he found a well-frequented corner and began to play his most recent titles, virguerías such as Privo di Luce, Timeless, The Narcissa or the tanguillo Of the things I never said. Several passersby glanced at him, but only one stopped. After three hours of music, the entire collection amounted to a one euro coin.
Frustration? Not entirely, because a Cadiz native always has a pinch of sarcasm left in the chamber. "Look, I'm a nobody and maybe I wasn't born at the right time. but if you are looking for outsider on Google, any day my photo will end up appearing…".


#playing #Canto #del #Loco #people #front #story #artistic #dignity #Culture