The first 100 pairs of the "completely destroyed" sneakers that Balenciaga released on May 9 sold out quickly. Lovers of the Paris-based brand paid 1,450 euros to wear a shoe full of holes, dirty, but with the name of the brand written on the sole as if it were graffiti. The version Full Destroyed (as promoted on the online sales website) of his Paris High Top model is limited edition and bears the signature of Demma Gvasalia, creative director of Balenciaga. The promotional photo shows a pair that is so worn out that it is unusable. The shoes for sale at least contain the foot inside, but without losing the aesthetics of poor footwear. That aesthetic is what he wanted to take advantage of the Argentine civil association Pata Pita (bare feet), that assists children with real problems of extreme poverty and malnutrition.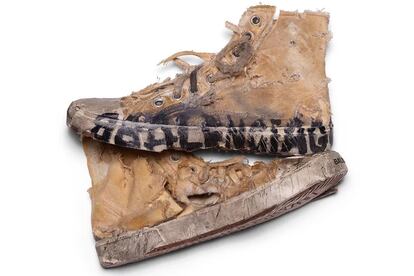 Pata Pila was born in 2015 in Salta, in the extreme north of Argentina, to attend to child malnutrition that devastates, above all, the indigenous communities of the area. Right now she has almost 1,100 minors in her assistance programs in 66 communities. To promote the donations, they imitated the Balenciaga design with changes and instead of the brand name they wrote that of some of the boys who attend: Tamara, Jeremías, Ayelén or Kiara. The look they wear did not come from a table of exclusive designs, but from what Pata Pila sees every day on the feet of the children who attend.
"It is important that from a company campaign the trivialization of poverty is discussed", says Diego Bustamante, founder of Pata Pila. "We do not attack the campaign, but we try to show what we see on a daily basis. We accompany so that people can stop wearing those shoes and move with dignity", he explains. Bustamente highlights the importance of footwear in the poor communities of northern Argentina, where "children don't go to school with broken shoes and sometimes they don't start classes until they can get a new pair."
Pata Pila's slippers they can be "purchased" on a Mercado Libre platform for donation campaigns. "While some luxury brands present a Limited Collection promoting it with worn sneakers, in our country we have more than 16.8 million people who cannot cover their basic needs. These shoes today are an unlimited collection, unless we do something, "explains the association in the description of the portal. Buyers do not receive any product, because the shoes "do not exist in the real world," the association clarifies. "By buying this virtual product, you are donating the amount so that at Pata Pila we can help families who live in communities that really need it," he explains.
The amounts are modest, far from the 1,450 euros that Balenciaga asks for its limited edition models. Donations start at 200 Argentine pesos (equivalent to just over a dollar) and go up to 1,800 pesos, but Pata Pila clarifies that all the donations you want can be made by combining the different pairs of shoes. "The more you 'buy' the more you are helping so that thousands of people can have a more dignified life," says the Argentine NGO. The campaign has already raised about 100,000 pesos, equivalent to about 800 dollars. "We want people to know that there is a reality that is harsh. Pata Pila works in northern Argentina, where 70 children died of malnutrition this quarter. They are official data. That says a lot about the context", explains Bustamante.
The association receives help from individuals and companies and now also internationally. A European Union program will allow them to add new indigenous communities to the network that they already have in place. Unlike other NGOs, the people of Pata Pila live in the communities. The volunteers are doctors, social workers or nutritionists who "train families to access public health, make work diagnoses or identify situations of disability in children that no one has ever cared for," Bustamante lists.
The names that Pata Pila put on her shoes are from some of the hundreds of children who help each day. Tamara, Elías and Kiara exist, because, says Bustamante, behind those destroyed sneakers "there is a life".
Subscribe here to the EL PAÍS América newsletter and receive all the key information on current affairs in the region.