This May 27, Diébédo Francis Kéré will receive the 2022 Pritzker Prize, the highest international award for architecture. Originally from Burkina Faso, his journey begins in Gando, where he was born, a remote village with no electricity or running water. In this interview, he explains his traditional background, his love for nature and his persistent will to change the lives of his fellow Burkinabes with his work. And all of Africa…
Ask. You were born in Gando, a town in Burkina Faso. How often do you return to your country or West Africa, and what do these trips give you in terms of inspiration and motivation?
Response. It doesn't stop changing. In the end, it all comes down to my love of nature and the way nature creates structures. If you look at a dune, it is a very simple phenomenon and at the same time very beautiful. When he had to work in the Malian city of Mopti, he traveled by car and crossed the desert. Along the way, I would stop to look at and study the scenery, really taking my time to appreciate it. It is simply beautiful. He studied the way the wind has molded the sand and how the light breaks and produces waves of shadows. There is something in the desert that is monumental, endless… I never tire of looking at it.
P. When did you have your first contact with the principles of architecture and when did you know that you wanted to dedicate yourself to it?
R. When I was seven years old I went to school. This meant having to leave my parents and stay with a foster family. It must be taken into account that, in Burkina Faso, we lack infrastructure. In my town there was no school. With my host family, I helped restore houses on weekends and went to class on weekdays. I remember sitting in my classroom, which was very dark. And that outside there was a lot of sunlight. It was very hot inside, which made studying very difficult. The benches were very uncomfortable; the nails punctured my butt.
I decided I wanted to improve on these things, so I tried my hand at carpentry. When I was nine years old, I started working for a carpenter near my foster family's house; his workshop is still there. After a few years, I came to Ouagadougou to work. There weren't many opportunities, so I applied for a professional training course for activists in Germany. That scholarship opened the way for me to want to change life through architecture.
After finishing high school, I started studies at the Technical University of Berlin. The first thing I wanted to do was go back to my hometown, Gando, and build a school, so that no child would have to leave their village like I had to do before. This is what I did for my final year project. I wanted this school to be an inspiring place, it had to be comfortable, not as dark and hot as the classrooms I knew when I was younger. All this led me to become an architect. This may all sound like a dream, but it's all true.
P. You are the first African to win the Pritzker Architecture Prize. What would you like to say to your fellow Africans?
R. The youth of Africa need to have hope. They need an alternative to becoming politicians. I hope that more young people follow the architecture career, because they want to improve the environment in the continent. They need to express their talent, that's what I hope to see. For now, it's just a hope. I just do the work that I like and suddenly I receive this recognition; it's crazy. I want to see how the leaders of Africa begin to use their power and their position to inspire the new generations.
I always make my African students see that in Europe everything is already done; the cities are already built. But Africa still needs them
P. You are known for using local materials. What is this philosophy based on?
R. If you want to develop your country, you have to look at what you have the most. Allowing young people to build with locally available materials will lead them to come up with solutions better suited to the continent. Resources are limited, so don't waste them. I always make my African students see that in Europe everything is already done. The cities are already built. But Africa still needs them. They have a task ahead of them, they can create better homes.
Young people often say: "We are poor, we need help from others." And that's what I hate the most. If you tell a young man or woman that Africa is poor and Europe is rich, they will believe you and want to emigrate. We must change the paradigm. With the recognition I now have, I feel confident enough to say, "Stop blaming others." Of course, we all suffer from the past. But what about the present?
P. How can architecture improve the lives of the Burkinabe? What correlation is there between architecture and social change?
R. Architecture can change lives. The population is growing and we need to build schools and houses. Cities continue to grow. I want to tell people: you are part of this process, you can participate in making the city a better place to live. You must look for alternative ways of making houses and not limit yourself to copying what is the norm. If you do, you will discover something important. That will give you an identity. It is what I did: I did not copy what I had seen, but I did something different. Look around you, there is inspiration everywhere. Use your potential, you can use your environment to create something that makes a difference.
P. The members of the Pritzker Prize jury point out that you are a pioneer and work for people who live in "a region of the world that is sometimes forgotten." What can you do for Burkina Faso with your work from Germany?
R. In Burkina Faso we are facing extreme weather. When it's hot, it's very hot. When it rains, it rains a lot. If one observes nature, one realizes that a strong roof serves as a shelter. No matter what you put under it, the roof will protect it from the elements. If you then design the rest of the structure smartly, you can create a cool space without using electricity. We do not need air conditioning to cool the rooms in our buildings. This is vital to the design of houses in this part of Africa: How do we get the openings in our structures to let clean, fresh air into the building? How do we reduce excessive heating? Climate change is a major problem. We should all take this into account in our designs. That's what I keep telling everyone: study the facts, access the knowledge.
I see my work as a small drop of water in the desert. If a lot of people join me, we can cause a shower of ideas
P. In West Africa, many young people think of going to Europe, also because of climate change and conflicts. What do you think about this?
R. I have seen young people from West Africa come to Europe, but here too they will find that there are no jobs. It's silly, it doesn't work at all. What kind of work are they going to do? If you just think that everything will come from the people of the West, you are wrong. People will call me privileged, but those people have not seen the change I have brought to my hometown. I have worked with my people on the ground to build comfortable schools. Thanks to that project, the world was able to see my work. This is my message: you really can do something to change your life.
P. But you also came to Europe…
R. I know. I've had that discussion many times. But in the West I acquired knowledge. I did not come to Germany to earn money, nor to flee my country. I am only privileged because I have procured an education. Don't forget I went to night school in Germany. For five years, I worked during the day and went to school at night. Every day, from 6:00 p.m. to 11:00 p.m. I'm not saying that people shouldn't come here. But if the whole world comes, who is going to build our continent?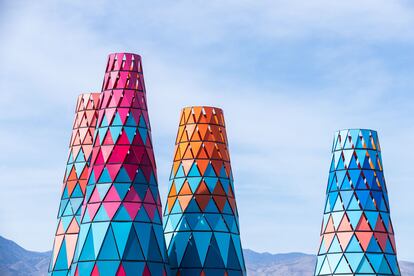 P. What plans do you have for the future, now that you are receiving the Pritzker Prize?
R. I want to focus even more on becoming totally material oriented. I feel like I'm a building materials opportunist. I look for what is available on-site and I use it to the fullest. The award has given me the energy and the confidence not to hesitate for too long.
With the increase in the size of cities and urbanization, we have to change the narrative. We have to actively promote a form of development that does not harm the environment. Clay is often considered poor material. We have to use locally available materials and create something that inspires people. Lastly, some big clients in Africa are asking me to use clay instead of bricks. 20 years ago, people would have laughed at me. It was something unthinkable. Now, also thanks to the Pritzker Prize, I have gained some credit. Finally there is an acknowledgment.
I hope to be able to raise awareness with my designs and my foundation. I see my work as a small drop of water in the desert. If a lot of people join me, we can cause a flurry of ideas.
You can follow PLANETA FUTURO at Twitter, Facebook and Instagramand subscribe here to our 'newsletter'.