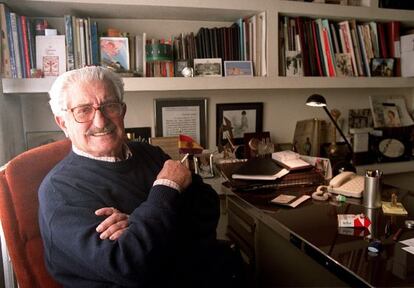 The centenary of the birth of the filmmaker Juan Antonio Bardem (Madrid, 1922-2002) is serving to vindicate a creator as vital as he was profoundly communist, who believed that cinema "can help the revolution" and who poured all his talent into some works that collided again and again against a wall of closure: the censorship of the Franco dictatorship. Among the tributes made around last Thursday, June 2, the day on which the century would have turned, TVE screened on Friday death of a cyclist (1955) and Main Street (1956), although his best bet is Juan Antonio Bardem, militant vitalist, program documentary essential, which is broadcast this Sunday, June 5, at 9:30 p.m. on La 2, and which covers in an intelligent and condensed way the work of a director who defended an artistic commandment, whatever his work: "If you don't believe what you do it will go wrong."
The Essentials co-directed by Alberto Bermejo and David Herranz Garrudo begins with Bardem's vision of death, which was based on a dream: that of a dead bird in a cage. "Actually, making a film is transmitting a dream," the filmmaker is heard. Bermejo and Herranz have delved into the TVE archive to find voices and images of both the protagonist of that hour of duration, as well as colleagues, friends and family, whom he has interviewed for the occasion. Bardem is drawn as a man with a huge laugh, who at the same time took the cinema and his communist vision very seriously —but not the Soviet one, but that of the PCE, of the Spanish—: "Communist militancy gives coherence to the career ".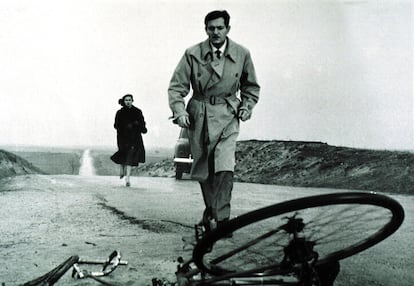 One of his nephews, the actor and writer Carlos Bardem, warns at the beginning: "He was proud of the comic word." The saga has continued to this day. Son of actors Rafael Bardem and Matilde Muñoz Sampedro, nephew of actresses Mercedes and Guadalupe Muñoz Sampedro, great-nephew of actress Mercedes Sampedro and brother of Pilar Bardem, during his childhood he saw little of his parents. "They were in the theater all day, with two and even three performances a day," he recalls. After finishing his studies in agricultural engineering, he told his parents that he wanted to be a sound engineer, "to fool them and not upset them." But what he did was sign up for the Institute of Cinematographic Research and Experiences, the first film school during the Franco regime. There he coincided with Luis García Berlanga, and together they directed That happy couple in whose shooting sparks jumped between the two from the first day. "Well, there were blunders," confesses Bardem. And, obviously, two egos at work. "One, if he was really a spectator, he knew there were other worlds… with more freedom," says the director. that happy couple marks the advent of a new filmic air, so much so that Spanish cinema day is currently celebrated on October 6, the day on which it finished filming in 1951 (although it was necessary to wait until 1953 for its premiere). Bardem was also in the writing of Welcome, Mr. Marshall! (1953) —"I have rarely had the feeling of hitting the nail on the head like at that moment"—, although the film was made without him due to a misunderstanding in pre-production. After her they came comedians (1954) —very clear love song to his family— and death of a cyclist (1955), which premiered at the Cannes festival out of competition, since Bardem was a member of the jury, and served as the first great example of a risky social cinema that took advantage of small cracks in the Franco regime to bear witness to the time.
Between that masterpiece and the next (the fifties are the best of his filmography), the Salamanca Conversations were developed, a diagnosis in 1955 of Spanish cinema that, as Bardem recalls, "was politically ineffective, socially false, aesthetically null, intellectually negligible and industrially rickety". And arrives Main Street, with american actress betty blair transmuted into a Spanish woman from the provinces. Blair remembers the fear they experienced "when Juan Antonio was arrested during filming." There were attempts to replace him, but Blair, advised by Jorge Semprún from Paris, decided to wait in Spain without filming with anyone. "I said I wouldn't shoot as long as he didn't say it to my face," recalls the protagonist of this bitter portrait of a country crushed by dictatorship, religion and social conventions. With it he won the international critics' prize at the 1956 Venice Film Festival.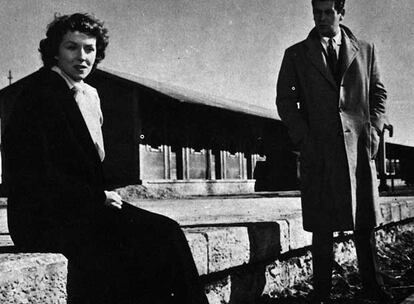 Two years later, Bardem undertook The revenge, a story that tells just the opposite, the reconciliation between two gangs of reapers, but that censorship forced to headline like that and change its historical context (and make it travel to the Second Republic). All in all, it was the first Spanish film to be nominated for an Oscar, which supported the director's impression of seeking as much as possible foreign co-production for his work. "I believe in the job, I do it the best I know how and I make a living from it," he explains. Fernando Fernán Gómez, in the presentation of a book about Bardem, in which he appeared on the cover laughing, defined him: "He laughs because he has not betrayed himself".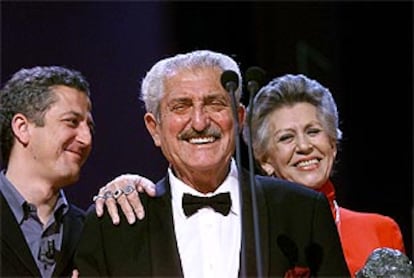 Juan Antonio Bardem, militant vitalist, which could be subtitled unrepentant communist, he reviews the rest of his career with great care, with the author's voice as the cicerone of his own work. He even shows how he embellishes the scripts with his convictions; in a bar talk 7 days of January (1979), about the assassination of labor lawyers in Madrid's Atocha street by fascist terrorists in January 1977, one hears "I want a society without classes… and without meetings". Bardem's career in the 1980s and 1990s had a longer and better run on television than on film, which confirms one of his reflections: "The problem is not making the film, the problem is that it is seen." That passion for creating, and for creations to be seen in the process, emerged in the last sentence of his Goya de Honor speech, received months before his death: "Is there a producer in the room?"
You can follow EL PAÍS TELEVISION on Twitter or sign up here to receive our weekly newsletter.