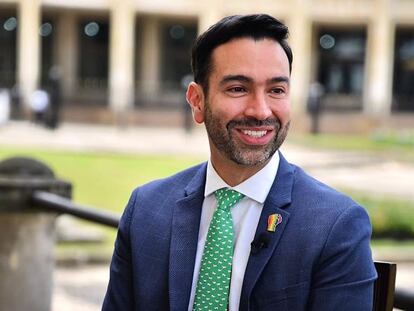 In Colombia, being political and openly gay is a challenge. Mauricio Toro, the first openly homosexual congressman in the country, knows this very well. His sexual orientation, he explains over the phone, has exposed him to death threats and discrimination of all kinds. He has always tolerated it, he says, because he understands the importance of his community being represented in public administrations. At the end of the day, he resigns himself, someone has to show his face.
This Tuesday, however, during the first debate on the bill that seeks to ban sexual conversion therapies in Colombia, the Christian activist Jonathan Silva went further. He requested Toro's recusal before the Ethics Commission on the grounds that the congressman cannot present a project that seeks to protect the LGBTI community. Being homosexual, Silva argues, Toro has a conflict of interest in the matter. For now, the challenge has prevented the debate from taking place. For Toro, this act in itself already constitutes the umpteenth demonstration of the homophobia that rules in Colombia. He assures that it is an act of discrimination that he cannot debate and vote in Congress because he is gay.
For Toro, under this argument, women congressmen could not present bills that defend the rights of Colombian women because with them they would be seeking to defend a part of the population of which they are a part. Similarly, Afro-descendants could not protect their rights, and the same could be said of indigenous peoples.
In fact, according to the campaign manager for Latin America at All Out, Andrés Forero Ordóñez, never in Congress has a woman, an Afro-descendant or a peasant been recused for defending their community: "Only today in this homophobic act is to a gay man." This is a historic and dangerous precedent, he maintains.
In addition, Congressman Toro reasons, if there is someone who has a manifest interest in maintaining conversion therapies, it is the Church. Certain congregations, explains the politician, charge amounts that are not exactly lower for carrying out so-called therapies that do not have any scientific backing and that only serve to tell men and women that they cannot feel what they feel.
The bill that was sought to be debated and voted on in Congress aims to put an end to conversion therapies that are still a reality in the country today. In Colombia, one in five LGTBIQ people has undergone some type of conversion therapy, and among trans people, one in three, According to a report by the Thomson Reuters Foundation.
With these data, the international organization All Out recently launched a campaign that has collected 48,000 signatures asking for the prohibition of these practices, and the Alianza Verde center party, led by Congressman Mauricio Toro, brought to Congress the bill which explicitly prohibits any person from offering, advertising and practicing one of these therapies, as well as seeking profit from them. In addition, it prevents public funds from being allocated for the practice and promotion of the same.
Alberto de Belaunde, spokesman for OutRight International, explains that they have looked at the experiences in Ecuador and Argentina to prepare the bill. Forero Ordóñez, for his part, denounces that conversion therapies are a form of torture. "The least that governments should do is prohibit them and punish those who exercise them. These are practices that are based on the completely mistaken idea that these people are sick."
However, the Christian community is against the approval of this law. This weekend, a video of Silva himself explaining why this law should not be approved has circulated on social networks. "It is a law that seeks to imprison evangelicals and psychologists for doing therapy, and it also affects the protesting homeland of families because those who want to change the sexual orientation of their children with therapy are not going to be able to do so," he maintains. In the video Silvia affirms that by this law pastors can go to jail for advising on this type of therapy. "This is a persecution against the Church and the faith," she concludes in a recording that has spread in recent days on Instagram.
"Mauricio Toro has a particular, real, direct and current interest, and for which he must declare himself impeded because he presented a project that only favors a minority where he is included and discriminates against those who do not have the same sexual orientation," affirms the challenge of Silva in Congress. These are words that have hurt Toro enough so that the politician has assured that he is going to sue Silva for defamation, libel and slander. Before, we will have to wait to see how the challenge is resolved and that the opposition calls a session before June 20 to debate and vote on the approval or not of the project. One more battle in the fight Colombia has been waging for decades against homophobia.
subscribe here to the EL PAÍS newsletter on Colombia and receive all the informative keys of the country's current affairs.


#Congressman #Mauricio #Toro #discriminated #gay #politician