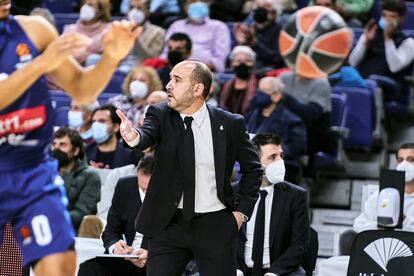 Chus Mateo (Madrid, 53 years old) is there for complicated situations. When Pablo Laso was sanctioned; when the first coach was infected with covid, or now, with the convalescent coach, although already at home, after a myocardial infarction that, at the very least, will keep him from the games that he still has to play for Real Madrid . Yes, it is a complicated situation, and not only because of the circumstances surrounding Laso's heart accident, which, of course, has an emotional component with everyone around him, and especially in the squad, but also because of the casualties of a squad team.
Laso's work materializes in the two resounding victories in the first two games of the semi-final against Baskonia, although now, Real Madrid has Buesa. A victory would take them directly to the ACB final, and expect a rival between Barcelona and Joventut.
But the Real Madrid that plays at the Buesa cannot count on Thompkins, nor on Llul, injured in the first game, nor on Abalde, so he remains in the box in the base position, because Heurtel will not be there either, who after weeks ostracized, he reappeared on Saturday, played three minutes and injured his ankle, so he has not traveled to Vitoria either. Mateo, Laso's second since 2014, will have to resort to Juan Núñez, the junior who is becoming one more in the team with so many casualties. He is not scared. He has directed five games for Real Madrid as head coach, and has won all five, although in Vitoria, against Baskonia (9:00 p.m. CEST), the circumstances will be different. "It's hard to focus, and we're going to keep watching Pablo, but from now on Baskonia will only be in our heads, we're going to try to get the players to do it too, we're professionals", he pointed out in the preview. "We have to adapt to all the circumstances of a season that is not being easy, a tough campaign, in which we have reached two important finals that we have lost just a little bit and now we will have to redo something more serious, that Pablo is playing a end and you have to win it. We have to relocate."
Laso is now at home, recovering, and Chus Mateo, following the heart attack, mentioned his mother's words: "He always told me that this is a game, but we always like to do it so well, we give so much importance to winning or lose, that when things get difficult and there is a lot of pressure, sometimes these things happen". He acknowledged that he had not spoken to Laso: "When we received the news, Pablo sent us a generic message, that he was going to have to be away for a few days, his family knew his situation, we found out with that message, and from there his phone it was not operational. We don't want to bother or bother either. Speaking with the family, the news is optimistic, and we are happy about it, because it seems that it could only be a scare, a warning". For Mateo, "what it is about is that we continue with the work he has done."
You can follow EL PAÍS Sports in Facebook Y Twitteror sign up here to receive our weekly newsletter.