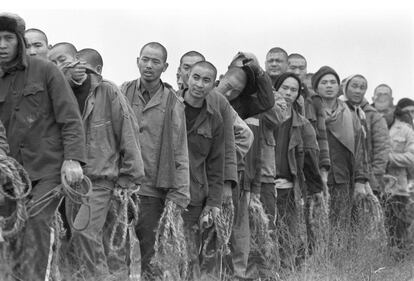 China has institutionalized the forced labor it has imposed on Xinjiang's Uyghur Muslim minority citizens in recent years. According to an investigation by the German academic Adrian Zenz, an expert in the analysis of Beijing's oppression policies, made public this Monday and to which EL PAÍS has had access, those Uyghurs who between 2016 and 2020 were "mobilized" to occupy a certain position of work in any point of the Chinese geography, many of them against their will, continue to be forced to remain in it. This imposition is, according to the expert's analysis, one of the key elements of the economic and industrial growth program that the Xi Jinping government has designed for this region located in the west of the Asian giant.
Xinjiang's new labor policy, outlined in the region's 14th Five-Year Social and Economic Development Plan (2021-2025), aims to consolidate the number of employees forced to work and multiply them with the maxim that "all people capable of work must work", regardless of their family obligations and even their physical conditions. This requirement was previously reserved, Zenz clarifies, to "one person per household". According to his estimates, "between two and 2.5 million Uyghurs are at risk of being forced into forced labour".
The German expert's analysis, based on speeches and official documents, focuses solely on the forced labor imposed on Xinjiang's "surplus rural workers", that is, on surplus labor from the primary sector. Previous investigations had already revealed that many detainees in what China euphemistically calls "re-education centers" had also been subjected to this type of practice, but that, as confirmed by the recent leak of The Xinjiang Police Filesare actually internment camps where Beijing retaliates with violent police practices against the Uyghur minority.
However, since 2019 there is no conclusive evidence, according to the academic, that China continues to use the labor of inmates from re-education camps, who were usually coercively employed in sectors related to the textile industry, such as collecting of cotton —Xinjiang cotton represents more than 80% of Chinese production and 20% of world production—. However, they are sectors that constantly require employees. "The surplus rural workers who reject the job relocation required by the State continue to be at risk of being interned in re-education camps," Zenz denounces.
One of the novelties of the state economic plan designed for Xinjiang is the implementation of the so-called Unemployment Monitoring and Early Warning System, a program that combines field inspection with data analysis to detect those families who either they have become poorer or have increased their expenses. In 2021, according to the documents analyzed by Zenz, Beijing sent teams to investigate and monitor the poverty and income situation of 12 million rural families in Xinjiang. Of all of them, 774,000 were selected for what China calls "real-time monitoring."
The real stories that are hidden behind this policy that Beijing claims is intended to fight poverty in the area reveal that the Xi Jinping government continues to use forced labor to have more labor, according to Zenz. It has been the state propaganda about the Unemployment Monitoring and Early Warning System that has precisely made it possible to discover some of these cases, which China exhibits as successes in promoting employment. The researcher highlights one of them in which a construction worker with high blood pressure was assigned a task that required less physical effort in a clothing factory. However, his wife, who suffered from kidney disease, was forced to work as a cleaner. "The surprising measure of assigning a physically demanding job to a person who apparently suffers from a chronic illness is possibly due to the fact that this household consisted of seven people," explains the expert. Without any adults working at full capacity, after the relocation of the father, "the family's income would probably fall below the poverty line", which set off alarm bells in the Chinese system.
Join EL PAÍS to follow all the news and read without limits.
subscribe
"Politics that support the lazy"
Full employment has become one of the region's goals. The secretary of the Chinese Communist Party (CCP) in Xinjiang between 2016 and until the end of 2021, Chen Quanguo, who is blamed for the policy of systematic repression against the Uyghurs, stated last year that "in order to prevent the return to poverty, [Pekín] cannot give money to support anyone so as not to fall into the trap of welfare and policies that support the lazy. His statements are in line with those made by Xi Jinping at the end of 2021, during a national speech in which he stated that China should not join the "welfare policies" that, according to the Chinese president, are erroneous strategies practiced by regimes. Latin American populists, whose result is to favor the appearance of "lazy people".
The state maneuver, based on the use of forced labor, to achieve full employment in Xinjiang has achieved important economic results. Direct trade with other countries increased by 5.8% in 2021, according to data from the customs of Urumqi, the capital of the region. Adrian Zenz points out that it is especially "worrying" that 51.5% of the exports were products that require intensive labor, that is, those in which Uyghurs are most likely to be forcibly employed.
This increase is fundamentally due to the increase in exports with the European Union, which grew by 13.6% last year, and with countries such as Vietnam, with an increase of 108.9%. Sales to the United States fell by 61.3%, probably, according to Zenz, due to Washington's sanctions against Beijing, although the United Kingdom, Canada and the European Union have also applied sanctions in the Chinese textile sector. Some companies, such as the Swedish H&M or Nike, have opted not to use cotton from Xinjiang.
But beyond the alleged fight against poverty, the imposition of work is another measure for the assimilation of the Uyghur minority in a country populated mainly by citizens of the Han ethnic group. Xi himself defended in 2014, according to a confidential speech revealed in a leak, that unemployed people "will cause problems", while employment in companies encourages "ethnic interaction, exchanges and mixing" and makes groups ethnic groups "study Chinese culture."
"The systemic nature of coercive labor in Xinjiang is the product of political goals that can only be achieved by moving millions of Uyghur workers from their rural to industrial livelihoods, breaking up traditional communities, and transferring ethnic minorities to Han-majority regions," he says. Zenz. The statements of the Chinese Foreign Minister, Wang Yi, who assured in May 2021 that "there is no forced labor in Xinjiang, only voluntary employment", suggest, according to the German researcher, that Beijing "has no intention of abandoning its political objectives in the region, which depend directly" on the consolidation of forced labour.
Follow all the international information in Facebook Y Twitteror in our weekly newsletter.
Exclusive content for subscribers
read without limits