The torrential rains recorded over the weekend in Recife, the capital of the Brazilian state of Pernambuco, and neighboring municipalities have already caused the death of at least 91 people in landslides, due to the collapse of houses or carried away by water currents. and mud, according to the balance released this Monday. Rescue teams are still searching for 26 missing persons, according to authorities. And some 5,000 people who have been left homeless are housed in shelters. Between Friday night and Saturday morning in some parts of Recife it rained 70% of what was forecast for the entire month of May, according to France Presse. The president, Jair Bolsonaro, has flown over the affected area.
In a subsequent appearance before the press, the president declared: "Unfortunately, these catastrophes happen. A continental country (like Brazil) has its problems". And he has recalled that in the last rainy season storms have caused hundreds of deaths in the states of Rio de Janeiro, Bahia and Minas Gerais. In this last State, they forced to paralyze the mining exploitations. The deadliest episode was in the city of Petrópolis, the former imperial capital, where landslides caused by heavy rains killed 233 people in February.
Meteorologists predict that the rains will continue for the next few days, but in a more moderate way. The federal government has promised emergency aid for one billion reais (210 million dollars, 195 million euros) to care for the victims. In the State of Alagoas, on the southern border of Pernambuco, the storm of recent days has affected some 10,000 people.
The Pernambuco Executive has announced the suspension of the festivities around San Juan, widely celebrated throughout the northeast, to release funds to serve those in need. The game of the so-called June festivities, 15 million reais, is going to be used to alleviate the ravages of the floods. Among the municipalities affected by torrential rainfall is also Olinda, famous for its Carnival.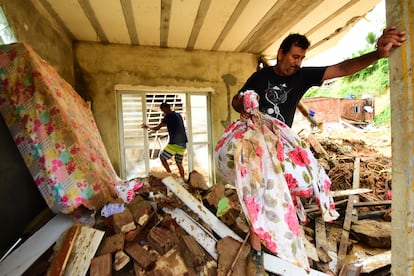 Those responsible for the Civil Defense of Pernambuco have warned of the risk of new landslides in view of how flooded the land is. Meanwhile, the authorities also keep the roads under surveillance.
Join EL PAÍS to follow all the news and read without limits.
subscribe
Those who die in these types of catastrophes are often poor Brazilians who build as best they can, often illegally, precarious shacks in steep areas that become especially vulnerable as soon as the torrential rains begin. The images show tongues of mud that swept away everything in their path. The City Council has launched a campaign of donations of non-perishable food, blankets, mattresses, hygiene items, cleaning supplies and water.
Important rains and cold are also expected this week in the south of Brazil, in the states of Santa Catarina and Paraná.
Subscribe here to the EL PAÍS América newsletter and receive all the key information on current affairs in the region.