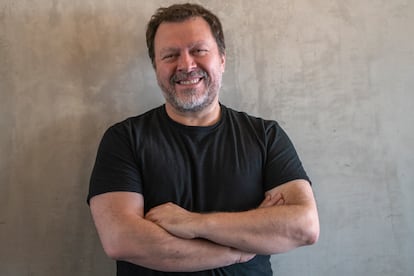 In 2016, Argentine journalist Diego Fonseca (51 years old) covered Donald Trump's election campaign in the United States. Among the crowds that the billionaire gathered he saw a massive fervor; a false messiah haranguing angry masses. What he witnessed at the Trumpist rallies was something he already knew well: he had experienced it before with Peronism in his homeland, with dozens of populist political movements that toured Latin America before landing in the United States. However, when he read the reports of New York Times—one of the media I wrote for—he saw a completely different reality, as if the Trump phenomenon was not the danger he had identified. The rest is history: Trump won. The day of his victory, Fonseca made the decision to start a book on the risks of populism that has taken him five years: Beloved Leader (Harper Collins, 2021), almost 700 pages in which he analyzes the phenomenon, from Trump to Mexican President Andrés Manuel López Obrador (AMLO), passing through the Salvadoran Nayib Bukele, the Spanish extreme right of Vox or the Peru of Pedro Castillo. He has just presented it in Mexico City, for the first time in person since it was published.
Ask. Is the figure of Trump comparable to that of López Obrador?
Response. Trump and AMLO are comparable. The populist manual in general is not an ideology, it is a way of governing.
P. So, can we not speak of left or right populism?
R. The ideological affiliation of each incorporates nuances, but in both cases they are authoritarian. Latin America, Hungary, Turkey, Poland, Vox in Spain, Trump… they are all authoritarian drifts because they do not accept the democratic rules of the game. Populism itself destroys the mechanisms of conversation and consensus, it is always a provocation and always a rupture.
P. Are there authoritarian elements in López Obrador?
R. The first thing is that you have the cult of the leader. All populism is built around the figure of a subject that defines what is good and what is bad. The basic principle of democratic construction, which is institutionalist, collapses, because everything is centered on an individual who concentrates all the attention on himself.
Populism considers that the law is a subjective construction of the bourgeoisie to impose certain ideas on the popular classes. It must be destroyed and replaced by the sovereignty of the people. All populist exercises attempt to replace institutional construction —absolutely and necessarily improvable in our democracies— with an elusive popular will. The people as a political definition does not exist, it is an entelechy, an abstraction.
P. If the people is a social construction, for whom is it governed?
R. The appropriation of the term people is ideologically charged: the right does not speak of the people, it speaks of the people, of society, of the citizens… I do not care about the category of the people, as long as it is not defined by a single individual, but let it be a consensus. The problem is the enormous octane load that the definition of the people has, it is not defined by an objective category, it is the will of the leader. The moment someone stops supporting the leader, he becomes an apostate, an adversary, a traitor, an enemy of the people.
P. Town, citizen, society… Aren't they different ways of saying the same thing?
R. Each citizen has a set of rights with which he lives, they are legally defined. There is no formal definition of people that is not political.
P. A conception more legalistic than emotional.
R. The big problem we have around populism is the construction of emotional politics. The law is supposed to be the objectification of a series of definitions of how a society should be regulated. The opposite, in political mobilization, is subjective reason: identity, angry, sometimes violent. When I build extremely subjective policies, what I have is a progressive annihilation of reason: a kind of volcanic construction of politics in which everything ends up being an explosion against each other. You are not going to build a state or a society on the basis of an emotional dispute.
P. Throughout the book you identify the populist leader with the attributes of the traditional male misogynist. At one point, however, you write: "I'm not a feminist, or maybe I should say I don't understand incendiary stupidity." Why?
R. I don't fully understand the dimension of the feminist movement. I try to approach the process and understand it. I am in favor of equal rights. But I think we need, yes or yes, to find bridges of conversation. I understand that the feminist movement is visualizing the disaster that we men have made, but burning the prairie is not going to solve it.
P. Maybe calling it incendiary stupidity won't help either.
R. That could have pinned it down, I mean extremist movements. I don't think feminism is an extremist movement. I think it is one of the great movements, if not the only one, capable of curbing populist machismo. I am a man built by decades and decades of machismo. It will take time for my generation to dismantle all that. I understand that because of the femicides people want to burn everything down, I would too, but as a whole it seems to me that we can reach more reasonable agreements between all of us.
P. In the book you say that you come from leftist street movements. How do you identify yourself ideologically now?
R. The story of the Latin American left is authoritarian, sexist, violent, sectarian, dogmatic and screwed up. I went through that left. Now I consider myself a left liberal social democrat willing to reform everything. The left has not thought how to discuss its belonging to the globalized world. He thinks about it from the opposition, but he has no proposal for change.
P. Within the logic of capitalism.
R. The socialist offer of the left has failed, in general. The context determines. The neoliberal economic system is not an economic system in itself, it is a cultural transformation and social relations. If the context is capitalism you will have to reform capitalism. Do we want a much fairer world? Yes. Is it going to be called socialism? I do not know. You can call it capitalism or circular economy.
P. Populist leaders try to sell themselves as people outside the system, but they are all part of the political system. Trump was a multi-millionaire, López Obrador comes from the PRI and the PRD…
R. The first thing is to try to get out of the system and present yourself as an outsider. Almost all of these types come from outside the party structures and dominate them, or they are already part of very marked populist structures: Chavismo comes from the outside. AMLO must leave the PRI and the PRD in order to try to work with Morena from the outside. Even though they are insiders-outsiders, society sees them as unsullied by those politicians who have been dominating for decades. People's anger is with the parties in general. If I present myself as the anti-politician, I have a lot of room to win.
P. But it is pure story, there is no real basis.
R. The great dilemma that all societies have now is how you get out of populist projects. You don't end populism. Populism is based above all on the ability to connect emotionally with people. There is not a single experience in Latin America of a rupture with populism that was not relatively populist.
P. Is populism a natural consequence of the policies of recent years?
R. Populism is the natural consequence of the failure of the democratic system to meet the demands of society. If there is a populist leader, it is because everything else has failed. Because for decades politicians have been in charge of promising what they could not fulfill. If you systematically frustrate people's expectations, the break is going to come.
P. But promising is the basis of electoral campaigns. The way the democratic system is set up, isn't it populist by definition?
R. We must differentiate between demagoguery and populism. The traditional parties can be demagogues, promise things that they are not going to fulfill. But once they come to power, they manage within institutional channels. The populist leader wants to topple everything.
P. That strategy is not new. If people are tired of the traditional party format, they will also be tired of seeing populism not working.
R. Not necessarily, it can be renewed with other populist types that arrive. The ends can always be run and the bottoms can always be dug lower.
P. It paints a very apocalyptic future. Is the battle lost?
R. We live bad times. Historical processes go far beyond our will. They have a development that is —and the word could even be absurd— almost magical, it is ungraspable for the individual. It is a superimposition, concatenation, confinement of different individual decisions that outline a change of scenery that is sometimes visible, sometimes not. Things happen that we do not fully perceive. Are we in a dark moment? We are in a dark moment. Am I afraid that it will be worse? I'm afraid it will be worse. Can it be worse? I do not know.
subscribe here to newsletter of EL PAÍS Mexico and receive all the informative keys of the news of this country
Exclusive content for subscribers
read without limits


#Beloved #Leader #Diego #Fonseca #history #Latin #American #left #authoritarian #sexist #violent #sectarian #fucked