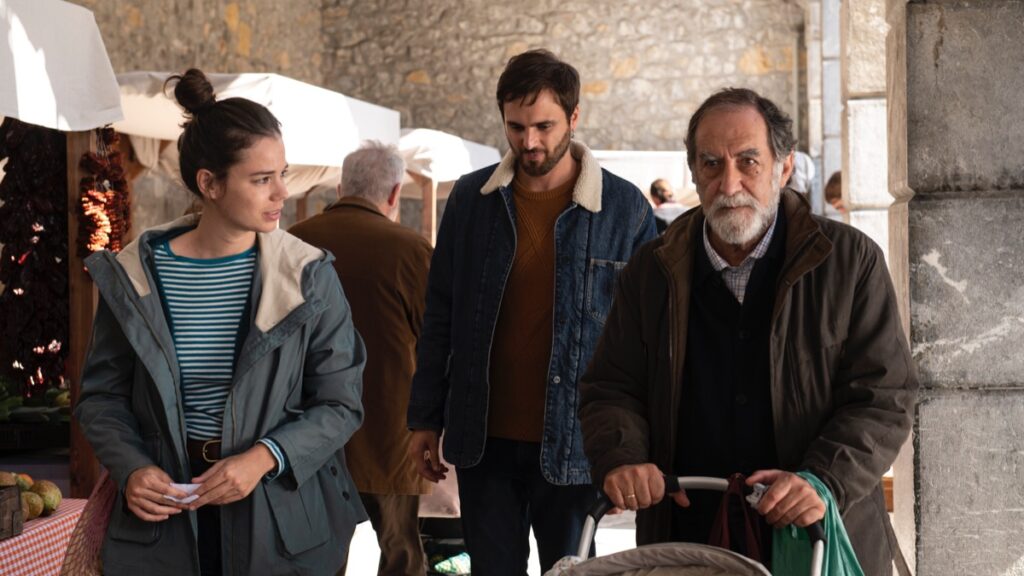 At 73 years old, Ramón Barea, actor and film and theater director, has received his first Goya nomination for his role in the film five little wolvesthe debut feature film by Alauda Ruiz de Azúa and one of the most outstanding films in the outstanding crop of Spanish cinema in 2022. For the first time, the actor will also attend the most important ceremony of national cinematography, despite being academic and having worked with essential names such as Álex De la Iglesia, Enrique Urbuzo, David Trueba, Imanol Uribe, Daniel Calparsoro, Gracia Querejeta, Chus Gutiérrez, Montxo Armendáriz, Icíar Bollaín or Daniell Calparsoro.
The actor competes with actors like Luis Zahera (as beasts) for the Best Supporting Actor Award in the Goya, which will be awarded on February 11 in Seville, as well as in the same category in the Feroz awards, which will be delivered by the specialized press on January 28. These two nominations keep him "excited" although with the "distance" that time brings him and a long career in which he has learned that "both triumphs and failures are relative and temporary", as he has pointed out in an interview a Vozpopuli.
On this occasion, the only role he will have to play is that of Ramón Barea and, as he has confessed, "for a very shy person, not having a script is terrible." "In some cases, the clumsiest actors are the most seasoned, because we pose more problems, difficulties, we want to have more information," says Barea, who hides behind an apparent discretion an "enormous shyness"as well as some "flares of social phobia".
"Am a man from Bilbao who doesn't drink, that he has never drunk, that the only thing he has done is smoke a lot, that until six years ago he only had that confessable vice. At parties I am the first to leave, to disappear, because I don't drink and when I drink a pineapple juice, the second one is cloying and there is already a huge noise around, "he admits.
All artistic activity is to channel a certain pathology. Developing certain skills I think saves us from other things"states the actor
He has always seen "from afar" the glitter and spectacle side of the profession, something that over the years he has realized was due to the fact that "coming from the world of independent theater, loading and unloading the van, from a universe where there was no circuit of municipal theaters". of silence so as not to fully believe the great events. When I put on my bow tie and jacket, I'm disguised as something I'm not," she says.
Ramón Barea (Bilbao, 1949) was always a "compulsive theater viewer", who at the age of 16 or 17 paid the ticket and traveled to Madrid to attend plays, something that over time has been realized as a "rarity". The actor began working as a teenager in the court from Bilbao thanks to his ability to type very fast and his "responsible boy" appearance, and never had an artistic background.
"In Bilbao there were no theater schools, it was a strange drive that I think had to do with my shyness. Basically, all artistic activity is what you do channel a certain pathology. Developing certain skills I think saves us from other things," said this theater, film and television actor.
More than having succeeded in any medium, what satisfies him is having "maintained in all" and, ultimately, not being rejected anywhere. The life of a winner is horrible, it is exhausting and stressful. I have not had a representative in my entire career, something that I am glad about, and I have allowed myself to be a protagonist in one and in another two sessions. I have not had the impulse of the winner", says the actor.
Alauda did not show me sequences or talk to me about the character, but we talked about life, his son, my grandchildren or my daughter's first cry. It was an encounter with life, the cinema came later"Has revealed Barea
It is unthinkable that someone with a career and experience as vast as that of Ramón Barea would be surprised by the success of five little wolves, a film that has grown over the months and in many cases thanks to word of mouth. "I thought it was a brilliant script, because it has a very normal story. It was a crush meeting the director. They called me to play the character and in the meeting with Alauda he did not show me sequences or talk to me about the character, but we talked about life , your son, my grandchildren or my daughter's first cry. It was an encounter with lifethe cinema came later", has revealed.
In addition, according to her account, Laia Costa, the film's protagonist, was a "recent mother", and in the dressing room she breastfed her real daughter during breaks in the filming of five little wolves. "There was a lot of life and a lot of truth in what was done and how it was done," he highlighted about one of the most tender and fascinating films of the year.
Ramón Barea and the discovery of Pío Baroja
Ramón Barea jokes with a certain typecasting at present for which he is only given "elderly" roles, but he assures that In no case is he thinking about retirement. The truth is that it is dizzying to look at his work rate, since at the same time that he is looking for a suit for the Goya awards, he is preparing a production on the trilogy The struggle for lifeby Pio Barojafor him Bilbao Arriaga Theaterwhich he directs and in which he acts, and which is scheduled to premiere on February 17, just a few days after the great gala of Spanish cinema.
The freedom of opinion and the value of Pío Baroja in what he wrote was not appreciated because he was judged from very radical positions"Indicates the actor and director
In this sense, and when asked about the certain absence of tributes to Pío Baroja on the 150th anniversary of his birth, Ramón Barea compares his figure to that of Chaves Nogales who, "being different", had in common, in his opinion, a difficult classification.
"Pío Baroja was seen from the right in one way and from the left in another. He did not make a declaration of principles that identified him with an affiliation. Suddenly the requetés wanted to shoot him thinking that he was a red, and the reds thought that he had shown himself in favor of the dictatorship and the military coup. His freedom of opinion and his worth in what he wrote were not appreciated because he was judged from very radical positions," he comments.
"I have the feeling that nobody had remembered or had taken too much care in celebrating Baroja. In fact, the boom has appeared, the one that everyone was talking about now, at the end of the year, close to his date of birth, because there was a general confusion. The grace of him is that he is a magnificent chronicler of the time in which he lived. He does not make good and bad, his characters harbor good and evil and the struggle for life does not have a happy ending or a political development correct", he claims about the writer of the generation of '98 to whom he now pays tribute from the stage.