Walking through the neighborhood of Argüelles, Alejandra told her daughter: "In this house I took care of a very sick girl, the daughter of a very important intellectual." It is Víctor, Alejandra's nephew, who attests to this story, of which, however, there is no graphic proof: between 1934 and 1936, his aunt was a nanny for Malva, the daughter of Pablo Neruda and Maria Hagenaarat the House of Flowers in Madrid.
Entering through Princesa, the Casa de las Flores occupies an entire block framed by the streets Hilarión Eslava (at number 7 Pérez Galdós died) and Rodríguez San Pedro. It is a property with a landscaped interior, several portals and two hundred and eighty-eight dwellings, designed in 1931 by Secundino Zuazo. Neruda had arrived in Madrid as Chilean consul in 1934. Federico García Lorca received him in Atocha, and it was Rafael Alberti who found the Casa de las Flores for him and his family.
The daughter of Alejandra Serna Reques (1918-1989) is still alive. Her name is Alicia and she is 82 years old. She says that her mother arrived at the Casa de las Flores in 1934 from Otero, in the Segovian mountains. Alicia's grandparents had met at the El Bohío farm, owned by Valeriano Weyler in the municipality of San Rafael. She worked in domestic service, he as a bricklayer. They had 11 children.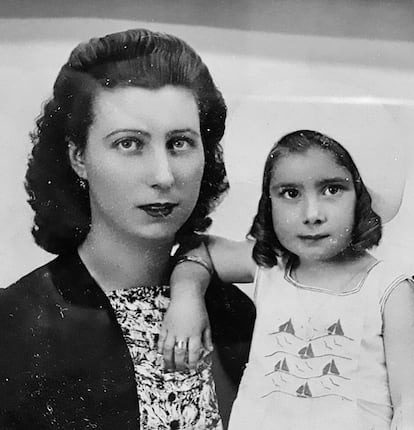 Called at that time the Spanish Switzerland, San Rafael had a railway connection with Madrid and was a hive of political and cultural personalities of the time. Alberti arrived in 1918 to recover from a lung condition and wrote there Sailor on Earth. We do not know if San Rafael was the meeting point between Alejandra and the Neruda-Hagenaar family. Alicia only confirms that her mother worked in the Argüelles house until the girl left Spain. If there were photos of Alejandra with Malva in Madrid, they have not come to light.
Alicia's father was Salvador Pomata Orsi, a career soldier and commander of the republican army. Her mother met him "in a café that still exists in the Glorieta de Bilbao". It is most likely the Café Comercial. Its director, Raúl García Baltasar, comments that the service personnel frequently entered to collect orders. "Delivery is not a new invention, it already existed at that time. Orders were delivered in paper bags behind that counter." And he adds: "Artists and intellectuals were not the only clientele of the cafe, far from it. Republicans and military also came. The General Headquarters of the Army was in Cibeles, the Court of Accounts in Fuencarral and Justice in San Bernardo".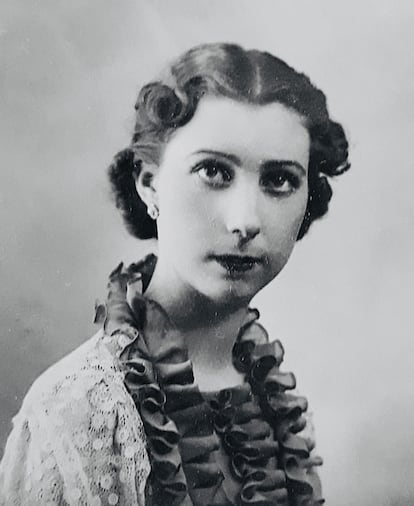 When he met Alejandra, Salvador was married. His wife and his two daughters lived in Morocco. They learned of his relationship with Alejandra and the birth of Alicia. "Having two families was very common then," she says.
Alejandra and Salvador spent the war on the Teruel front, where he had been posted. "I was born in August 1939. My father did not want to flee Spain, he said that he had no blood crimes. He was sentenced to fourteen years in prison."
Mother and daughter lived for many years in an attic of the General Directorate of Education, in front of Sol, where Alejandra ran the heating and cleaning services. She did not marry Salvador until 1971, he was already a widower.
Alicia does not believe that her father knew Neruda. She never heard him talk about him. She didn't see any of his books at home either.
"In this house I took care of a very sick girl, the daughter of a very important intellectual"
The story of Malva Reyes Hagenaar is well known. She was born in Madrid in 1934, she suffered from hydrocephalus. Dutch poet Hagar Peeters gave the girl a voice in 2015 in her novel Mallow. When the Civil War began, Neruda sent his wife and daughter to The Hague. Later, he disregarded them. Without resources, María had to find a foster family for Malva. It was the Julsings. They lived in Gouda. She visited the girl once a month by train. World War II worsened the situation: Malva dies, Neruda does not respond to the telegram, María ends up in a forced labor camp.
In the Casa de las Flores, Beatriz covers her father's vacations in one of the gatehouses. Her family has taken care of the property for four generations. They still live in it. After speaking with several neighbors, she shares this information: "Pablo Neruda and his wife did not initially live on the floor of the Casa de las Flores where the plaque in his honor is located, but on a ground floor on the street Gaztambide. It had more direct access to the garden, in those years it was quite a special home. Not long after, she decided to move to a higher floor, in another portal of the Casa de las Flores, which everyone knows as her house in Madrid. Coincidentally, this move occurred when her daughter was born. In those years, the lower floors that overlooked the garden were quite visible to the neighbors, she could perfectly see through the windows. Neruda sought that change to gain intimacy".
And he adds: "What is often commented on by the neighbors is that the women (grandmothers and great-grandmothers) of the families that have lived here for years said that he was a bad man. Not only because of how he treated his wife, but above all because his womanizing facet caused them a lot of rejection due to his preferences for 14 or 16 year olds. This was known by the neighbors in general. The biographies of him evidently do not tell about it".
We know of Lorca and Aleixandre's impressions of the girl. We have photos of Malva in Gouda. Let us now add Alejandra's words: "In this house I took care of a very sick girl, the daughter of a very important intellectual." Victor named his own daughter Alejandra after his aunt. Aunt and great-niece also share a last name.
Malva was cared for by Alejandra Serna. She was taken care of by her mother. She was cared for by the Julsings. A homeless man sleeps in the bank office next to Neruda's portal. He tells a neighbor: "I have spent the pandemic on the street. And, among mine, hardly anyone has been infected. A gust of water wets the sidewalk: someone waters the flowers.
Subscribe here to newsletter of EL PAÍS America and receive all the informative keys of the current affairs of the region