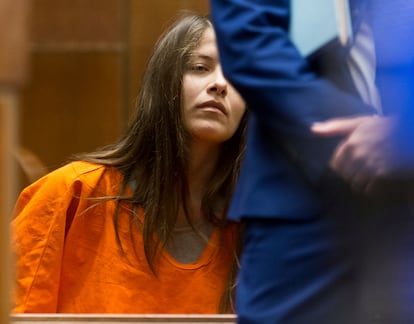 New controversy in the case of the California Prosecutor's Office against the church La Luz del Mundo for child abuse. Susana Medina Oaxaca, assistant to Naasón Joaquín García, the leader of the organization, has pleaded guilty to a misdemeanor to avoid going to jail. Medina Oaxaca had been identified as an accomplice in a trafficking network that facilitated sexual encounters between girls and adolescents with Joaquín García, known among his followers as the apostle of Jesus Christ. In exchange for the plea agreement, the co-defendant has only been sentenced to one year of probation.
Joaquín García, self-proclaimed "servant of God", reached a last-minute agreement with the Prosecutor's Office last Friday and pleaded guilty to only three of the 19 charges that were initially charged against him. The settlement came less than 72 hours before the start of the trial in the United States against the head of La Luz del Mundo, a church founded in Mexico that claims to have more than five million followers in 50 countries. The religious minister admitted to committing lewd acts against a teenage girl and forcing two minors to perform oral sex on her, but he will not respond to accusations such as possession of child pornography, human trafficking, rape and extortion.
The defense of the so-called apostle had recognized in judicial motions filed last year that his client was exposed to a life sentence if found guilty. He will only spend 16 years and eight months behind bars, sources close to the case have told EL PAÍS, a substantially minor punishment that has disappointed the complainants who have raised their voices against the organization. Joaquín García is scheduled to be sentenced next Wednesday in a Los Angeles court.
The guilty confession of Joaquín García, a well-known pastor with strong political connections, garnered media attention over the weekend and diverted attention from the charges against his co-defendants. That same Friday, Medina Oaxaca pleaded guilty to a crime of sexual assault -assault that can cause physical injury-, but she will no longer be tried for forcing minors to perform oral sex on her former boss, as well as participating directly in fellatio.
Medina Oaxaca was arrested along with Joaquín García at the Los Angeles airport on June 5, 2019, after getting off the jet deprived of the leader of La Luz del Mundo. Part of the pastor's inner circle, she and two other women were singled out for recruiting "maidens" to serve in the "apostle's" house, which was seen as one of the greatest "blessings" within the congregation. After gaining the trust of the girls, the harassment grew until the assistants convinced the minors to take erotic photographs, record sexual videos and participate in sexual activities and be abused by Joaquín García.
One of the three charges that the religious leader admitted for oral sex was against Juana Nobody 3 (referred to in the judicial summary as Jane Doe 3), a complainant who was a minor at the time of the crimes. Medina Oaxaca had been involved in the testimonies of that victim. "Susie [Medina Oaxaca] told him to come into the room," one of the legal documents reads. "She walked over to the bed [de Naasón] and Miss Susie took his hand and began to massage Mr. Garcia's penis on his pajamas, "is observed in another excerpt. Next, Medina Oaxaca undressed the apostle and instructed the girl to continue touching him until forced oral copulation, despite the fact that the girl had begged him that she did not want to do so. "[Juana Nadie 3] She performed oral sex on Mr. Garcia for five minutes and then she felt disgusted", describes an FBI agent.
After paying bail of $150,000, the co-defendant faced her process in house arrest from her residence in the border city of San Diego and tracked by a geolocation device. She will not answer for the charge of oral sex. In addition to probation, she will receive six months of psychological care, according to Univisión, citing sources from the prosecution.
Alondra Ocampo, another assistant to Naasón Joaquín, was the first to reach an agreement with the Prosecutor's Office in 2020. She did so, however, under different conditions: collaborate with the prosecutors, testify against her former boss and obtain a reduced sentence. She accepted four charges: three related to contacting minors for sexual purposes and the fourth related to penetrating another person against her will. "Alondra did it because this man was God's representative on Earth, he has been indoctrinated all his life to believe in that and in the Joaquín family," argued his lawyer, Fred Thiagarajah, in an interview with this newspaper in 2021. Ocampo , who was going to take the stand during the trial, would assure during the judicial process that she was also a victim of abuse. Azalea Rangel, the third accomplice, remains a fugitive and, according to former members of the church, maintains a low profile in Mexico.
The largest legal case against a religious leader in Mexico has ended with three plea deals in the United States and amid a sea of ​​criticism. "This sentence can never undo the damage, but it will help protect future generations," the California Attorney General's Office justified. But the pacts with the apostle and his accomplices have been marked by controversy. After three years of comings and goings, one of the main facilitators of Naasón Joaquín García will not set foot in jail.
subscribe here to newsletter of EL PAÍS Mexico and receive all the informative keys of the news of this country


#accomplice #leader #Luz #del #Mundo #released #jail #controversial #agreement #California #Prosecutors #Office