You may remember him in the video of Livin' on a Prayer (which accumulates 912 million views on YouTube): looking at the camera, flying around the stage tied to a harness, smiling, joking with Jon Bon Jovi, the leader of the group. That was Alec John Such, short, dark, with bouffant hair, always bringing the undulating sound of his four-stringed instrument to the songs. Such, founding bassist for Bon Jovi, one of rock's biggest-selling bands and still active, has died at the age of 70. He was born in New York on November 14, 1951. The causes of his death have not yet been determined.
Alec John Such was instrumental in the formation of Bon Jovi. It was he who recommended drummer Tico Torres and guitarist Richie Sambora. Such ran the programming for a club in New Jersey, the Hunka Bunka Ballroom. There he regularly played with Sambora and Torres. Jon Bon Jovi had also sung on occasion in the small venue. The lineup was completed by keyboardist David Bryan. Last night, Jon Bon Jovi's social media accounts reported the news with this text: "We are heartbroken by the news of the passing of our dear friend Alec John Such. As a founding member of Bon Jovi, Alec was an essential part of the band's formation. To be honest, we found our way through him – he was a childhood friend of Tico Torres and he recommended Richie Sambora to us. Alec always had a wild and full of life character. Today these memories of him bring a smile to my face and a tear to my eyes. We are going to miss him a lot."
Such participated in the best stage of the band, which brings together their first five works: Bon Jovi (1984), 7800° Fahrenheit (1985), Slippery When Wet (1986), New Jersey (1988) and Keep the Faith (1992). In these years the American band forges its legend, defines its style and reaches its maximum popularity. Such's musical contribution is relevant, offering a bass sound funky and playful for the melodic rock of Bon Jovi. From that stage is 70% of the repertoire that they are still performing today, songs like You Give Love a Bad Name, Keep the Faith, Wanted Dead or Alive, Bad Medicine, Born to Be My Baby or the same Livin' on a Prayer. John Such left the band in 1994.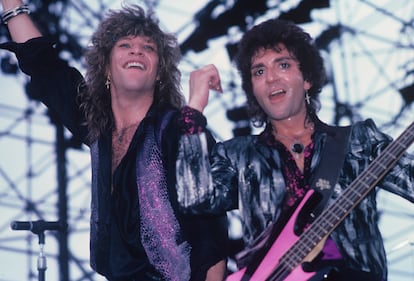 The bass player was the oldest, 10 years older than Bon Jovi. In promotional interviews in the early 1980s, the record company required him to lie about his age, since he considered that he commercially sold more of a band of handsome 20-somethings when he was in his 30s. In an interview in the 2000s he indicated that the issue of age was key to his departure from the group in the mid-1990s: "When I turned 40 I started to burn out. We got too big. He felt that instead of going to play rock with some friends he went to work. And that's what I didn't want to feel. Precisely the reason I got into a band was not to work.
All the culture that goes with you awaits you here.
subscribe
John Such was replaced by Hugh John McDonald. From that moment he led a discreet life, away from the hustle and bustle of a famous rock band. In 2018 he appeared in public at Bon Jovi's induction ceremony into the Rock and Roll Hall of Fame. That day he said, excited: "These guys are the best. We had so many good times together… I will love you to death."




#Alec #John #founder #Bon #Jovi #bass #Livin #Prayer #dies #Culture